Join us and find out how you can support students in navigating their learning journey with digital technology. Seats are limited!
About this Event
With greater emphasis on high-speed technology in our everyday lives, digital tools become increasingly necessary in academic curriculum. As parents and educators, what are the hardware and software needed to support children in the classroom?
Join us and find out how you can guide students in their learning with the use of with digital technology.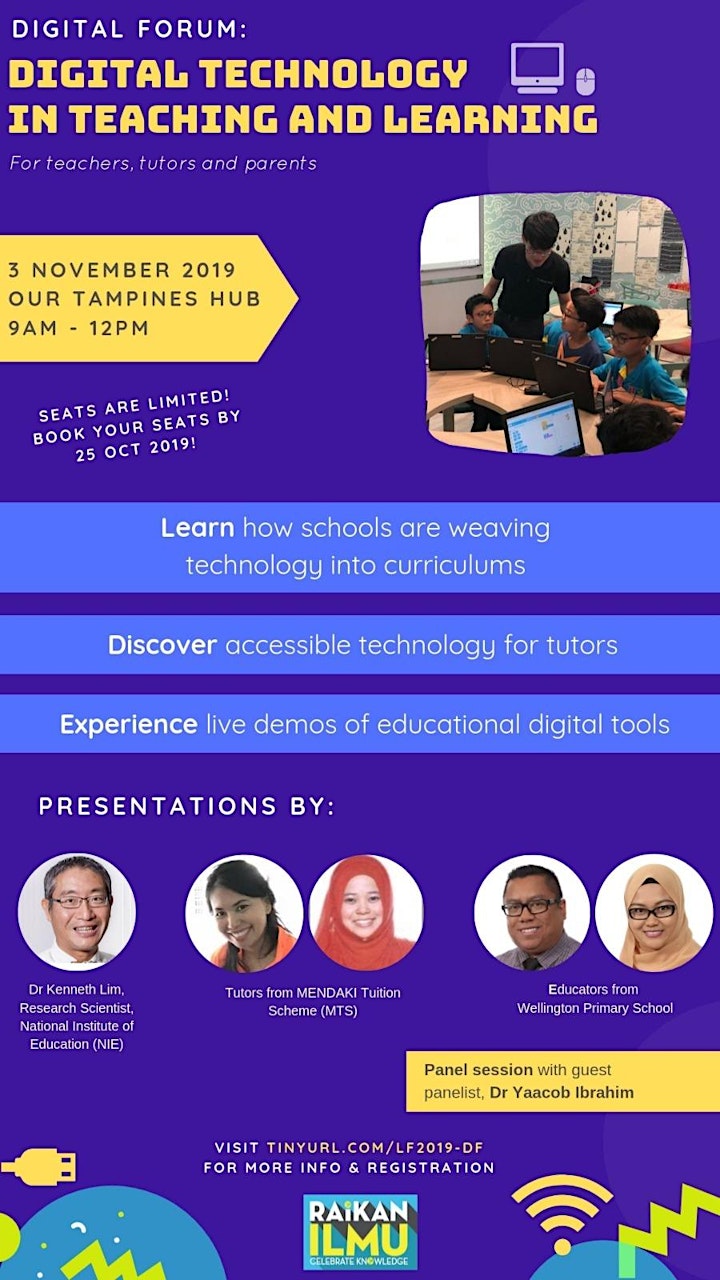 Speakers:
Dr Kenneth Lim, Research Scientist, NIE
Mr Airi Bujang and Mdm Seri Rahayu, Educators, Wellington Primary School
Ms Rosezita Md Hussein and Ms Nur Faezah Abdul Rahman Tutors, MENDAKI Tuition Scheme
Moderator:
Mr Muhd Faisal Aman, Senior Manager Research & Planning, MENDAKI
Guest Panelist: Professor Dr Yaacob Ibrahim, MP Jalan Besar GRC
Topic and Synopsis:
Learning everyday concepts with robots and the Internet of Things (IoT) by Dr Kenneth Lim
Have you wondered about air quality in your home and at school? Have you thought about what happens when a robot moves around? In this talk, a team from the National Institute of Education will share how these questions have inspired teachers to design lessons in science, mathematics and geography to help young people connect what they study in the classroom with our everyday experiences. Dr Lim's team will share examples from how they have helped teachers in Singapore and in Bandung, using low-cost devices known as the Internet of Things (IoT). Time will be set aside during the session for a brief demo / hands-on.
Technology in teaching and learning: understanding the roles of teachers and parents by Mr Airi Bujang and Mdm Seri Rahayu
With the rapid expansion of Information Communication Technology (ICT) in the recent years, it has become important that we are aware of the fact that there is a need for our educational practices to be modified in order to enhance student's learning experience. A purposeful infusion of ICT into school curriculum is indeed the means to making what is taught in schools more relevant and appropriate for our 21st century learners; who are surrounded by many digital communication tools and ubiquitous networked applications. Our presentation aims to share on how the rampant and purposeful use of digital technology, in and beyond the classroom, is providing our students the opportunity to learn through self-exploration and discovery with the guidance of our teachers. This has not only broadened their knowledge but also has enhanced their critical thinking, a skill necessary to be future ready. This presentation further explains on how parents could play a pivotal role by supporting the use of Technology in learning process.
Leveraging on Technology for Enhanced Learning by Ms Rosezita Md Hussein
Technology enables students to take an active role in their learning by allowing them to access information and communicate at any time, from anywhere. The Mendaki E-Tutoring Scheme leverages on this affordance of technology to provide students with the opportunity to explore concepts learnt, understand how these concepts are applied in context, and in turn, apply these concepts in real-world settings.
Tutoring Using An Online Platform by Ms Nur Faezah Abdul Rahman
Sharing her experience on using e-MTS, on online platform, discuss the advantages of using technology to teach and the challenges she faced. What can be done to make online teaching and learning more effective? Nur will share some useful strategies when teaching using an online platform