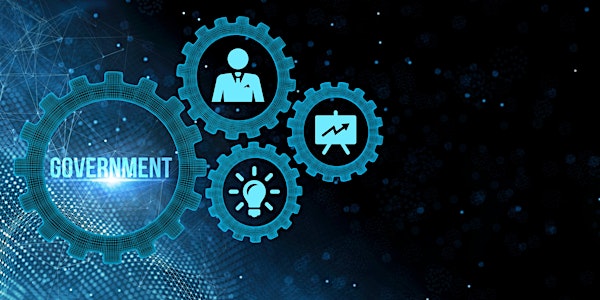 Digital to the Core:Keeping Citizens at the Heart of Digital Transformation
Singapore Standard Time 8:30 AM-11:00 AM
When and where
Location
Singapore Marriott Tang Plaza Hotel Tang Plaza 320 Orchard Rd Singapore, 238865 Singapore
Refund Policy
Contact the organizer to request a refund.
About this event
Digital to the Core: Keeping Citizens at the Heart of Digital Transformation
Modernising and transforming citizen experiences for Connected, Inclusive, and Anticipatory (CIA) Digital Government
The public sector has rapidly embraced digital technologies during the COVID-19 pandemic to serve the citizens.
Despite advances during the COVID-19 pandemic, governments have some way to go to meet citizens' expectations for a seamless, personalised, equitable, and intuitive digital service delivery.
The crisis forced governments to rethink how to best serve citizens through proactive, transparent communication and citizen-centric digital offerings with always-on service.
Citizens are expecting more digitally enabled public services and many want to have more of a say in how they should be delivered. At the same time, a segment of citizens lacks the skills or means to access digital services.
The challenge for the government is to harness data and deploy enabling technologies to be more efficient and effective, without disadvantaged groups being left further behind.
Connected Government and Connected Citizens – Realising the Vision of a Unified Experience
The Singapore government has pivoted successfully and was able to respond decisively and swiftly to the COVID-19 outbreak with a suite of digital tools to help disseminate timely and accurate information to Singaporeans.
At the same time, it is not resting on the past laurels and recognises that much is needed to be done. Citizens now expect a level of service that can match the digital native businesses they often interact with on daily basis. Consider e-hailing, e-commerce, and e-wallet players — they provide a comprehensive service completely through digital means.
Ultimately, citizen experience matters the most and is the cornerstone of any digital government, For the public sector, results are not as quantifiable in comparison to the private sector. Hence, metrics such as delivery time, user satisfaction surveys, and application ratings are the means to establish citizen satisfaction.
The Future of a CIA Digital Government – Personalised, Intuitive, and Engaging Citizen Services
Good citizen experience is one of the most essential components of an effective government. This means people need to know what is available and easily avail what they need. Irrespective of where people access the government, they should be able to navigate to where they need to be and get what they need to get.
Unfortunately, it is still a far cry from the seamless, personalised engagements that citizens have and expect from the private sector. While many governments are prioritising improvement in the way they engage with their customers, archaic processes and outdated policies can often stymie good intentions. Getting information or accessing services from government agencies online continues to be a tedious process and often remains a frustrating experience in most countries.
A simplified, unified, cohesive experience across all departments and agencies is what whole-of-government is. And for the most part, efficiencies are being brought in through digital transformation using cutting-edge technologies. However, in a usually siloed environment, this is no simple task. Despite the availability and preponderance of platforms and solutions, and indeed, perhaps because of it, digital executives struggle to determine the best way forward.
The approach taken by the Singapore government acts as a prime example of how governments can move forward in this digital era.
Singapore places a strong priority on truly understanding its citizens' pain points, which takes precedence over tools.
This points to the question – What does it take to provide a smooth, efficient experience for citizens to navigate to where they need to be? What are some of the tools available to allow a unified, cross-department citizen experience?
OpenGov Asia is pleased to invite you to an exclusive Breakfast Insight aimed at imparting knowledge on how to achieve the goal of delivering a best-in-class citizen experience. One where citizens are more likely to perceive that they are interacting with a unified, accessible government that understands their needs.
The session will help delegates understand ways to implement personalised, omnichannel outreach and engagement with the citizens. The delegates will get insights on how to accelerate a citizen-centric approach, improve their digital experience and help agencies increase satisfaction among citizens to improve perceptions of government effectiveness.
This is a closed-door, invitation-only, interactive session with Singapore's top public sector organisations.
OpenGov Breakfast Insights are concise,strategic level discussions designed to bring learning to the highest level! The unique proposition of this OpenGov Breakfast Insight is the integration of cutting-edge insights from our expert speakers and interactive discussion among the participants.
This unique session will present the latest research and real-time case studies on the future of personalised and effective citizen engagement practices tailored for public sector organisations:
We will be discussing:
Employing personalisation and privacy by design to drive increased trust and a better citizen experience
Building a modern and unified experience for citizens to elevate their trust and perception of government
Understanding the latest trends, best practices, and technologies fueling digital transformation and communication
Understanding how to improve segmentation to personalisation to insights for a great citizen engagement
Aligning digital strategies with changing citizen behaviour and expectations
Providing value through Customer Journey Analytics
Gaining insights into stitching together online and offline data to create a true 360-degree citizen journey story
Increasing accessibility and more data to drive decision making and improve government service delivery
Who Should Attend:
Chief Information Officers
Chief Transformation Officers
Chiefs of IT Operations
Chiefs of Digital and IT Infrastructure
Chiefs of Digital Transformation
Chief Digital Officers
Chief Marketing Officers
Chief Experience Officer