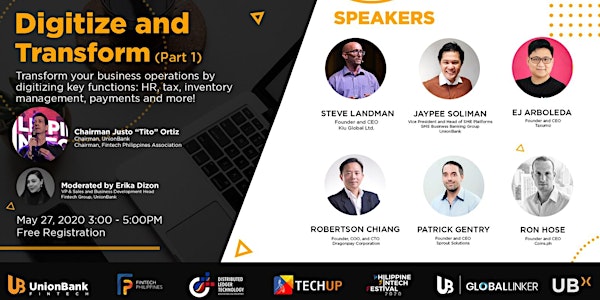 Digitize and Transform (Part 1)
Transform your business operations by digitizing key functions: HR, tax, inventory management, payments and more!
About this event
In this second installment of the Tech Up 0-1-2-3 webinar series, we delve into how you can adapt the workings within your enterprise and its operations to the digital age and the new normal. This includes how to manage relationships with employees, suppliers, partners, and customers in the digital age.
The CEOs and Founders of leading fintechs will share how you can digitize and transform through tech for HR, taxation, and payment among others to accelerate your digital transformation - crucial for businesses now more than ever.
Tech Up 0-1-2-3 is brought to you by UnionBank of the Philippines in partnership with the Distributed Ledger Technology Association of the Philippines (DLTAP), Tech Up Pilipinas, UB GlobalLinker, and UBX.
WHEN: Wednesday, May 27, 2020
TIME: 3:00 TO 5:00PM
SPEAKERS:
Patrick Gentry (CEO, Sprout)
Ron Hose (Founder and CEO, Coins.ph)
Steven Landman (Founder and CEO, Kiu)
Jaypee Soliman (VP / Head of SME Platforms, UnionBank)
EJ Arboleda (Founder and CEO, Taxumo)
Robertson Chiang (Founder, COO, and CTO, DragonPay)
SPECIAL GUESTS
Justo Ortiz (Chairman, UnionBank)
Arvie de Vera (SVP & Head of the Fintech Group, UnionBank)
MODERATED BY
Erika Dizon (VP & Sales and Business Development Head, Fintech Group, UnionBank)