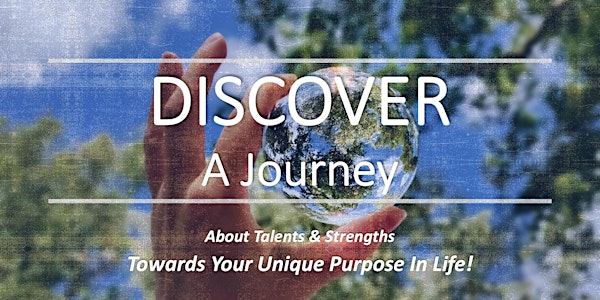 DISCOVER! A Journey Towards Your Unique Purpose In Life
Hop onto a train cabin & start a life discovery journey! Find out what you are naturally good at, and your unique purpose to our world!
When and where
Location
Lifelong Learning Institute 11 Eunos Road 8 Singapore, 408601 Singapore
Refund Policy
Contact the organiser to request a refund.
Eventbrite's fee is nonrefundable.
About this event
"What On Earth Am I Here For?"
This question on a bookmark & 3 books kinda spark off an idea. That is to start meaningful conversations about living our lives more purposefully. Too often, we are busy on the outside but feeling empty on inside.
So if you are game enough to create positive change in your life, here's the three steps designed for your discovery journey.
Step I: You'll take CliftonStrengths assessment to find out what you are uniquely good at. Click here to find out more about CliftonStrengths
Step II: We'll gather for an in-person 3 hour workshop on 4 Aug. To discover our Top 5 CliftonStrengths, share our stories and start thinking about our life purposes. For a more meaningful experience, this workshop is limited to 10 participants.
Step III: After the workshop, you will receive a 90 minute coaching session. To have a deeper conversation in clarifying your life purpose. Should you find the conversations useful towards living a purpose driven life, you can consider continuing with a coaching package. Click here for Black Knight's coaching philosophy.
This workshop + 1 coaching session program is specially priced at SGD$99 (instead of SGD$250), and can be beneficial for:
Business Owners seeking to create meaningful impact with their business
Working Professionals who are considering mid career switch
Young Adults who are constantly busy but feeling unfulfiled
Graduating Tietary Students who want to make a difference with their future career choice
Clients' Words on Black Knight's workshops & coaching
"Ryan's training using Gallup's CliftonStrengths is very well crafted, engaging, and packed with lots of learning elements. The report we receive prior to the training day contains well-summarised information, however, during the training, Ryan made it even more effective and easier for us to apply the result into our future actions.
I highly recommend Ryan's training to bring out the potential of individuals and teams and to improve communication among team members. And thank you very much Ryan for the big heart that you put into the training, all the best!!"
- Ms Kanako Mori, Founder; Image & Beauty Consultant of L'Atelier K
"During the past 10 months, Ryan has witnessed my ups and downs, twists and turns, tears and laughers. Whenever I lost focus, he always stays calm and guides me back to the right path. He also gave me a lot probing and push my limit to think more deeper and further. He is not just a coach, a mentor, a Guru, but also as a good friend who is always there to listen, to give encouragement and compliments whenever I need it. I truly cherish the coaching journey we have took together so far. Sometimes I feel he is like a mirror, reflecting myself, my thoughts, my ambitions, and of course my strengths and weaknesses as well.
Both of us shared a lot of commonality in chasing our dreams and calling. We are not NOBODY but we can be SOMEBODY and we will be SOMEBODY. Keep your passion burning and hope you continue to coach more people and guide them to unleash their potential!"
- Ms Carell Ng, Mother of two, Co-Founder of DC Coliving Home Solutions
Workshop Venue - R9 Cabin @ Lifelong Learning Institute
We'll be having our discovery journey in this specially designed room that emulate a train cabin. Within this cozy & vintage space, let's look forward to authentic conversations & collaborative learning. See you soon!