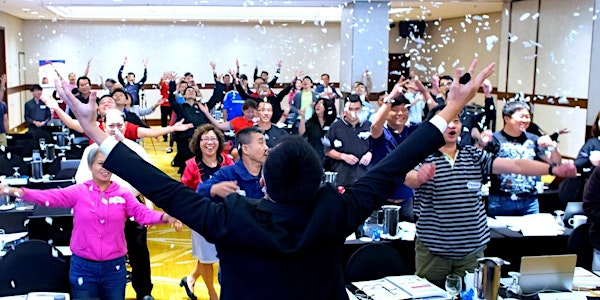 Discover the "6-Step" Ultimate Stock Trading Blueprint from a Top Tier Remisier / Trader - Joey Choy (Precision Trading Strategies Revealed)
When and where
Location
250 North Bridge Road, Raffles City Tower, #06-00 Singapore, Singapore 179101 Singapore
Description
Are you still holding on to losing stocks? Thinking of whether you should cut loss or hold on or maybe even thinking of loading up more of it so that you can lower your cost?
Or perhaps you are still figuring out the PRECISE WAY to look at a stock and you have no idea what to do?
We can't blame you really.....
There are so many ways to ANALYSE a stock, we have: 100s of indicators, price action, candlestick, volume, 100s of patterns, trend, random lines........
What the Heck.... Which has the CORE PRIORITY?
Which is secondary and only serve as a bonus signal? Or which is just a pure waste of time and no point looking at????
What if EVERY SINGLE thing you need to know about Stock trading can be put into a SECRET Step-by-Step BLUEPRINT that you can just follow.

What if this BLUEPRINT is so simple that even a 70 year old elderly and primary 6 student can understand? What if you OWN the blueprint?
Well, join Joey in this "FREE" Workshop where he will reveal his "6-Step" Ultimate Stock Trading Blueprint that is Guaranteed to change your perspective on stock trading forever.

This Blueprint is NOT just another "how to" process on stock trading.
It is NOT about a perfect winning strategy - yet this secrets will help you to get exponentially more wins than you've ever experience before.
It is NOT about huge profits - yet these secrets will explode your profits more than any strategy tweaks or back-test ever could.
Joey will also Reveal, for the first time ever, his Precision Trading Strategies, based on 2 Systems that he has developed after years of back-testing and refining:

"1 Good Trend (1GT)"

"1 Explosive Trade (1ET)"
This "Explosive Trading" Strategy has never been talked about by anyone else ever.
---
What Others are Saying
"Joey not only does well in imparting his valuable knowledge and experience to you but also teaches you how to apply them in real life. If you are keen in Technical Analysis, Joey is the definite go-to authority." - Shanison Lin, Founder / CEO of InvestingNote

"His step-by-step system and structured analysis allows anyone, even a total newbie like me to think and most importantly trade like a professional trader." - Jessica Tan, SMU Undergraduate

"I absolutely love his technique of sourcing out explosive trades, have attended several courses but none of them had shown this method before, simply intriguing" - Seah Weijin, Seasoned Trader
---
Here Are a Few Of The Secrets That You'll Be Given For FREE:
How we rocked the Stock Trading world by using this simple "6-Step" Multi-Dimensional Blueprint to add more value than anyone in our market had ever seen before... AND you'll get the INSIDE scoop on how it panned out for us... Guaranteed to put all your trades in perspective...
Why my trades are ALMOST ALWAYS in these 2 trigger zones and you'll see firsthand how effective this zones really are in bumping up my accuracy (no matter what price action is being seen in there...)
My Top 2 Favorite Candlestick patterns....PLUS: I'll show the exact chart that earns me a positive ROI no matter which of the 2 I choose... AND: I'll show you what to do to make sure that you NEVER waste money on LOUSY Trade setups (HINT: Don't Trade unless you are at least 70% sure you are gonna get a Gain in return).
How we Scan the ENTIRE market to get way more "Sniper Targeted" Trade Setups and HUNT for winning stocks in less than 3 minutes! (Even if you're a newbie or novice trader, with this system, it'll take only 5 minutes max.)
A Glimpse of my Crushingly Powerful EXPLOSIVE Strategy, that anyone - anyone - can use it to turn their trading into a predictable, profit-churning machine! ((Trust me... if a 70 year old uncle and my primary 6 niece can understand this STRATEGY, I bet you can - that's REALLY how simple it is...)
---
Event Details:
Date: 14th Oct 2018 (Sunday)
Time: 10am - 1pm
Venue: 250 North Bridge Road, Raffles City Tower, #06-00, S (179101)
Admission: Free (While Stock Last)


---
Speaker Profile: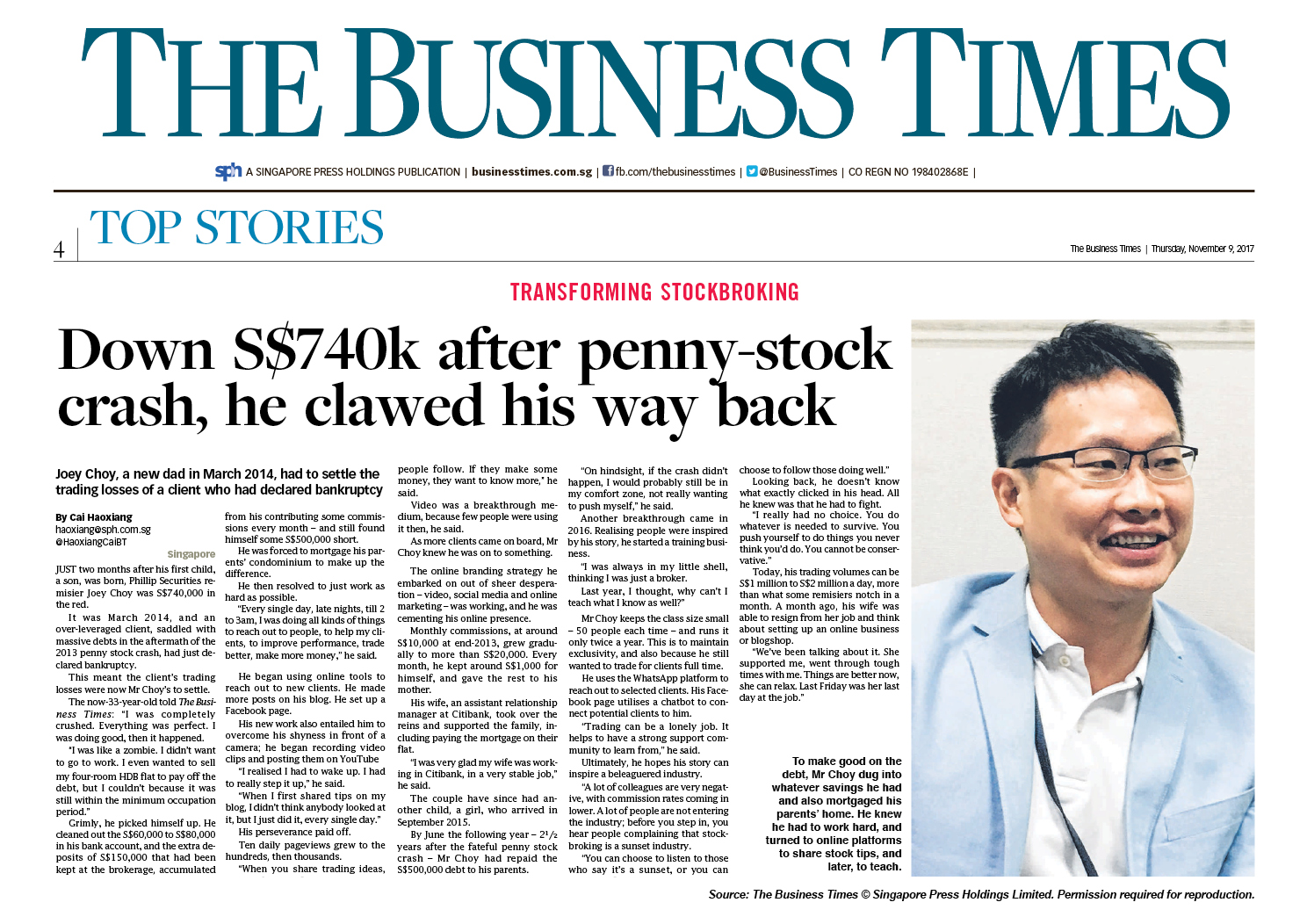 Joey Choy - Joey, founder and Chief Trainer at Trading Impossible, is one of the Top Tier Remisiers (Stock Brokers) and Traders winning multiple yearly awards like Top CFD Specialist 2013, Top Account Growth Achievement and Top CFD Remisier 2014 followed by Top Trading Representative, Top CFD Achiever in 2015, 2016 and 2017 in Phillip Securities. His signature program Precision Trading Intensive has taken the market by storm with raving reviews not seen elsewhere.
Joey's come back story from a $740k debt through the Singapore stock market has been featured on the Business Times in Nov 2017 as seen above.
Joey has been a guest speaker at 938 Live where he shares his view on the Stock market and selected Sectors and stocks to focus on. He is the Most widely followed stock broker and also trainer in Singapore on InvestingNote - Singapore's first social stock trading platform. He has been invited by SGX to speak under the SGX Sector Connect training series and also by NTU and SIM Investment club to impart his knowledge to its students.
Joey is also featured as one of the leading Market Watchers at Shares Investment and also a trainer at ShareInvestor Academy– which are established Stocks Investment portal in Singapore. His interest in the stockbroking industry was propelled in 2007. This was after landing an internship in Goldman Sachs Institutional Equity Sales team where he gained knowledge from the elites in the industry.

---