Disposal Transport Recycle Laptop Computer Smartphone Returned Electronics

Thursday, 24 September 2020 from 09:00 to 17:00 (Singapore Standard Time Singapore Time)
Event Details
In recent years, we have been helping out several corporations to cut down wastages, reinvent ECO savings for disposal, even so to further conduct I.T. deployment analysis on 'reusable' model solutions for good practice.
Some clients have expressed their thoughtfulness in our voluntary hardwork and is notable that change is inevitable, the company has to deal in the rising cost to modeling business operations and processes, large organisation has to be fairly involved and lend support to local SMB.
For the same reason, Do-Yi enterprise has to level cohesion between transporting servicing to rewardable effort and recovery solution in return, every application will be decided on a case-by-case basis in working out a cost effective service outreach that is taken upon request. 

Likewise, the widespread in laid-off equipment such as mobile computer; we recycled to repair mostly "Rugged tough-book computer" which generally some companies released serviceable laptop computer to Do-Yi Enterprise collector, knowing that we are good in these context on specialised equipment care servicing.
Asides, we do offer personalised collection from kind-giver's which help whenever they decluttering its workstation, get-rid items such as Apple laptop, Alien-ware PC, Ipads, tablets/satellite smart Phones, LED monitor, SSD hard drives, e-gadgets, portable office machines/tools as well as others warehouse returned goods broad range of exclusive properties i,e. Branded goods, new sport gear, watches, or door gift pack and often we can pass-it on to our service customer, most likely prospect will take on as business referral's contact that comes to you whenever they need help.
All serviceable e-appliances is meant for repurposeful to. 
Free haul to recycle! 
Feel appreciative to recondition serviceable unwanted goods.
Provide us a disposal inventory description list email to: doyi_enterprise@yahoo.com
With gratitude and thanks-giving, Do-Yi Enterprise very often helping more companies get straight to the task to recover laid assets that's possibly find a new lease of life.
Yours sincerely,

Secretariat Admin, ECO-ITS star | eWaste Management IT Initiates | 
Do-Yi Enterprise | 
TEL: 6659 6862 | Email: doyi_enterprise@yahoo.com
"Goods are recycle

 in the hands of those who use them properly"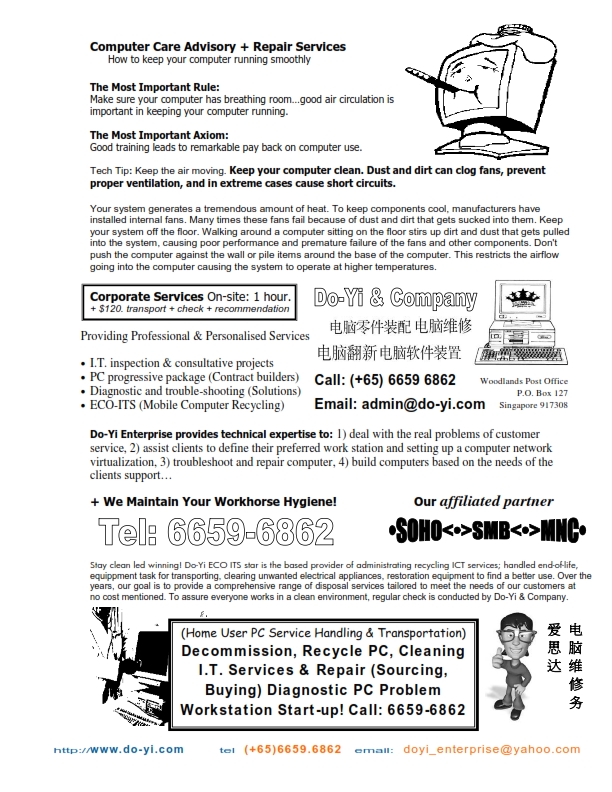 When & Where

On Site Service Collection
Designated Location Address
Name of Company / Building Complex
Singapore
Singapore

Thursday, 24 September 2020 from 09:00 to 17:00 (Singapore Standard Time Singapore Time)
Add to my calendar
Organiser
Collection Unwanted Computer/Electrical Appliances

Take us heartfully assistance in disposal handling we care!
We accept almost all computer hardware and unwanted stuffs.

Techie Stuffs:
- Unwanted I.T. Equipment - Computers, Laptop, Monitor & Others Electrical Appliances... email list of items
Call us today for collection appointment
TEL: 9859-1202
Email: doyi_enterprise@yahoo.com 
DO-YI Enterprise (Singapore)