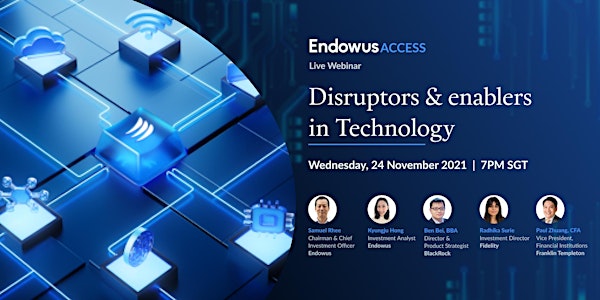 Disruptors & enablers in Technology
The explosive growth in technology has captured the attention of many, but is this growth sustainable? Market experts explore this question.
About this event
Technology companies have been rapidly growing over the past 20 years, leapfrogging financial and consumer stocks in terms of market dominance and performance. With frontier technology and constant innovation, the growth opportunities in the tech space seem limitless. With such high valuations, is this growth sustainable?
Join our speakers as they tackle the important questions when it comes to investing in technology, such as:
Why invest in technology? How has the tech allocation in major indices evolved over the years?
Is the explosive growth in technology going to continue?
Tech investing beyond the US — what other geographies/sectors are creating waves in this space?
How should investors approach the recent China tech correction, and what are the policy risks?
Watch it live here: https://youtu.be/Y2WhQa0b8BU
About the speakers
Ben Bei, Director and Product Strategist, BlackRock
Mr. Bei, Director and Product Strategist of BlackRock, has more than fifteen years of experience in the financial industry, mostly performing macroeconomic and equity strategy research on China. Prior to joining BlackRock in May 2018, Mr. Bei worked at CIMB as Chief China Strategist and Head of Hong Kong/China Research. Mr. Bei earned a BBA in Accounting with First Class Honours from Hong Kong Baptist University, and a Master of Finance from The University of Hong Kong.
Radhika Surie, Investment Director, Fidelity
Ms. Radhika is a senior product specialist, based in London, covering global equities. She has over 10 years of industry experience, working as an Investment Consultant in Deloitte and as a Research Analyst in India Infrastructure Publishing. She graduated from the Delhi School of Economics.
Paul Zhuang, CFA, Vice President, Financial Institutions, Franklin Templeton
Mr. Zhuang is part of the wholesale distribution team at Franklin Templeton. Based in Singapore, his responsibilities include being the lead for retail bank channels and country lead for Indonesia. His previous work experience includes fund selection and due diligence at DBS Bank, portfolio performance reporting at Credit Suisse Private Bank and relationship management at UOB Bank.
Samuel Rhee, Chief Investment Officer, Endowus
As the Chief Investment Officer & Chairman of Endowus, Sam is responsible for the company's asset allocation and investment selection. He heads the Investment Committee and ensures holistic portfolios for every investor. Sam has over 27 years of investment experience, managing investment portfolios in excess of US$20 billion dollars while working with the largest financial institutions in the world. He is the former Chief Executive Officer and Chief Investment Officer at Morgan Stanley Investment Management in Asia.
Kyungju Hong, Investment Analyst, Endowus
Kyungju is an Analyst with the Investment Office at Endowus, working to curate best-in-class investment products and offer them to clients in the easiest, cheapest way possible. Kyungju graduated from SMU LKC Business School majoring in Finance, and comes with internship experiences in corporate finance, mezzanine finance, and VC. In her spare time, the Brunei-raised Korean enjoys practising ballet.
Terms & Conditions
Do note that CRM emails may be used for marketing purposes.