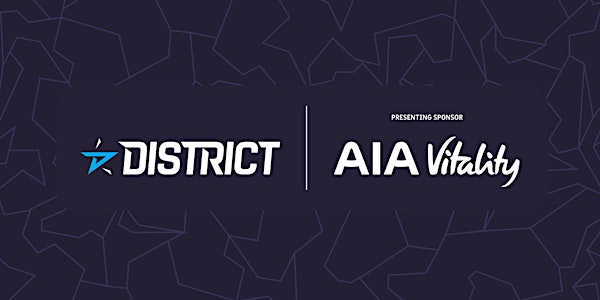 District Race Hong Kong 2019 presented by AIA Vitality
When and where
Location
Central Harbourfront Event Space 9 Lung Wo Road, Central 中環海濱活動空間,香港中環龍和道9號 Hong Kong
Description
THE WORLD'S GREATEST URBAN EXPLORATION RACE
Powered by cutting-edge augmented reality and location-based technologies, District Race presented by AIA Vitality brings cities to life through the District Race mobile app. Participants will navigate their way through the city collecting as many points as possible by clearing virtual checkpoints and challenges.
全球最勁城市探索競賽
由「AIA Vitality健康程式」獨家贊助的District Race,會透過大會特定的District手機應用程式,結合尖端擴增實景(AR)及行動定位技術,為熟悉的城市注入新生命。競賽選手將遊走整座城市裡的虛擬關卡及挑戰,盡力收集最多點數。
HOW IT WORKS
With no set route and no set distance, participants can strategise and plan their own routes, choosing which checkpoints and challenges to clear that will maximise their point score.
Each challenge requires different skills to tackle– speed, city knowledge, dexterity and problem-solving skills, and participants can choose which challenges to take on that play to their strengths.
如何進行
賽事無固定路線、亦無特定距離,競賽選手自由制定出戰策略與路,並選擇遊走的虛擬關卡及挑戰,盡力收集最多點數。
各個關卡需要不同的技能 - 速度、城市知識、敏捷度及問題解決技巧,競賽選手可以依據自己的實力選擇將前往的挑戰點。
RACE FORMATS
INDIVIDUAL – Run your own race and unleash your full potential.
TEAM - Form a team of 4 and collect points while explore your city together. Points on the Live Leaderboard is the cumulative effort of all 4 team members. *Teams of 4 receive a 10% discount at registration
競賽形式
個人賽 - 釋放你的潛力,跑出自我。
團體賽 - 組成四人的團隊,一起探索城市並收集點數。於手機程式的排行榜將顯示四名隊友的累積點數。 *團體報名將獲9折優惠
RACE CATEGORIES / 競賽組別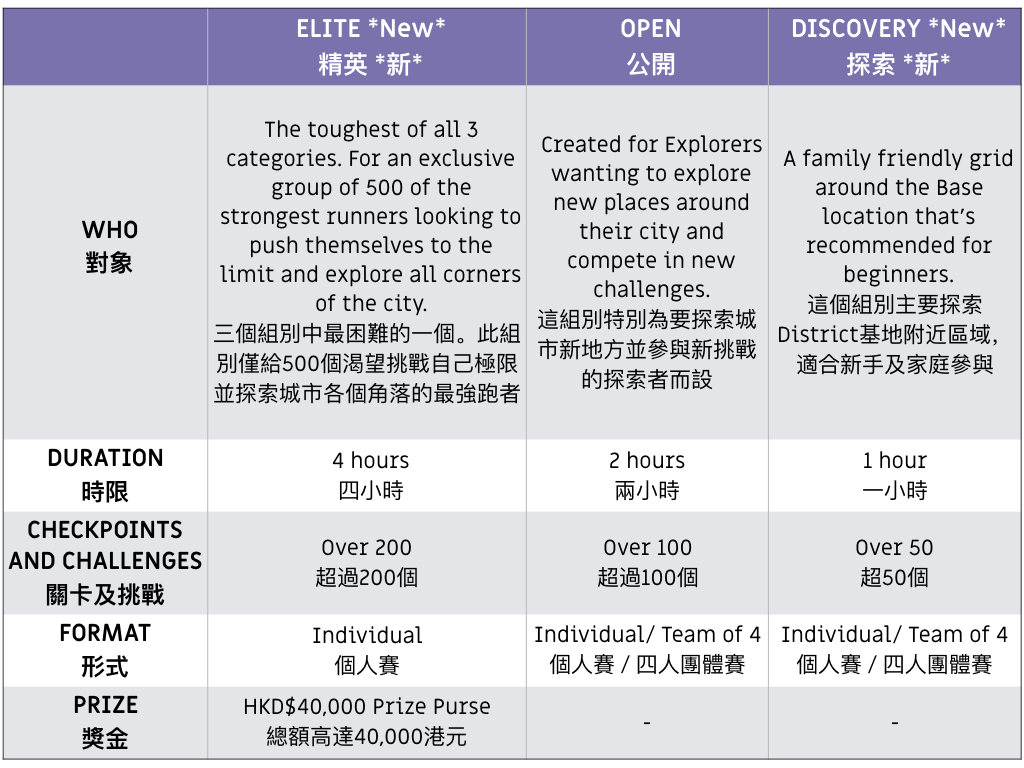 Super Early tickets start from HKD$250 and are available till 31 January. Each ticket comes with a District Race Kit including a District Race T-shirt and an exclusive District Race Hong Kong, AR enabled, finisher medal.
限時超級優惠之報名費由250港元起,優惠期由即日起至1月31日為止。參加者可憑每張門票獲得District Race競賽包,包括 District Race T恤及支援AR的District Race 香港站完賽獎牌
T-shirt size chart / District Race T恤尺碼表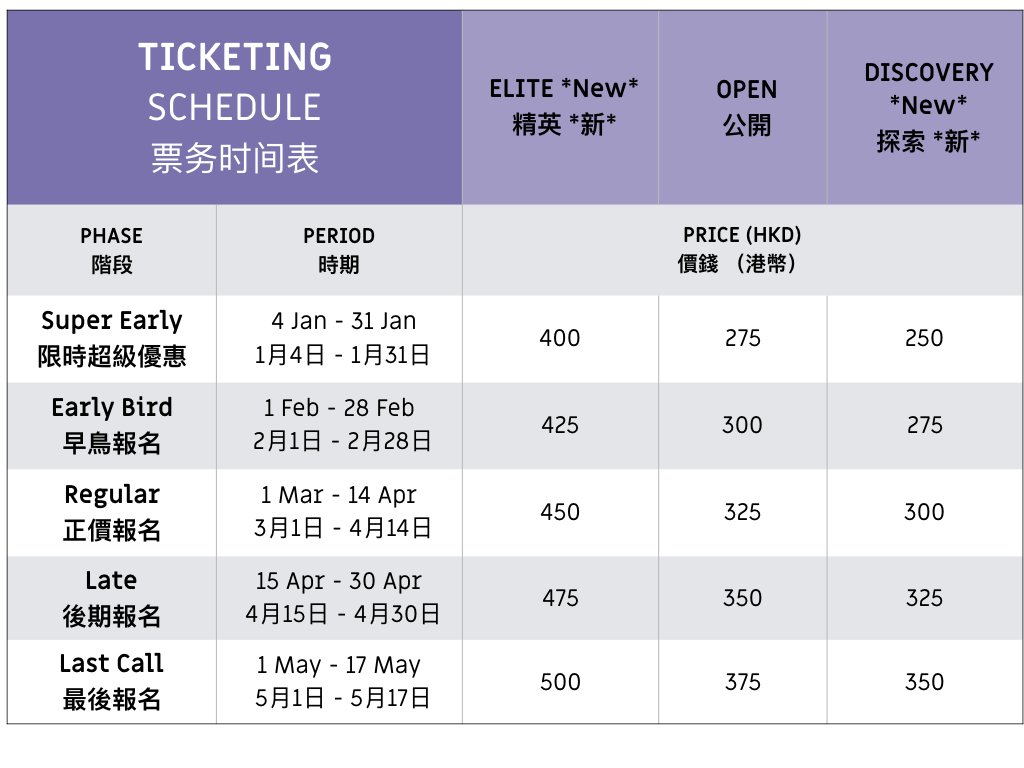 *Teams of 4 receive a 10% discount at registration 團體報名將獲9折優惠
PROGRAMME / 活動流程
0500 - Gates Open 開始入場
0530 - Elite Wave 1 精英組第一批
0545 - Elite Wave 2 精英組第二批
0600 - Open Waves begin 公開組
1000 - Discovery Waves begin 探索組
1100 - Prize Presentation 頒獎典禮
1600 - Event Ends 活動結束
AGE LIMIT / 年齡限制
- Registration is required for the participants at age 12 and above to join the race. Children under the age of 12 can enter the race for free
- For safety reason, each participant under the age of 16 must be accompanied by an adult
- The age of the participants is based on the event date on 19 May 2019

- 12歲或以上人士須報名方可參加,12歲以下人士則可豁免報名及免費入場
- 基於安全考慮,每一位16歲以下參加者必須由最少一位成人陪同參與此活動
- 參加者年齡以2019年5月19日競賽當日作準

HOW TO PURCHASE A TICKET / 如何買票
Please refer to the registration guide.
請參考報名指南。
Visit www.districtrace.com for more event and ticket information, or reach out to us via email at explore@districtrace.com.
瀏覽 www.districtrace.com 以獲知更多活動和票務詳情,或者電郵至 explore@districtrace.com 以聯絡我們。