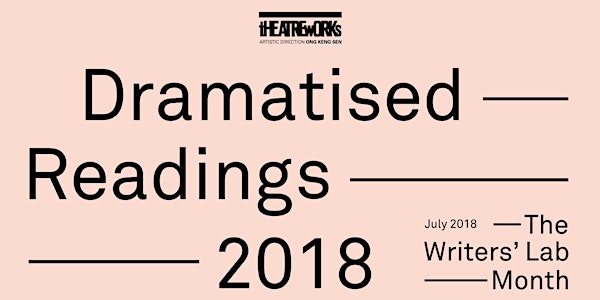 Dramatised Readings 2018 by TheatreWorks Writers' Lab
When and where
Location
72-13 Mohamed Sultan Rd 72-13 Mohamed Sultan Road Singapore, 239007 Singapore
Description
TheatreWorks Writers' Lab presents: Dramatised Reading 2018
Fresh from 'graduating' after a year-long mentorship with renowned playwright Tony Perez, emerging playwrights Clara Chow and Pamela Tham will have their original new works presented in a dramatised reading at 72-13.
TheatreWorks is dedicated to nurturing and developing new writing for the theatre. Our script development process focuses on exploration and creative dialogue. The primary motivations are to create a responsive community, to generate a feedback loop with our audiences who contribute to the growth of new scripts and to cultivate confident playwrights.
We invite you to join us in listening and responding to these new works as Clara Chow and Pamela Tham take the next step in their playwriting journey
Details for the Dramatised Readings
Date & Time: 7 July 2018, 2pm to 10pm
Venue : 72-13, Mohd Sultan Road, Singapore 239007
Register today to receive an invitation.
---
Synopses of Plays
Make Sure by Clara Chow | 2pm to 4pm
When a brash and confident docent steps into a white-cube space, filled with imaginary artworks, she finds herself confronting an unlikely nemesis: A security guard who refuses to let anyone touch anything. The docent champions artistic expression and freedom, evident in the passion with which she describes invisible art on the walls, to an audience who has to choose whether to follow her or to obey the instructions of the guard. Like a tug-of-war, both women argue their point of view in front of the "tour group" of roving audience members. Things come to a head in this satire when a robbery suddenly erupts.
Directed by Teo Mei Ann. Performed by Beatrice Chia, Noorlinah Mohamed and Shafiqah Efandi
Birth Days by Clara Chow | 5pm to 7pm
When Sabine discovers that her husband is cheating on her, she struggles to carry on as a single parent to two boys. However, going through a messy divorce and financial upheaval, Sabine begins to crack a little under the pressure, and soon, her relationship with her mother is strained. The play explores the complex relationship between mother and daughter, woman and woman, and asks the question: What makes a woman a mother? Her story is interspersed with birth stories gleaned from true-life accounts. Modern medicine and the field of gynecology have been shaped by the contributions and historical dominance of male experts/doctors. Stories of childbirth, labour and miscarriage are often considered private, taboo and not suitable for public discussion. Birth Daysattempts to reclaim these narratives and air them frankly, without stigma.
Directed by Chen Yingxuan. Performed by Fatin Syahirah, Jolene Wong, Noorlinah Mohamed, Nora Samosir, Ong Yi Xuan, Rodney Oliveiro, Serene Chen and Serina Sng
Waiting for Marimekko by Pamela Tham | 8pm to 10pm
Changi Beach is a good place for quiet moments. Rasul and Sarah find that they both aren't alone at Changi Beach that clear Sunday afternoon.
Rasul sits on a bench with only a camera and a kendama for company. While Sarah sits alone after just bidding goodbye to her boyfriend. As these two individuals start chatting, they discover their conversation washes up fragments of memories they had put away, shadows of people they loved, and connections that surprise them both.
Waiting for Marimekko is about what happens between hellos and goodbyes, departures and arrivals, and remembering and forgetting. It takes time to savour the little things that happen quietly and insistently as we wait, with excitement and dread, for the big milestones in life. Perhaps, it suggests, the wait is what we most need to pay attention to.
Directed by Lim Yu-Beng. Performed by Adib Kosnan, Ali Anwar, Cheryl Tan, Nora Samosir and Muhammad Muazzam
The Playwrights
Clara Chow
Clara Chow (Singapore) is the author of story collections Dream Storeys (Ethos, 2016) and Modern Myths (Math Paper Press, 2018). Her fiction has been published in the likes of Asia Literary Review, Columbia Journal, and Prairie Schooner, as well as anthologised in the Epigram Books Collection of Best New Singaporean Short Stories: Vol. 3, The Best Asian Short Stories (Kitaab, 2017) and Hook & Eye (Ethos, 2018). A former arts correspondent with The Straits Times, Life!, she has also contributed to the South China Morning Post. Since becoming a full-time fictionist, she has been a writer-in-residence at Toji Cultural Centre in South Korea, the Bogong Centre of Sound Culture in Australia, and the ASEAN Literary Festival in Jakarta. In 2015, she co-founded the online art and literary journalWeAreAWebsite.com. Find her at http://clarachow.weebly.com
Pamela Tham
Pam has worked in the public service as a primary school educator, citizen engager and content producer. In the past seven years, she has found herself answering questions as diverse as (1) Ms Tham, do whales have hair? (2) What are the needs of Singapore's future economy? (3) Could you check this colour-proof for errors?
Pam is also known for starting up a collection of puns about MRT station names, and loves it when people play with words. In her own attempts to do so, she tries to capture the beauty and complexity of real lives, stitching together snippets from conversations with the taxi driver, observing the lady next to her on the bus, and eavesdropping on the teenagers across the aisle in the MRT. Yes, she spends a lot of time on public transport.