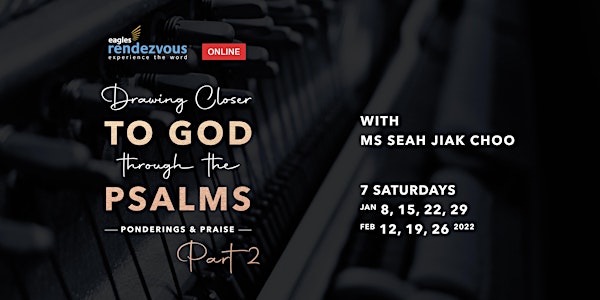 DRAWING CLOSER TO GOD THROUGH THE PSALMS (PART 2) with Ms Seah Jiak Choo
Seven psalms selected to encourage our hearts, inspire our minds and draw us closer to God in praise.
About this event
DRAWING CLOSER TO GOD THROUGH THE PSALMS (PART 2)
This course is Part II of "Drawing Closer to God Through the Psalms". The ten Psalms studied in Part I were drawn from Book 1 of the Psalms (1-41). In Part II, the focus will be on selected Psalms from Book 2 (42-72) and Book 3 (73-89). For example, Psalms 42 and 43, a pair of Psalms which express longing for resolute faith and hope in God in times of drought, drowning and discouragement. What about Psalm 69, a psalm that heaps curses on one's tormentor? Is this an acceptable attitude? We shall examine these and other Psalms and let them stretch our minds, stir our hearts and draw us closer to God in humility and praise.
SPEAKER: MS SEAH JIAK CHOO
Ms Seah Jiak Choo, Advisor, Ministry of Education is a former Director-General of Education. Since her retirement in 2009 she has completed a Master of Arts (Theology) program at Fuller Theological Seminary. She enjoys hiking, reading, and most of all, teaching.
VIDEOS PUBLISHED 7 SATURDAYS, 4 PM
Jan 8, 15, 22, 29, Feb 12 19, 26
*The link to access the video will be on the ADDITIONAL INFORMATION Section of your Registration Confirmation Email.
Eagles Rendezvous is a Bible study ministry of Eagles Communications.