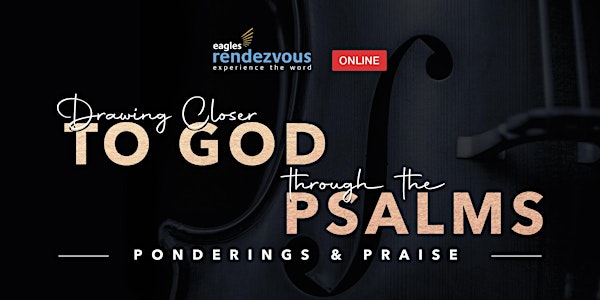 Drawing Closer to God Through the Psalms – Ponderings & Praise
Explore selected psalms that will encourage our hearts, stir our minds and draw us closer to God in praise.
About this event
*In light of government restriction of public gathering, we will not be meeting at Eagles Center. We will be publishing the video every Saturday, 4PM. So join the study from the comfort of your home.
DRAWING CLOSER TO GOD THROUGH THE PSALMS – PONDERINGS & PRAISE
Believers have been drawn to the Psalms because the Psalms express their feelings – both positive ones like joy and hope as well as negative ones, like despair and fear. But the Psalms cover more than emotions. They may be inspired by personal experience but they contain important teachings about God and how to lead a godly life.
The course will include the first three psalms as they lay the foundation for understanding the whole book of Psalms. Some favourite psalms will also be appreciated in a new light. For example, Psalm 23 as the "filling" of the "psalm sandwich" comprising Psalms 22, 23 and 24. These and other psalms have been selected to stretch our minds, stir our hearts and draw us closer to God in praise.
SPEAKER: MS SEAH JIAK CHOO
Ms Seah Jiak Choo, Advisor, Ministry of Education is a former Director-General of Education. Since her retirement in 2009 she has completed a Master of Arts (Theology) program at Fuller Theological Seminary. She enjoys hiking, reading, and most of all, teaching.
7 SATURDAYS, 4 PM
Jan 9, 16, 23, 30, Feb 6, 13, 20
*The link to access the video will be on the ADDITIONAL INFORMATION Section of your Registration Confirmation Email.
Eagles Rendezvous is a Bible study ministry of Eagles Communications.