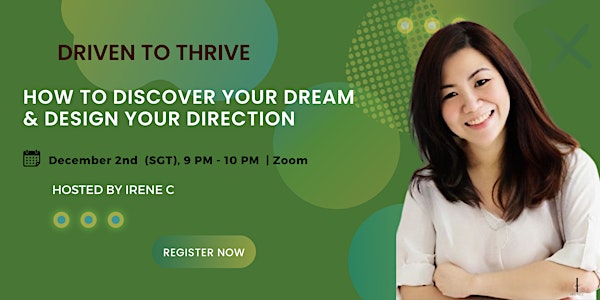 Driven to Thrive: How to Discover your Dream & Design your Direction
A journey from Aspiration to Transformation
About this event
You don't need to choose between career success and feeling happy. If you commit to your growth, you will have tremendous power to develop and create a career and life filled with joy, meaning, and success.
Driven to Thrive: How to Discover your Dream & Design your Direction is a brain-based webinar that is measured by your commitment to develop resilience in pursuit of your aspiration to transofrmation.
So, come and join me if you are .....
⭐ Highly motivated individuals who want to have "their" all.
⭐ Individuals who are ready to stop living under their potential and ready to take charge towards a life filled with meaning, purposes, passion, and happiness.
You will walk away with....
⭐ A simple framework on how you can attract more success and abundance in life and become the person you want to be.
⭐A strategy to create an impact on your life and the people around you.
Do give yourself the gift of an uninterrupted 1 hour off your time and grab your ticket to this event. Come with an open mind, and I promise you that you will thank yourself for spending this 1 important hour of your time.