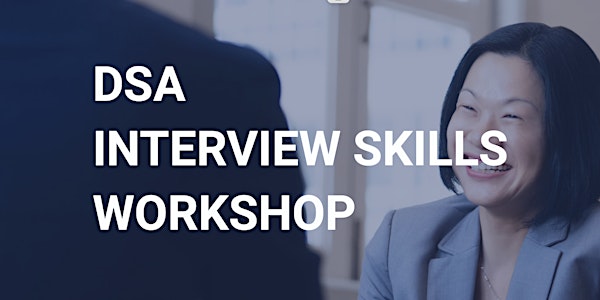 DSA Interview Skills Workshop - 14 June 2023
Set your children up for success by giving them the right preparation and build their confidence in tackling the DSA- Sec interview
By Discovering Potential Pte Ltd
Date and time
Wed, 14 Jun 2023 09:00 - 12:00 +08
Location
Singapore Shopping Centre, 6th Floor (150m from Dhoby Ghaut MRT) 190 Clemenceau Avenue Singapore, 239924 Singapore
About this event
DSA INTERVIEW SKILLS WORKSHOP HIGHLIGHTS
Professional coaching by an experienced Interview Skills and Behavioural Consultant specialist
Small group ( 5 pax per group maximum), highly hands-on session
Learn by practical application and practice
Experience a mock DSA interview
Receive a personalised report post-workshop
PROGRAM OBJECTIVE
​As Interview Skills specialists, we are best positioned to give your child a helping hand to master the art of tackling interviews, and to handle such high stress moments confidently. The DSA-Sec program includes an interview for shortlisted applicants and for most children, this will be the first time they are experiencing an interview. An interview is a highly niche situation, one that is never replicated in our everyday life. Set them up for success by giving them the right preparation and to build their confidence in tackling not just the DSA interview, but for any interview they will face in the future. 
This workshop is uniquely developed to be a highly practical and hands on workshop that will allow the trainer to coach each participant in a very comprehensive manner. It is designed to provide each student the opportunity to not only learn interview skills, but to actually put the skills to use and to have an experiential mock interview which will be recorded for the participant's own review and practice post the workshop. 
This workshop will be run by Discovering Potential's founder, Hwang Siew Ling, who has extensive experience training students in the areas of Interview and Communication Skills. Siew Ling is an Interview and Career Coach, and she is a Certified Advanced Behavioural & Career Consultant, as well as a Certified Practitioner of Neuro-Linguistic Programming. Siew Ling's full CV can be found here . 
KEY LEARNINGS
Be prepared for what to expect during a DSA Interview
Review past DSA Interview formats and questions
Familiarise yourself with key question types and how to structure good answers
Achieve awareness of how to maximise the opportunity provided by each question
Master the skill of tackling interviews without rote-learning
Understand the art of weaving in your strengths in almost any question
Learn how confidence and non-verbal communication influences the interview outcome
Understand the difference between general questions and talent specific questions
Experience a mock DSA Interview and receive constructive feedback from the trainer
Receive feedback on a full range of rubrics such as body language, habits, reactions, responses, use and command of language, structuring of answers and ability to build rapport
Walk away with important preparation techniques to self-practice
PROGRAM DETAILS AND DATES ​
3 hours program
Date: Thursday, 16th March 2023, 9.00 am to 12.00 pm
Venue: In PERSON at our office at 190 Clemenceau Avenue 6th Floor (150m from Dhoby Ghaut MRT)
FOR WHOM
Primary 5 and 6 Students​
​PRE-PROGRAM PREP
​In order to maximise the value of this program for every participant, we will be requesting for information regarding the participant prior to the workshop. The information requested will be related to the DSA talent they intend to apply for and it is strictly intended for our trainer to coach each participant more effectively. The information will be treated with strictest confidence but participants are free to opt out of providing the information. 
POST-PROGRAM MATERIALS
​All participants will be provided with the following after the workshop:
Individualised report containing the trainer's observations and recommendations
REVIEWS FROM PARTICIPANTS
C. Kho: I can learn about the types of questions the interviewer might ask and i can practice how to answer the questions and get feedback to improve. The trainer was engaging and made the workshop fun to attend
A. Ong: The best part was the group interview at the end because we got to learn from each other's mistakes and learn how to improve on our own mistakes
A. Karthik: The best part was the feedback given at the end as I now know my weaknesses and how to improve them
REVIEWS FROM PARENTS
W.L. Goh: Siew Ling provided fantastic guidance and interview tips to my son. This enabled him to perform with a lot of confidence during his interview with Raffles Institution for Math DSA Domain. He was given a Confirmed Offer by the school!
D. Tan: Siew Ling is an experienced coach. She is skilled in imparting important and useful interview skills to my daughter. Due to her relevant coaching and useful tips, my daughter managed to secure a placing at a secondary school of her choice via DSA. :
M. Ong: A has been offered a confirmed offer with St Nicholas. Thank you for the tips during the workshop
S. Xien: We've engaged Coach Siew Ling to train our daughter for DSA interviews. Our daughter has full of praises for Coach Siew Ling, as she feels that she learnt alot of special techniques and advice from her. She can click so well with coach. We noted that the trainings helps build up her confidence levels and also helps in her oral performance. We planned to engage Coach Siew Ling in future as my daughter promote into her secondary school levels. We'll definitely recommend Coach Siew Ling to our Friends .:). Thanks Coach
Other reviews from our past clients can be found on our website homepage www.discoveringpotential.com.sg
FEES
$250 per participant
Parents/Guardians to note: This workshop may involve audio and visual recording of the participants. By signing up for the workshop, you have provided your consent for your child/ward to be recorded.
All necessary Safe Distancing Measures that are applicable at the time of the workshop will be adhered to. In the event the event cannot take place due to unforeseen circumstances, Discovering Potential reserves the right to cancel the event and refund all tickets fully or to provide an online alternative.
For any inquiries, please email Discovering Potential at info@discoveringpotential.com.sg or WhatsApp at 92341380