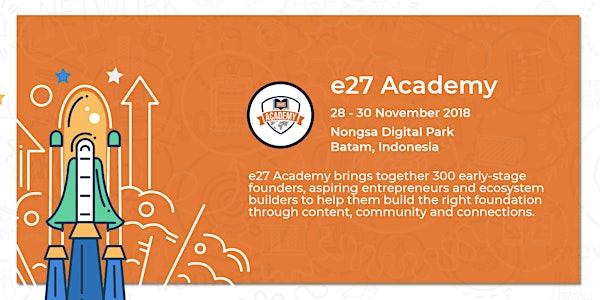 Date and time
Tue, 27 Nov 2018 08:29 - 08:30 WIB
Location
Nongsa Digital Park Nongsa, Riau Islands Indonesia
Description
e27 Academy brings together 300 early-stage founders, aspiring entrepreneurs, and ecosystem builders to help them build the right foundation through content, community, and connections.
View the event agenda HERE. ~30 hours of content packed into just 3 days ;)
---
This programme is for:
Aspiring Founders who are looking to take that next step.
You've been thinking of making the jump into entrepreneurship. Academy will be a zero pretense immersion into the world of being a founder. It's your backdoor access to meet early stage founders, and learn about real challenges they face. We have limited slots for this ticket class.

Founders and Co-Founders who understand the challenges and pressure faced daily.
You're an early stage founder or co-founder. Hungry for knowledge and armed with real life challenges to be solved. Academy is all about deep workshops and roundtables that tackle real issues at hand. Walk away enlightened.

Ecosystem Builders
You want to get ahead of the game by engaging with the region's next generation of founders.

5 content pillars we will touch on:
1. New market entry in SEA (expansion or even launching from ground 0)
2. Leadership and Management (how be a CEO or leader, and personal well-being)
3. Fundraising (From your first investor to evaluating offers)
4. Hiring (Core team and HR policies)
5. Productivity and Performance (Be effective, and yield more results from everyone)

---
Vist our FAQ HERE.
About the organiser
e27 is the startup ecosystem's go-to platform for insights, connections, talent and funding opportunities. It is our mission to empower you with the tools to build and grow your company.
 Entrepreneurs, innovators, world-changers. This is where you start.
Get information that matters
Access an exhaustive range of content that impacts you as a stakeholder in the Southeast Asia tech ecosystem. Created, curated, and delivered in fit-for-purpose and easily digestible formats.
Build connections and open up new opportunities
From having visibility to a large network of investors to beginning a conversation with them, engage with over a thousand active investors in Southeast Asia and beyond. And it's not just investors. Search for the next great talent to add to your team or browse through events to feed your brain and network with your peers.
Gain visibility across the region
Share your story, announce your milestones, and even search for talent and events to join. Build your presence in the platform accessed by a large community of 2000+ investors and 3500+ companies.
Amp up your growth with e27 Pro
Access relevant tools, insights, and connections to boost your visibility and growth, at various stages of your company.
Tech news and ecosystem content: e27.co 
e27 Pro https://e27.co/membership
Get the daily newsletter https://e27.co/signup
Follow us on:
LinkedIn: e27 (Optimatic)
Instagram: @e27.co
Twitter: @e27co
Facebook: e27  facebook.com/e27
Contact us at contact@e27.co and engage@e27.co  to explore opportunities for media exposure and collaborations or just to say hi!