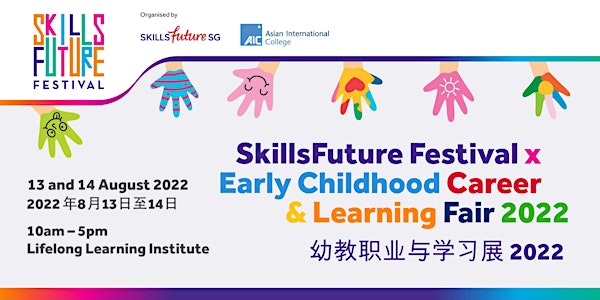 Early Childhood Career & Learning Fair 2022 幼教职业与学习展2022
Do you want to become a preschool teacher? Join us at the Early Childhood Career & Learning Fair 2022! 您想成为合格的幼教老师吗?请参加我们的幼儿职业与教育展2022!
When and where
Location
Lifelong Learning Institute 11 Eunos Road 8 #04-01 Singapore, 408601 Singapore
About this event
Do you want to become a preschool teacher? Join us at the SkillsFuture Festival x Early Childhood Career & Learning Fair 2022!
您想成为合格的幼教老师吗?请参加我们的幼儿职业与教育展2022!
Career consultation
On-site interview (please bring your updated resume)
职业质询
现场面试 (请准备您的个人简历)
More than 10 childcare employers will be participating in this fair, including:
超过10个品牌的幼儿园将参加这个展览会:
7oaks Preschool
Anglican Preschool Services
Brighton Montessori
E-Bridge Pre-School
Learning Vision
NTUC First Campus
Pat's Schoolhouse
PCF Sparkletots Preschool
Star Learners
And many more!
There will also be a series of Career Talks and Workshops in English and Mandarin!
此外,还将举行一系列的职业讲座和研讨会。 英语讲课和华语讲课。