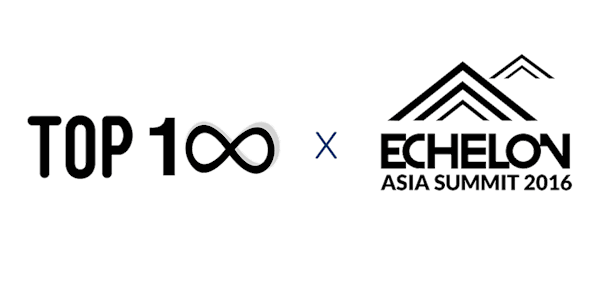 Echelon Asia Summit 2016: Tech Pioneers of Tomorrow
When and where
Location
Singapore Expo Hall 3A 1 Expo Drive Singapore, Singapore 486150 Singapore
Description

SINGAPORE | JUNE 15-16
Click here for more info about speakers & program of Echelon Asia:
https://e27.co/echelon/asia/
---
Echelon Asia Summit 2016: Benefits of Attending

Connections and exposure. Entrepreneurs will be connected to a global repertoire of technology innovators, entrepreneurs, investors, regulatory bodies, and c-suite executives who are creating the next wave of innovation.
Excitement. Investors will be excited as the Top 100 startups across the Asia Pacific region are selected to exhibit, and the Top 10 startups to pitch from June 23 to June 24. In the words of Vinnie Lauria, Managing Partner of Golden Gate Ventures, "Echelon is hands-down, the number one event to see the best startups Asia has to offer".
Power in knowledge. Participants at one of Asia's largest startup conference will be enlightened by the insights of industry experts during the conference and workshop sessions. Past speakers hail from AirBnB, HotelQuickly, 500 Startups, GREE Ventures, Twitter, Luxola, 9GAG, mig33, TechCrunch, Redmart, as well as gumi.inc.
---
The TOP100 Startups
Over 800 startups applied to the TOP100 programme, and almost 200 were shortlisted to pitch at the Regional Qualifiers across 14 cities and countries: Australia, Bangladesh, Hong Kong, India, Indonesia, Japan, Kazakhstan, Malaysia, the Philippines, Singapore, South Korea, Taiwan, Thailand, and Vietnam. Key investors and community leaders at these locations have judged the pitching startups.
In addition to the "Judges' Choice" award winners at each location, scores and comments will be aggregated to determine the TOP100 Startups.
The TOP100 Startups will exhibit at the Echelon Asia Summit, and the TOP10 will pitch in front of international judges. Startups who have pitched at the Qualifiers have been contacted about their status, including a limited chance to pitch on stage at Echelon Asia Summit 2015.
---
About Echelon Asia Summit
Echelon Asia Summit 2016 is a two-day summit that attracts over 5,000 top-tier digital professionals and entrepreneurs set to create and amplify opportunities in the fields of technology, business and investments across Asia.
Established since 2009, Echelon prides itself as being the one platform that facilitates growth, fund-raising and business opportunities for tech companies. Join us at the nexus point where technology and business leaders connect with next-gen enterpreneurs developing new technologies to impact the world of business and society.
Running in conjunction with Echelon Asia Summit 2016, the highly anticipated TOP100 Startup Search is back! Happening March 2016 this year across 5 tour tracks across the APAC region, Regional Qualifiers are held in 14 cities: Australia, Bangladesh, Hong Kong, India, Indonesia, Japan, Korea, Kazakhstan, Malaysia, Philippines, Singapore, Thailand, Taiwan and Vietnam to find the most amazing startups.
FAQs
Is my registration/ticket transferrable?
Yes. You can transfer your event ticket/registration to someone else just by updating your order information with the new attendee's information.
Can I update my registration information?
Yes, you can update the information on your order (like name, email address, or answers to the organizer's questions) by clicking your order on the Tickets page. If you entered a typo for your email, you can easily log in with the typo'd email address and password to update the email address on your Eventbrite account. If you don't recall the typo'd email address, you'll want to reach out to us for assistance.
I want to save big with bulk tickets - How do I use the Group Buying function?
To enjoy group buys/ bulk discounts, you can now sign up for Echelon Asia Summit 2016 as a 'group' ('team', 'organization', 'company', or 'association', depending on the type of group you want to register as). You can easily create new groups or join an existing group during the registration process.
How do I join an existing group during the registration process?
Any matches will appear as you type. Then, when you see the group you want to join, select it from the drop-down menu.
Click here for more info about speakers & program of Echelon Asia:
https://e27.co/echelon/asia/