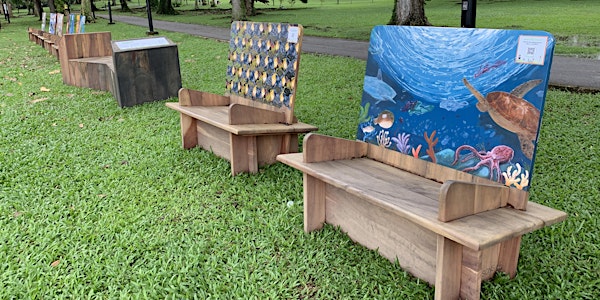 Eco-Wellness @ Nodes At Parks (Say YES to Waste Less Edition)
Join us and support National Environment Agency (Say YES to Waste Less) campaign for a greener Singapore
When and where
Location
Pasir Ris Park Carpark D 136 Pasir Ris Road Singapore, 519127 Singapore
About this event
To support Say Yes To Waste Less campaign, The Rainbow Artisan is bringing you Eco-Wellness at Nodes At Parks (SYTWL edition) for a walk and chit-chat/discussion using 6 simple steps: Be active, mindful, kind, grateful, connect and learn
Be active: in getting physically active and having moderate exercise, in having a balanced diet, in resting and acquiring enough sleep.
Be mindful: Shine a spotlight here and now using all your senses (STOP method). Pay attention to the circular aspect of nature - nature does not produce waste, everything is recycled, nothing is wasted
Be kind: Observe park etiquette like keeping the environment clean, talk to people about saying yes to waste less, bring reusable bottles, containers and bags, buy and order just enough food
Be grateful: Nature is a source of wisdom and inspiration, support holistic well-being, source of food, water, air, medicines, home to million of species, pollination of crops, regulate climate, sustain livelihood etc
Connect: with nature directly and/or indirectly using all your senses. We are not at the center of the universe. We are all connected
Learn: Nodes at Parks, support Say YES To Waste Less campaign, attend courses, read books, join a tour/workshop etc
Through 6 simple steps, we think about what is important in life to cultivate Eco-Wellness and what step/s we need to prioritize in our everyday life.
Additional Information:
We welcome you to give what you want
Please register for one ticket one person
The guided experience is approximately 1 hour in duration
As the experience is conducted in a park, participants are encouraged to wear comfortably in suitable attire, covered non-slippery shoes, sun protection, insect repellent, hat/cap, water, snack (in reusable bottle and container), umbrella/rain coat. The experience is not conducted on challenging terrain and is suitable for persons of all ages
In the event of increment weather or unforeseeable circumstances, The Rainbow Artisan reserves the right to postpone or cancel the experience. Information will be shared through communications (Email or phone) one hour before the experience starts
Experience will commence on time. Hence, participants are encouraged to arrive at least 5 mins before 2pm for the verification of the tickets and registration. Meeting point is at Pasir Ris Park at the Shelter between Carpark D and E.
The experience may be limited with shortened duration for participants who arrive later than the stated time. If it rains heavily when the experience has already started, we will abort for safety reasons. We apologize for the inconvenience
Please note that this is an Eco-Wellness experience and is not a nature/heritage tour
Please let us know if you have any needs or concerns and do clear this experience with your doctor (if required)
We are conversant in English, Mandarin, Singlish and Singapore Sign Language
Visit our website or email us @ therainbowartisan@gmail.com if you have any enquiry
Click here to find out more about Nodes At Parks
We encourage you to take public transport or go car-lite for a greener future
Please note the terms and conditions for this programme:
a) By registering for our programme, I consent to The Rainbow Artisan collecting, using or disclosing my data as provided here, now or in the future for the purpose of (i) administering the said programme, (ii) contacting me via email/phone to provide me with event updates or conduct surveys. (iii) customer service matters (iv) conducting data analytics and profiling to improve customer experience (v) marketing materials. Please email us if you would like to withdraw your consent.
b) I hereby understand, accept and acknowledge that by registering for this programme, The Rainbow Artisan retains the rights to use any and all photos taken during the event as deemed necessary. Please inform us prior to the event if you are not comfortable with having your photos taken.
c) All participants (adults/children/parents/caregivers/guardians) are responsible for your own health and safety and that of your charges (the children under you). I hereby understand, accept and acknowledge this condition and will not hold The Rainbow Artisan responsible for any mishap, accident, injury or death as well as loss or damage to personal property that may occur in the course of the event.
d) I hereby understand, accept and acknowledge that I am required to attend the safety briefing and park etiquette before the commencement of the experience and will adhere to it at all times.