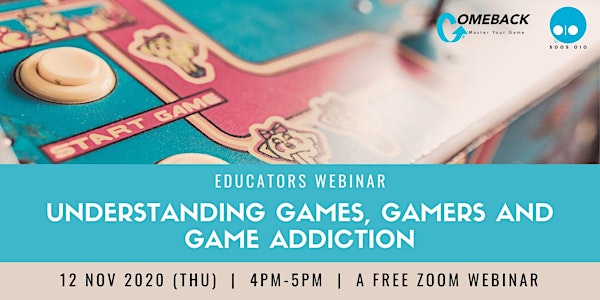 Educators Webinar: Understanding Games, Gamers and Game Addiction
Educators Webinar: Understanding Games, Gamers and Game Addiction is specifically for educators and school counsellors.
About this event
Game Dependency in Singapore Schools
In 2020, we hosted the Game Addiction Talk in 10 schools in Singapore, reaching out to more than 9000 students with the support of Media Literacy Council .
As part of the Game Addiction Talk, the COMEBACK Game Dependency Test was made available to students. 2765 secondary school students in 7 schools completed the COMEBACK Game Dependency Test, and results showed that 19.4% of the Secondary students we were in contact had game dependency. This translates to about 1 in 5 Secondary students in our sample. To read the report, go to https://www.comeback.world/2020/10/08/game-dependency-in-singapore-secondary-school-students-2020/
Game dependency can affect students' academic performance, school attendance, social life, family relationships, personal hygiene, and other areas. It is often a symptom of deeper psychological, social, and emotional needs that are not met. Together with families, educators and school counsellors can play an important role in helping students overcome game dependency.
Understanding Games, Gamers and Game Addiction
Why are games so attractive? How can we make sense of the plethora of games available? We will take a closer look at games, the motivations of gamers, as well as the types of games popular among youth, in order to understand game dependency and ways to deepen students' engagement in school. This session is specially for educators and school counsellors.
Join Ruth Lim and Xing Yong into the world of games. The session will be moderated by Pauline Phoon, the founder of SOOS OIO LLP and COMEBACK PTE LTD.
Below is an animation about Addiction based on Bruce Alexander's research about the cause of addiction.
Date and Time: 12 Nov 2020 (Thu) 4pm – 5pm
Venue: Zoom Webinar
NOTE: A unique link will be emailed to you by 11 Nov 2020 to join the webinar. Please sign up using the email address you use for your Zoom account as your URL signing into the webinar is unique to your Zoom email address.
Cost: FREE. Registration Required. Please fill up the form below.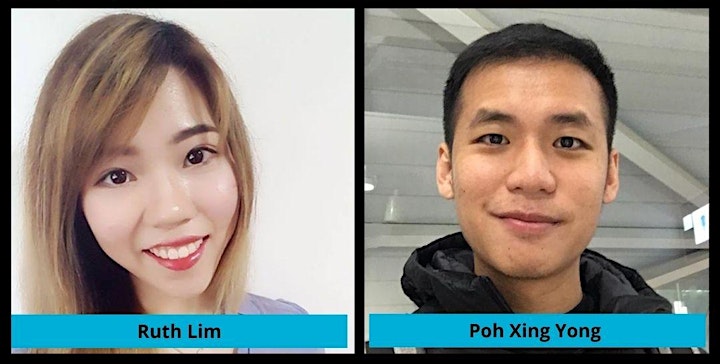 Ruth Lim
Ruth is on staff with SOOS OIO as an Esports Coach and co-developed TeleTrip, an gaming community event. She conducts DOTA 2 foundational classes and workshops for Esports Academy under SCOGA and also teaches the module "Team Management" in Informatics Diploma for Esports and Game Design.
Ruth Lim coached a competitive DOTA 2 team TenTwenty in 2017 that won CPL Championship DOTA 2 Edition 2017, came in 1st in Dew Challenge 2017 and represented Singapore in Asia Pacific Predator League in 2018. Ruth managed Team Impunity FIFA Online 3 who got 3rd in EA Champions Cup (EACC) Winter Cup 2016 representing Singapore. In 2017, she coached Team Impunity FIFA Online 3.
Ruth graduated from Temasek Polytechnic with Diploma in Games & Entertainment Technology and SIT-University of Glasgow in Bachelors of Science with Honours in Computing Science. She also holds a CoachSG coaching certificate.
Well recognized in the DOTA 2 community, Ruth attended numerous international gaming tournaments, got to know and learnt from many of the top players worldwide. Ruth hopes to share her knowledge and experience to gamers in Singapore and beyond.
Poh Xing Yong
Xing Yong is an Associate Psychologist with COMEBACK. He has struggled with game dependency since Primary school, and now aims to help others overcome their similar struggles in game dependency using his past experiences and background in Psychology. He has completed his Psychology Degree (Honours), and is currently pursuing further studies in Counselling Psychology to further hone his skillsets.