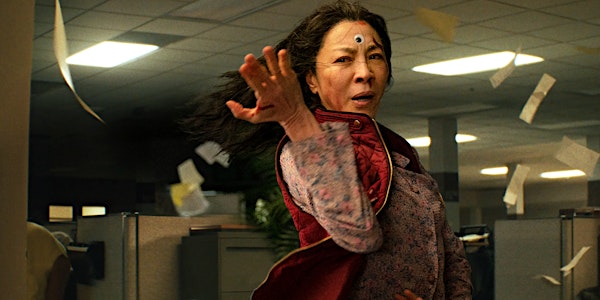 EMCC | [FILM SCREENING] Everything Everywhere All at Once (M18)
Catch Michelle Yeoh's stunning performance as parallel versions of Evelyn in this absurdist yet profound comedy-drama about life and family.
When and where
Location
The Projector 6001 Beach Road ##05-00 Singapore, 199589 Singapore
About this event
As one of this year's biggest science-fiction draws, Everything Everywhere All at Once tells an absurd, yet deeply human tale of a struggling laundromat owner who ends up saving the universe. Discovering that she must link up with other parallel universes of herself to prevent total obliteration of all worlds, Evelyn finds out what truly matters in an infinite existence where nothing matters.
New extended cut!
This screening will be a new extended cut of Everything Everywhere All at Once. This new version includes a pre-recorded Director's Intro and over 8 minutes of outtakes from the film. Total runtime is approximately 151 minutes.
Advisory: M18 - Some Homosexual Content and Sexual References
Disclaimer: Some scenes contain strobe/flashing lights, which may be uncomfortable for photosensitive viewers.
----
Show Information
This screening is open to NUS students and staff only. Random checks of student/staff passes will be done at registration to verify your identity.
Doors will open at 7PM at The Projector Green Room. The film screening will start promptly at 7:15PM and seats are first-come-first-served.
----
Short Film Screening: Barite Jahaj (PG)
A short film by NUS Architecture students Marsha Ismail and Tiffanie Tseng, Barite Jahaj (PG), will be screened before the main film screening of Everything Everywhere All At Once.
Barite Jahaj is set in the future Chittagong in Bangladesh. A large corporation using the latest ship-breaking and salvaging technologies have taken over the industry in this future world. Small dwelling units intermixed with shops and services are stacked vertically with the ship-breaking infrastructure to form a megastructure housing thousands of inhabitants, many who depend on the corporation for work and survival. The story follows the journey of a Bangladeshi shipbreaker who struggles to be accepted socially after being fitted with a prosthesis arm. Despite his sense of isolation, he continues to work and spend time making kites for the children. 
Barite Jahaj is multi-layered and metaphorical. One can read the moments of intimacy juxtaposed against the enormity of megastructure, and the torrid, laborious work of shipbreaking against the joy and freedom of making and flying kites salvaged from scrap metals beyond their visceral depictions. For Marsha Ismail and Tiffanie Tseng, The Last Home is one that brings acceptance and renewal against the backdrop of corporatisation, power, control, and the grip of traditional values.
----
This screening of Everything Everywhere All at Once is part of ExxonMobil Campus Concerts (EMCC), presented by NUS Centre For the Arts.