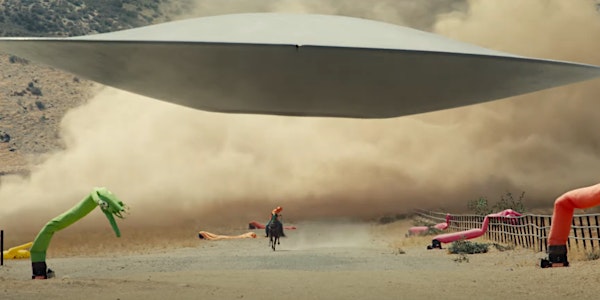 EMCC | [FILM SCREENING] Nope (NC16)
A science fiction movie starring UFOs, horses, and theme parks--it's none other than horror filmmaker Jordan Peele's Nope.
When and where
Location
The Projector 6001 Beach Road ##05-00 Singapore, 199589 Singapore
About this event
In this new American neo-Western science fiction horror film directed, written, and co-produced by Jordan Peele, the residents of a lonely gulch in inland California bear witness to an uncanny and chilling discovery. Starring Daniel Kaluuya (Get Out, Judas and the Black Messiah), Keke Palmer (Hustlers, Alice) and Oscar nominee Steven Yeun (Minari, Okja), follow two siblings who run a California horse ranch discover something wonderful and sinister in the skies above, while the owner of an adjacent theme park tries to profit from the mysterious, otherworldly phenomenon.
Advisory: NC16 (Coarse Language and Some Violence)
----
Show Information
This screening is open to NUS students and staff only. Random checks of student/staff passes will be done at registration to verify your identity.
Doors will open at 7:15PM at The Projector Blue Room. The film screening will start promptly at 7:30PM and seats are first-come-first-served.
----
Short Film Screening: Requiem for Home (PG)
A short film by NUS Architecture students Xiong Jiaxi and Er Wen Xuan, Requiem for Home (PG), will be screened before the main feature, Nope (NC16).
How does perspective on life change when one embraces and celebrates death? With the choice of ending one's life, what kind of world will he or she desire? If life were to end in a last home, what constitutes it?
In 2025, the airborne PRION-25 disease quickly infects every man on earth, ravaging the existence of our species entirely. Infected persons remain asymptomatic for 9 years and ultimately perish from lethal neurodegeneration in the 10th. With no cure to be found, mankind is left with no choice but to live on a ticking time bomb. Through chaos and panic, a new religion - Prionism - emerges as a community's protest against living in fear and isolation. Our story follows Prionists dwelling in a HDB compound as they embark on an elaborate celebratory ritual called the "Rite of Departure" - an assisted quietus that poses as a farewell and a remembrance of lives lived.
----
This screening of Nope is part of ExxonMobil Campus Concerts (EMCC), presented by NUS Centre For the Arts.