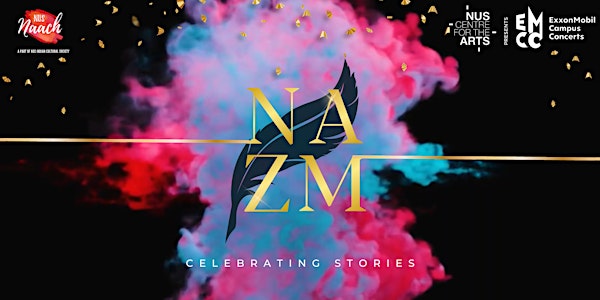 EMCC | Nazm by NUS Naach
What if words could talk and songs could serenade? Join NUS Naach for a night of energetic Bollywood joy with Nazm!
When and where
Location
University Cultural Centre 50 Kent Ridge Crescent Singapore, 119279 Singapore
About this event
A dialogue writer and a poet are in discussion: what makes a movie great? Punchy dialogue, or poetic lyrics? Both portray the emotions of the character, but each has its own nuance.
Words--strong, bold, spoken with conviction--often get rousing reception. Words--soft, precise, spoken with a tender tragic heart--often speak more than the tongue can. NAZM is a take on the collective euphoria and exhilaration classic songs, poems and dialogues from the movies have brought us. NAZM is a celebration of iconic sequences of words that our movies are made of and what Naach's audience have all loved.
Nazm will present 8 pieces, each tied to an iconic dialogue or a lyric from a song, while communicating a variety of ideas through each piece. By using their signature, energetic storytelling style to represent riotous joy and celebration, Naach looks to bring you meaningful yet relatable stories on stage through Nazm.
---
NUS Naach is a modern-Indian dance troupe, under the NUS Indian Cultural Society, whose repertoire boasts of a diverse set of styles laced with a touch of Bollywood. The group, comprising of passionate, hardworking dancers and avid dance lovers, is a group that fervently believes in the power of storytelling through movement.
Since its independence from NUS Indian Dance, NUS Naach has had three fully sold-out productions (Alfaaz in March 2017, Dastak in October 2018 and Raabta in October 2019), 2 ticketed internal showcases (Genesis in April 2019 and Genesis 3.0 in April 2022) and 3 successful online productions (including Rhapsody) led by artistic director and resident choreographer, Mr. Akash Abhishek. Besides its annual productions, NUS Naach also participates in competitions (finalists in SINDA Youth Festival, Dance Arena 2017 and NUS Rising Star) and events in NUS and outside of NUS.
Nazm is presented by NUS Centre of the Arts as part of ExxonMobil Campus Concerts (EMCC): Unbound and Unbridled.