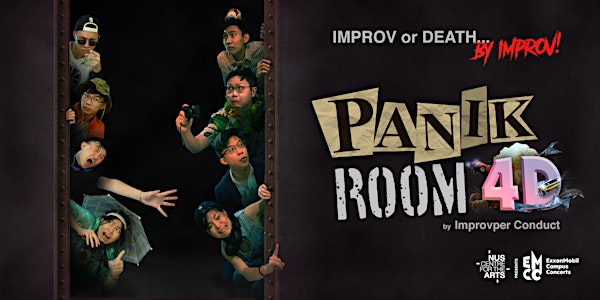 EMCC | PANIK ROOM 4D by Improvper Conduct
Trapped in a strange room upon waking, 8 strangers must find ways to entertain audiences OR meet a grisly end. Or should it have been 'AND'?
When and where
Location
NUS University Town, Stephen Riady Centre, Dance Atelier 2 (Level 3) 2 College Avenue West Singapore, 138607 Singapore
About this event
Improvper Conduct presents… PANIK ROOM 4D
8 characters wake up and find themselves trapped in an inescapable room. In order to survive, they must play games delivered to them by a mysterious distorted voice. Despite complying with the rules, the characters slowly meet their end as the games progress, leading to a grand finale where the truth is finally revealed.
None of the scenes are written before the show. Everything you see is fully improvised.
The 9pm show on Friday, 26 August will be a special, late-night edition of PANIK ROOM 4D. There may be more profanity and crass material so leave your kids at home!
----
Show Information
PANIK ROOM 4D runs for 90 minutes with no intermission.
Disclaimer: This production uses strobe lighting and haze. Due to the improvisational nature of this show, mature themes may be discussed. Viewer discretion is advised.
---
Access
PANIK ROOM 4D will be held at NUS University Town, Stephen Riady Centre Level 3, Dance Atelier 2. The venue is wheelchair accessible. If you have specific access needs or questions, please get in touch with our team at exxonmobilcc@nus.edu.sg
---
Improvper Conduct features a cast of NUS Stage students and alumni. Playing a series of Improv games, Improvper Conduct brings an interactive night of mayhem and laughter right to your doorstep with PANIK ROOM 4D. 
PANIK ROOM 4D is part of ExxonMobil Campus Concerts (EMCC), presented by NUS Centre For the Arts.