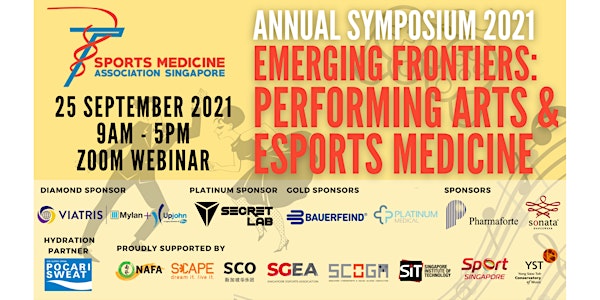 Emerging Frontiers: Performing Arts & Esports Medicine
Sports Medicine Association Singapore Annual Symposium 2021 - Emerging Frontiers: Performing Arts & Esports Medicine
About this event
Sports Medicine Association Singapore is pleased to present our Annual Symposium held on 25 September 2021! This year, we will focus on two emerging fields within Sport and Exercise Medicine – Performing Arts Medicine and Esports Medicine.
Performing Arts Medicine focuses on patterns of illness and injuries affecting performing artistes, specifically dancers, singers and instrumental musicians. In this Symposium, we will discuss the management of overall health, injury prevention and treatment of our performing artistes.
Esports (competitive video gaming) is an emerging world-wide phenomenon that has seen exponential growth despite the pandemic. The health of Esports athletes is however often overlooked. Join us as we learn more about Esports Medicine from our multidisciplinary team of medical, allied health and sports science professionals!
We will be covering Performing Arts Medicine in the morning session, and Esports Medicine in the afternoon session. Our target audience includes doctors, allied health professionals, industry stakeholders, performing artists and Esports athletes.
Morning Session: 9am - 12.30pm (Performing Arts Medicine)
Afternoon Session: 1.30 - 5pm (Esports Medicine)
Registration:
S$10 per session
S$16 both sessions
FREE registration via promo code for current SMAS Members (membership info)
Visit our SMAS website event page for speaker bios, talk synopses and more!