Empowering The Artist In You: Ada and Anthony Art Exhibition
About this event
Hiart is proud to present Empowering The Artist In You: Ada and Anthony Art Exhibition, showcasing a diverse collection of works by two amazing young artists. The Exhibition will be held from 22 January to 22 March 2022.
In this collection of ideas, thoughts, and strategies, we explore how these emerging young talent and creatives can play a role in making the world a better and more meaningful place through art and visual storytelling.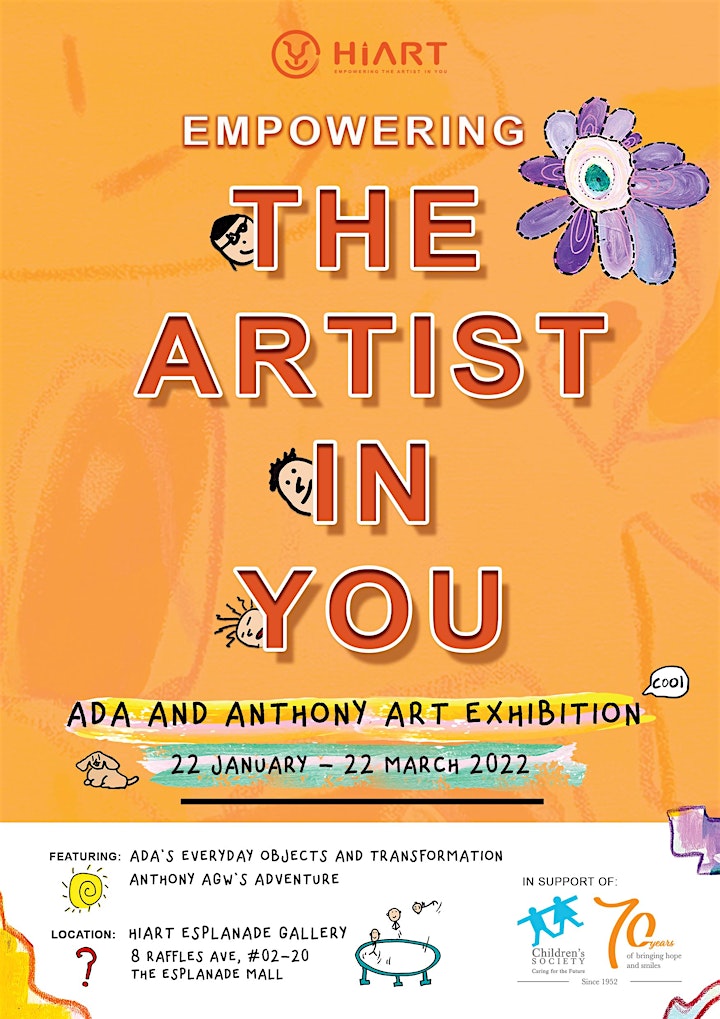 Empowering The Artist In You is a charity art exhibition organised by HiArt to raise funds for children, youth, and families in need.
The exhibition features more than 26 paintings and 2 visual storybooks led by Student Artists, Ada Shi, and Anthony Shi. Through their art, these young artists hope to inspire others to believe that everyone can do their part in whatever ways they can and every small act can make a meaningful impact on others' lives.
All net proceeds from the Exhibition will go fully to Singapore Children's Society.
About the Artists
[ About Ada ]
Ada often brings different views of subjects (usually objects or figures) together in the same picture, resulting in paintings that appear fragmented and abstracted. Her painting subject emanates from her everyday life, either objects or figures that attracted her attention or curiosity.
Art has opened Ada to infinite new possibilities for the treatment of visual reality in art and serves as the starting point for her creativity. As an artist, she does not represent an accurate depiction of a visual reality but instead uses shapes, colours, forms, and gestural marks to achieve its effect. Ada's art is often seen as carrying a moral dimension, in that it can be seen to stand for virtues such as simplicity, purity and spirituality.
[ About Anthony ]
Anthony is currently a Grade 3 student from Singapore American School. He has a keen interest in animation, football and storytelling. The imagery and symbolism in his work originated from observations of everyday life and also drew inspiration from cultures of the world, folklore and pop culture.
AGW'S Adventure and the vibrantly coloured landscapes created by Anthony draws upon humour, narrative and comical expression to depict the learning journey and adventures of his characters. His artwork is an effort to encourage the zest for adventure, kindling positivity and curiosity through an imaginary world.
About Singapore Children's Society:
Singapore Children's Society protects and nurtures children and youth of all races and religions. In 2020, the Society reached out to 34,654 children, youth, and families in need. Established in 1952, its services have evolved to meet the changing needs of children.
Today, Children's Society operates more than 10 service centers island-wide, offering services in the four categories: Vulnerable Children and Youth, Children and Youth Services, Family Services, and Research and Advocacy.
🌐 www.childrensociety.org.sg
FB: SingaporeChildrensSociety
IG/Telegram/Twitter: SgChildrenSoc
Gallery Opening Hours:
Monday: Closed
Tuesday: 3 to 9 pm
Wednesday to Friday: 1 to 9 pm
Saturday and Sunday: 9 to 6 pm
Public Holiday: Closed
Advisory on COVID-19:
Your well-being and safety are important to us. We seek your cooperation in following the mandatory covid-19 safe management measures within the exhibition space at the Esplanade Gallery.
All visitors are required to remain masked and maintain at least 1 metre away from others at all times.
Kindly refrain from entering if you are unwell or experiencing symptoms of COVID-19.
Get in touch:
📍HiArt Esplanade Gallery @ The Esplanade Mall #02-20
☎️ 6908 9878
📧 Esplanade@hiart.com.sg
💻 https://www.hiart.com.sg/
📷 FB/IG: HiartSG
Organiser of Empowering The Artist In You: Ada and Anthony Art Exhibition
Everyone, no matter how young or old, has the potential to become an artist and HiArt has always been a firm believer in using art as a way to further enhance and enrich one's mind and body. 'Joy comes first and skills will soon follow' is a motto we take to heart and we firmly believe in.
As the premium provider of art education for children in Singapore, we are committed to providing high quality fine art instruction that empowers children with essential life skills to achieve success in school and in life. With our curriculum, children not only learn how to draw and paint but also to develop creative problem-solving skills & increase confidence in themselves.