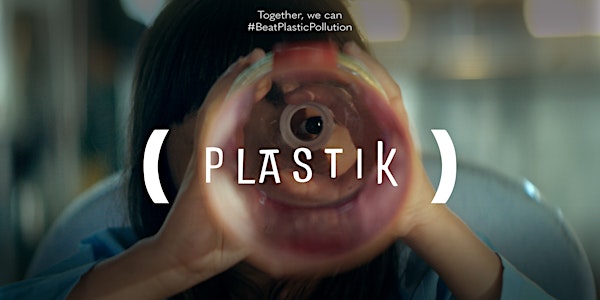 End (PLASTIK) Pollution with The MeshMinds Foundation
Watch the short film '(PLASTIK)' and have a chat with sustainability advocates - hosted by the MeshMinds Foundation.
When and where
Location
ArtScience Museum 6 Bayfront Avenue Singapore, 018974 Singapore
About this event
This talk/workshop is part of the Waves of Change Festival 2022 held at ArtScience Museum on the 10th of September to 9th of October 2022.
Watch the short film '(PLASTIK)' with The MeshMinds Foundation and Studio Birthplace and hear them share about how the film aims to raise awareness and catalyse action to end plastic pollution within the region. In this session, you will also hear from sustainability advocates in Singapore on local efforts and initiatives that you can be a part of to help end the crisis.
About the speakers:
Melissa Lam, Bamboo Straw Girl 
Bamboo Straw Girl is a homegrown Singapore social enterprise that aims to start eco conversations through the simple bamboo straw - nature's solution to nasty plastic!The founder, Melissa Lam (a.k.a. Bamboo Straw Girl), is a strong green advocate and has engaged schools, organisations and community groups in the movement against single-use plastics. She was inspired to take individual action in the fight against wasteful consumption after spending time hiking and camping in her late teens.Since their incorporation, our company has provided employment opportunities or supplementary streams of income for at least half a dozen South East Asian artisans. They were the very first "zero-waste lifestyle" store in Singapore even before "zero-waste" became a buzzword! They aim to be as plastic-free and low-impact as we can, from production to point of sale.
Pamela Low, Tingkats 
Pamela is driven to accelerate climate action to benefit profit, people and the planet through technology and innovation. She founded Tingkats when she was an undergrad in 2018 and has since partnered with campus administrators, businesses and organisations to implement strategies that benefit sustainable development. Pamela's work has also been recognised by the Eco-Business Youth A List, Smith School Enterprise and the Environment and HSBC Youth Environmental Award. She believes that businesses can be a force for good and that sustainable development can be both economical and rewarding and continues to prove that with the businesses that she engages with.
Location: ArtScience Cinema, Level 4
For the full festival line-up, click HERE!
Please note that there are limited seats to all workshops, talks, audio and film screenings. Priority would be given to ticket holders and visitors are highly encouraged to pre-book for events. Event registration begins 15 minutes before the start of the event. 5 minutes after the start of each segment, all unaccounted seats will be released for walk-in guests at a first come first served basis.
Notice of Filming and Photography
Photography and video recording may occur at the venue for the purpose of promoting our activities. Parents and guardians, please advise facilitators if you would like your child to be excluded from this.
Cancellations
Should you be unable to attend, please cancel your ticket as soon as possible so that someone else may enjoy the experience. You can also email us at info@coastalnatives.sg. Thank you!