Join us as we host the top minds in investing and personal finance to discuss their outlooks, views and opportunities for 2021
About this event
As the world emerges from the worst pandemic in recent history, the investment landscape—opportunities and strategies, as well as vision and purpose—might look entirely different than before. With these shifts rapidly taking place and new paths appearing, what does it all mean for investors? And how must they adapt to avoid falling behind?
We have invited top thought leaders, chief executives, and the most popular voices from the investing and personal finance community to share their latest views—and we invite you to join in these interactive sessions, as we take your questions and address your top concerns for the year ahead.
Link to livestream: https://youtu.be/sW-yM1-STE0
Can't make it for the session? Sign up anyway and we'll send you a recorded copy for your viewing pleasure after the event.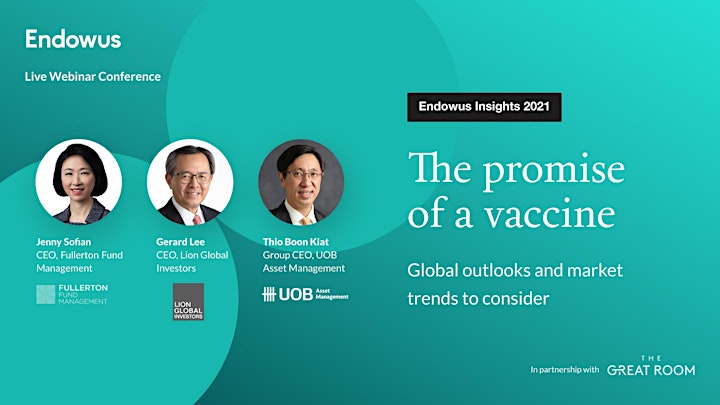 4:00pm - 5:00pm
The promise of a vaccine: Global outlooks and market trends to consider
Hear from the biggest names in the industry led by their Chief Executives at our virtual conference—Jenny Sofian from Fullerton Fund Management, Gerard Lee from Lion Global Investors and Thio Boon Kiat from UOB Asset Management—as they share their views on investing in a new normal and what this means for Singaporean investors and the road ahead. Topics will include:
Post-Covid evolution of the asset management industry
Impacts to the individual investor
Global markets and macro outlooks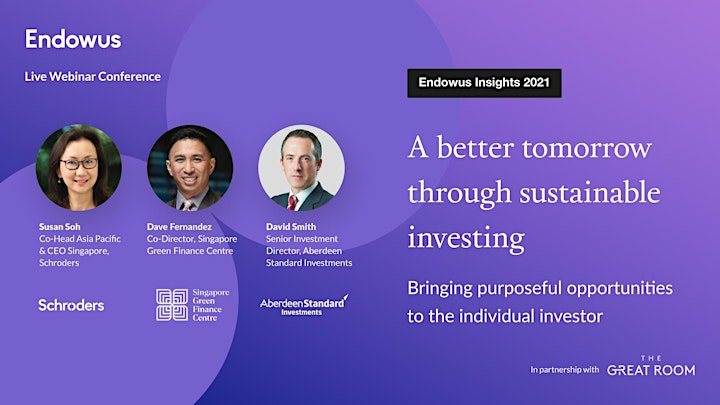 5:10pm - 6:10pm
A better tomorrow through sustainable investing: Bringing purposeful opportunities to the individual investor
Learn from the thought leaders in Environmental, Social and Governance (ESG) Investing—Schroders Singapore CEO Susan Soh, Singapore Green Finance Centre Co-Director Dave Fernandez and Aberdeen Standard Investments Senior Investment Director David Smith—as they answer:
Are performance and purpose in investing mutually exclusive ?
Opportunities for the individual investor
How to implement ESG themes in Singapore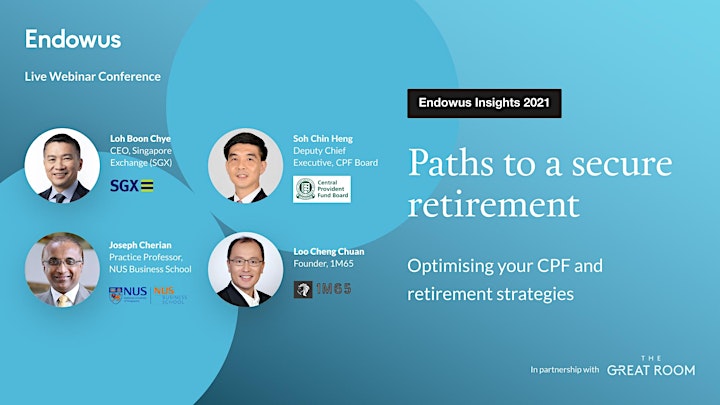 6:20pm - 7:20pm
Paths to a secure retirement: Optimising your CPF and retirement strategies
Join Singapore Exchange CEO Loh Boon Chye, CPF Board Deputy Chief Executive Soh Chin Heng, NUS Business School Practice Professor Joseph Cherian and 1M65 Founder Loo Cheng Chuan as they explore different approaches to optimising your CPF and retirement strategies to create paths to a secure financial future. The panelists will discuss:
Global and regional macrotrends (and how Singapore compares)
Opportunities arising from new public/private partnerships
Best practices by age group
CPF as an income replacement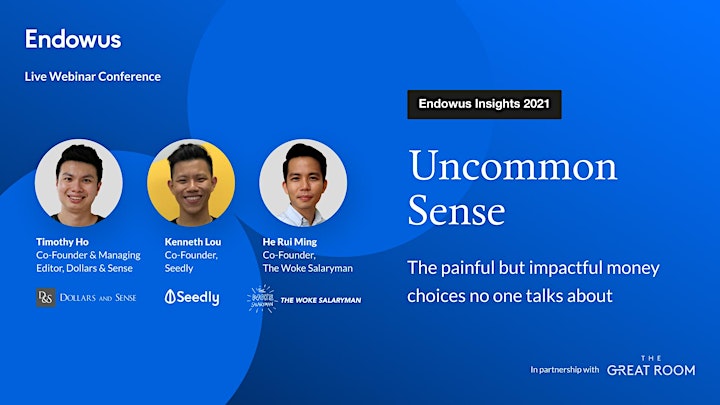 7:30pm - 8:30pm
Uncommon sense: The painful but impactful money choices no one talks about
Timothy Ho from DollarsandSense, Kenneth Lou from Seedly and He Rui Ming from The Woke Salaryman will discuss the most impactful (and sometimes even painful) money topics that rarely get enough airtime. These include:
Talking about money with your spouse and loved ones
CPF tips & tricks
Financial planning hacks
Why "risk" isn't a bad word
About Endowus
Invest better to live easier today and better tomorrow.
Endowus is the first and only digital advisor for CPF, SRS, and cash savings, helping everyone invest holistically, conveniently, and with expert advice at the lowest cost possible.
Endowus is a fee-only independent advisor paid solely by its clients, allowing its advice to be unaffected by conflicts of interest. The firm provides its end-to-end digital solution to individual and institutional investors. Endowus is licensed by the Monetary Authority of Singapore.
Endowus.com
Terms & Conditions
By registering for this event, you agree to receive marketing materials from Endowus and The Great Room. You may unsubscribe from our marketing at any time.