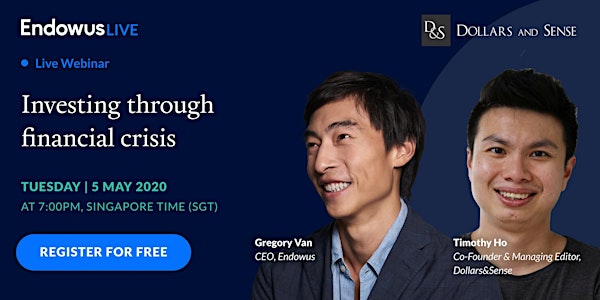 Endowus Live: Investing through financial crisis
How black swan events challenge your investment assumptions.
About this event
Learn how the assumptions of some popular investing strategies, such as leveraging on bonds and REITs, have failed to stand the test of market volatility brought about by COVID 19.
While these strategies may have worked well during a bull market, many retail and high networth investors have suffered huge losses using these investment strategies recently.
During this session, Gregory Van, CEO of Endowus and Timothy Ho, Managing Editor of DollarsAndSense, will share their own thoughts and research around investing effectively during the financial crisis. They will interact with viewers through the Live QnA, and share case studies of failed investment strategies. Understand the key learning points we can make from this financial crisis and become a better investor.
NEW Webinar Link
Please tune in using this webinar link. Sorry for the inconvenience caused.
New webinar link: https://youtu.be/pyFdnderGC8
Presenter
Gregory Van
Chief Executive Officer, Endowus
Former UBS Investment Banking / Grab
Timothy Ho
Co Founder, & Managing Editor
DollarsAndSense
Gregory Van
Greg started his career at UBS in the investment bank covering private equity and venture capital firms in the Asia Pacific region. He subsequently joined GrabTaxi (now Grab) where he started the payments business and ran technology partnerships.
When it came to investing, Greg found a lack of access to products, incredibly high fees, no advice, and a poor user experience. Combining his finance and technology experience, he found like-minded partners to attack the problem head on, which spawned Endowus.
Timothy Ho
Timothy Ho is the Co-Founder and Managing Editor of DollarsAndSense. He writes regularly on a wide and holistic range of personal finance topics including investing, insurance, properties and policy related matters. He also hosts the DollarsAndSense Tonight talkshow. He's a dad to two young girls.
Endowus Live: Grow your wealth by joining our exclusive webinars
Endowus Live is a series of live webinars around growing your wealth, making your money work harder for you, and evidence-based investing. Learn about Endowus and its investment and advisory strategies from our experienced team.
Upgrade your financial knowledge. Anytime. Anywhere.
About Endowus
Invest better to live easier today and better tomorrow.
Endowus is the first and only digital advisor for CPF, SRS, and cash savings, helping everyone invest holistically, conveniently, and with expert advice at the lowest cost possible.
Endowus is a fee-only independent advisor paid solely by its clients, allowing its advice to be unaffected by conflicts of interest. The firm provides its end-to-end digital solution to individual and institutional investors. Endowus is licensed by the Monetary Authority of Singapore.
Endowus.com
Terms & Conditions
Please note that by registering for this event, your email may be used for marketing purposes.