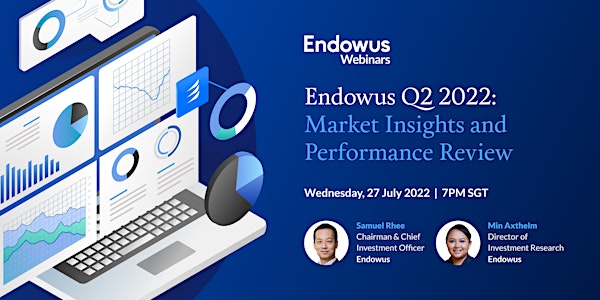 Endowus Q2 2022 Market Insights & Performance Review
Join us as we discuss the recent market selldown, what's expected in the second half of this year, and Endowus portfolios' performance
About this event
The rough ride in financial markets persisted in the second quarter of 2022, with major indices dropping further on concerns of rate hikes and recession. Both global equities and bond indices have returned negative this year — a rare phenomenon. Should investors expect a recovery anytime soon?
In this quarterly update, join our Chairman and Chief Investment Officer, Samuel Rhee, and Director of Investment Research, Min Axthelm, as they discuss:
1. The current risk of recession and the impact on markets
2. Whether the markets have bottomed out
3. How equities and fixed income markets performed in Q2 2022
4. How the different Endowus portfolios stacked up against benchmarks.
Register today to receive the latest updates on this session.
About the speakers
Samuel Rhee, Chairman and Chief Investment Officer, Endowus
Samuel Rhee is Chairman of Endowus, a leading digital wealth platform in Asia. He is the former CEO and CIO of Morgan Stanley Investment Management in Asia, with 27 years of institutional investing experience in Singapore, Hong Kong and London.
As Endowus' Chief Investment Officer, Sam heads the Investment Office and ensures holistic portfolios for every investor, including the Endowus ESG Portfolios — the first of its kind in Asia. He is also responsible for the company's asset allocation and investment selection across all offerings.
He is a firm believer that individuals should have access to the same knowledge and resources that are made available to institutional investors. With this vision, Sam passionately advocates digital adoption in wealth services by creating an interactive and seamless user experience, and making investing and smart financial planning easy and painless.
Endowus solves the biggest problems of wealth and investing, and retirement adequacy, leading to the firm becoming the first and only digital advisor for CPF investing in Singapore.
Min Axthelm, Director of Investment Research, Endowus
Min Axthelm is the Director of Investment Research at Endowus, a leading digital wealth platform in Asia.
In her current role, Min leads the efforts at Endowus' Investment Office on research and content creation on the macro market and asset allocation, portfolio construction & optimisation and investment manager due diligence. She also works closely with the Product team on product research and development.
Min has more than a decade of experience in the investment industry, including fund manager due diligence and asset management, and joined Endowus from Morgan Stanley in New York, where she was Lead Analyst with its Wealth Management Global Investment Office, overseeing the due diligence process from inception to completion for US Equity strategies and mutual funds.