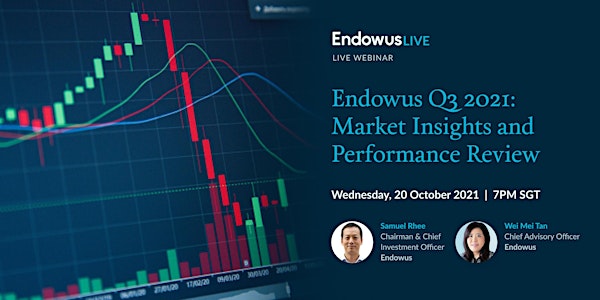 Endowus Q3 2021: Market Insights & Performance Review
With concerns of stagflation and instability in the China market, how have Endowus portfolios performed?
About this event
After posting positive returns for 7 months straight, the global stock markets including the S&P 500 index have finally seen a correction in September. This is on the back of concerns of the Fed tapering and slowing growth, and the broader considerations on China policy risk including the vulnerable real estate and tech sectors. How have these market developments impacted investors and is there any need to take action?
In this session, our Chief Investment Officer, Samuel Rhee and Chief Advisory Officer, Wei Mei Tan discuss:
Global macroeconomic conditions and how financial markets performed in Q3 2021
How the different Endowus portfolios have performed year to date against benchmarks
Macro & market outlook for Q4 2021 and beyond and where is policy headed in the two key markets of US & China
Watch the session here: https://youtu.be/P36BxW8yWsM
About the Speakers
Samuel Rhee
As the Chief Investment Officer & Chairman of Endowus, Sam is responsible for the company's asset allocation and investment selection. He heads the Investment Committee and ensures holistic portfolios for every investor. Sam has over 27 years of investment experience, managing investment portfolios in excess of US$20 billion dollars while working with the largest financial institutions in the world. He is the former Chief Executive Officer and Chief Investment Officer at Morgan Stanley Investment Management in Asia.
Wei Mei Tan
Wei Mei has over 20 years of financial markets experience. She has been in key leadership positions across private banking, investment banking and asset management. Wei Mei was most recently a Managing Director at Deutsche Bank and was the Global Co-Head of Advisory & Investment Solutions. She was previously at Credit Suisse, UBS, JP Morgan and Temasek. In the last decade, she has successfully launched digital advisory platforms and discretionary mandate solutions at many of these firms.
Endowus Live: Grow your wealth by joining our exclusive webinars
Endowus Live is a series of live webinars around growing your wealth, making your money work harder for you, and evidence-based investing. Learn about Endowus and its investment and advisory strategies from our experienced team.
About Endowus
Invest better to live easier today and better tomorrow. Endowus is the first and only digital advisor for CPF, SRS, and cash savings, helping everyone invest holistically, conveniently, and with expert advice at the lowest cost possible. Endowus is a fee-only independent advisor paid solely by its clients, allowing its advice to be unaffected by conflicts of interest. The firm provides its end-to-end digital solution to individual and institutional investors. Endowus is licensed by the Monetary Authority of Singapore.
Terms & Conditions
Do note that CRM emails may be used for marketing purposes.