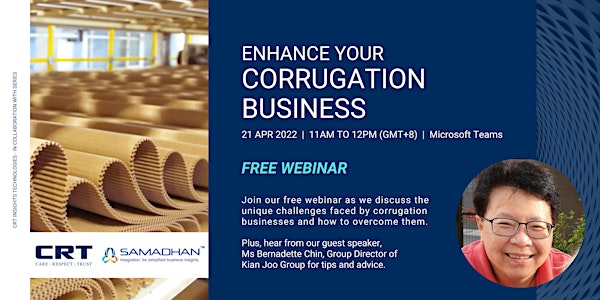 Enhance Your Corrugation Business
How do you digitally transform your corrugated business to thrive in the new normal? Find out in this free webinar!
About this event
Digitally transform your Corrugated business for the new normal with Samadhan.
Post-Covid, the situation is very different for all industries, and that includes Corrugated Box Manufacturing as well. Supply chain disruptions, focus on internal efficiencies, massive upswing of e-commerce and the shift to a work from any-where culture are but some of the major impacts seen so far.
Over 35 plants and 500 users are using Corrugated Samadhan ERP on Microsoft Dynamics 365 Business Central to run their businesses more efficiently and tiding through smoothly amidst the current times of turbulence.
We invite you to a one hour session to share how you too, can benefit from the solution.
This webinar will cover:
Business challenges faced by corrugated box manufacturers - a wholesome sharing by Ms Bernadette Chin, Group Director of Kian Joo.
How to overcome them and build your business agility to thrive in the new normal.
Introduction to Corrugated Samadhan ERP on Microsoft Dynamics 365 Business Central and what benefits users can achieve.
Who Should Attend:
CXOs in Corrugated Box Manufacturing companies
CXOs in other allied businesses like folding carton, paper manufacturing and flexible packaging companies
Sneak Preview of Featured Solution: Samadhan Corrugated ERP
Product Design interface that waves the entire solution around your main business - manufacturing corrugated boxes, letting you focus on doing what you do best.
Built-in Quality Management to ensure you have control over your product quality at all stages of the manufacturing process
Reel and Roll Change Scheduling Engine for corrugation and converting - giving you dual-directional integration with your machines
Reel Stock Management so you are on top of your game at all times
Comprehensive and insightful dashboards so you never lose sight of profitability, performance, and efficiency.