Sales Have Ended
Ticket sales have ended
Hello, please note that we have reached our full capacity for this workshop If you are interested in being put on the waiting list or being informed of the next upcoming run, please email enneagramforsuccess@gmail.com we will keep you updated. Thanks for your interest and hope to see you at the next workshop!
Sales Have Ended
Ticket sales have ended
Hello, please note that we have reached our full capacity for this workshop If you are interested in being put on the waiting list or being informed of the next upcoming run, please email enneagramforsuccess@gmail.com we will keep you updated. Thanks for your interest and hope to see you at the next workshop!
About this Event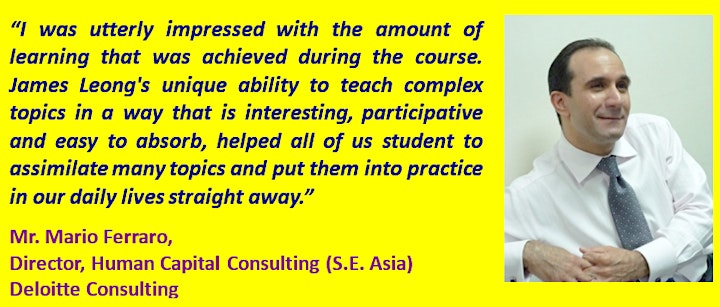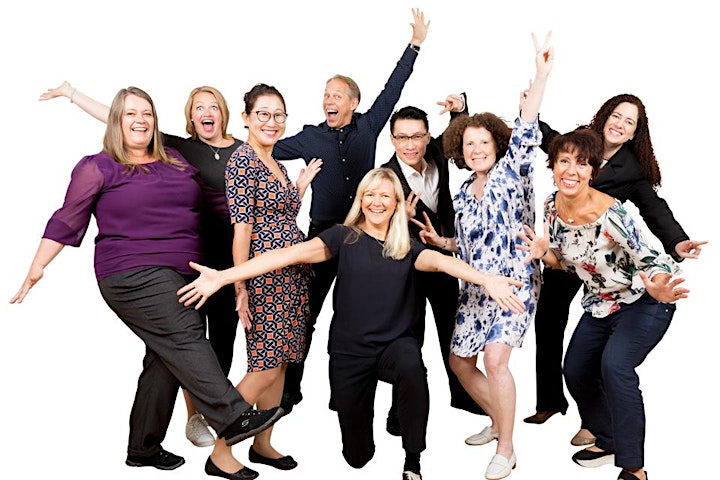 Enneagram and NLP Executive Coach Program
"Executive Coaching is a $1 Billion Dollar Industry." - Harvard Business Review, 2004
This Intensive 6-Day/48-hour Program is the First Enneagram Program in Asia to be accredited by the International Enneagram Association in 2010. The program will be conducted Face-to-Face at our Singapore center by our Enneagram and NLP Master Trainer James Leong.
However, for those not based in Singapore, you can now join us via Zoom!
Please WhatsApp us at (+65) 90486062, or Email us at James [at] JamesLeong.com)
.
.
ONE-YEAR MONEY BACK GUARANTEE
If by following our system, you did not get a single coaching client, we will refund 100% of your fees. By enrolling, you agree to attend the twice-monthly coaching sessions over 12 months (via Zoom at our mutually agreed upon time), and to email us your homework by 6 p.m. the day before the scheduled coaching session.
1) Monthly Group Revision and Practice Session for my learners for one year after you (12 X 3 hours)
2) Monthly *individual coaching* session (twice a month for 12 months, that's 24 hours in one year) with my learners on how to customize what they have learnt to their work and life (please see my testimonials hereafter)
3) Small class size of 10 so that I'll have the time to understand what are my learners' needs. This program goes beyond learning a new modality, it's about personal transformation as well
4) We are offering the Comprehensive Enneagram as taught by the Creator of the Enneagram Types, Dr Claudio Naranjo.
5) Only the latest Third Generation NLP is covered. Yes, NLP has gone through 3 major stages of development and the applications of Third Generation NLP are generative, systemic and focused at even higher levels of learning, interaction and development — including those relating to identity, vision and mission. This is very much about an inter-connected view of working, living and the environment and the experience of a global thinking culture. It is at the top of the Spiral Dynamics model and is poised to help the world prepare for news ways of thinking
.
.
What is the Enneagram?
The Enneagram is a powerful system of personality typing created by the Nobel Peace Prize Nominee and Eminent Psychiatrist Dr Claudio Naranjo. This system describes how each individual interprets the world and manages his/her emotions. Each Enneagram Type has a set of core beliefs that will motivate them to conduct themselves in a particular manner as well as how they go about making certain decisions. In addition, by understanding an individual's Enneagram Type, their seemingly contradictory or perplexing behaviors begin to make sense to us.
.
.
What is NLP?
Neuro-Linguistic Programming (NLP) is a methodology of Personal Development made famous by the renowned Success Coach Anthony Robbins. What made NLP so powerful is that it helps us understand and replicate the strategies of successful individuals – The Power of Modeling Excellence.
.
.
What You'll Learn In This Accreditation Program:
This comprehensive Enneagram and NLP Executive Coach Accreditation Program teaches you everything you need to know to become an effective Life and Executive Coach and to Start your Coaching Business!
1. You will learn a Practical Life And Executive Coaching Process that you can use in your life, career, relationships, or with people you know right away.
2. Throughout this accreditation program, you will learn how to help your clients break through their limiting self-defeating beliefs and help them live a more empowered and autonomous life.
3. Discover how to establish healthy relationship boundaries with clients and create an environment that's conducive to enabling them in defining and fulfilling their goals.
4. You will master the art of identifying the Core Values and Beliefs that motivate the different Enneagram Personality Types. This will help you to Positively Influence how your clients think, feel, and behave while helping them to pursue their goals.
5. Discover Powerful NLP Timeline and Somatic Techniques to transform your fears and frustrations into Passions, Actions, and Outcomes.
6. You will learn our systematic profiling system that extends beyond Intuition, Facial Expressions and Body Language; this includes how to profile people who put on a "game face" — and even before you meet them.
7. Discover how to become more self-aware of the way that you communicate and interact with people (alongside the psychology behind these communication patterns).
8. You will be able to eliminate stress and overwhelm with our Proven System for managing your time and achieving the goals that matter most, in every area of your life!
9. This comprehensive training course comes with numerous professionally produced Life And Executive Coaching resources (including the ACTUAL COACHING SCRIPTS that work over video conferencing portals like Skype and Zoom!), which will enable you to start coaching people immediately after completion.
10. Get access to our great online FB community and practice your newfound skills right away.
11. PLUS: You will be coached by our Master Trainer James Leong and his team of Master Coaches (twice a month for the next 12 months after you graduate from our program).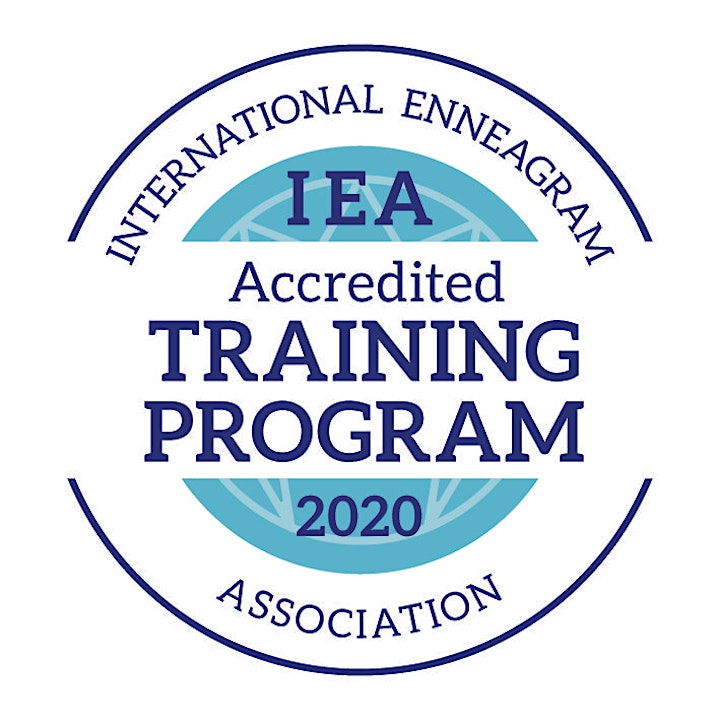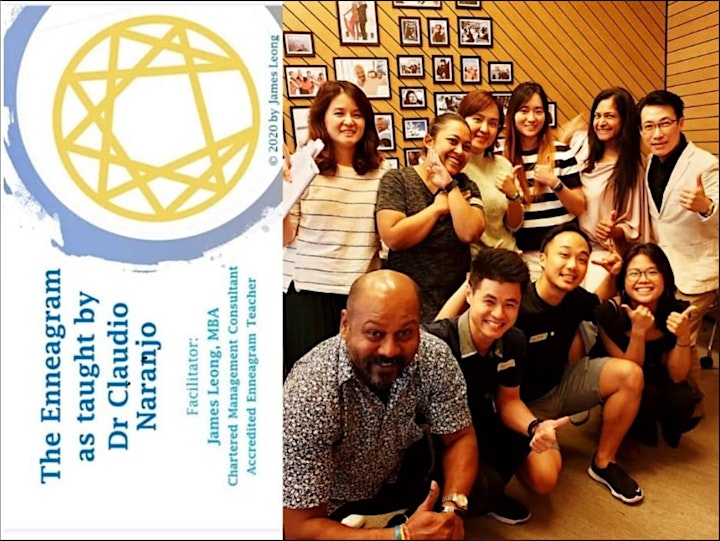 Our Accreditation Syllabus will Cover:
1. Dr. Claudio Naranjo's Enneagram Personality Profiling System and Their In-depth Subjective Experiences. This includes:
9 Enneagram Types
Enneagram Hornevians, Harmonics, Triads
Enneagram Wing Types
Enneagram Trifixation (Adapted from the work of Naranjo's Teacher, Oscar Ichazo)
Growth Points and "Opportunity for Growth" Points (traditionally known as the "Stress/Disintegration" Points)
.
2. How to seamlessly integrate the Science of NLP with the Enneagram. The models (with All the Verbal Scripts) include
Dynamic Belief Change
S.C.O.R.E. Coaching Model
Neurological Levels of Transformation and Alignment
Ericksonian Hypnosis
NLP Advanced Timeline Repatternin
Explore personal history
Resolve inner struggles and let go of our protection mechanisms
Timeline Regression: For Releasing Negative Events and Beliefs
Future Timeline Progression: For Creating Compelling Future Goals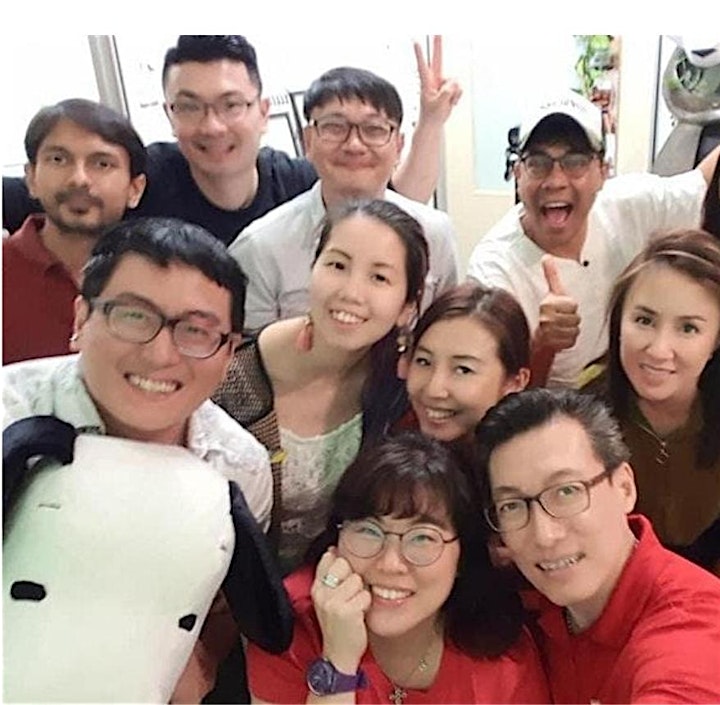 Training Venue:
73 Oxley Bizhub, Ubi Road 1. #05-64. Singapore 408733
Schedule* (Singapore Time):
September 16, 2020: 7pm to 10.30pm
September 19, 2020: 9am to 6pm (Saturday, Full Day)
September 21 and 23, 2020: 7pm to 10.30pm
September 30, 2020: 7pm to 10.30pm
October 3, 2020: 9am to 6pm (Saturday, Full Day)
October 14, 2020: 7pm to 10.30pm
October 17, 2020: 9am to 6pm (Saturday, Full Day)
October 21 and 23, 2020: 7pm to 10.30pm
October 28, 2020: 7pm to 10.30pm
October 31, 2020: 9am to 6pm (Saturday, Full Day)
*Note: Compulsory 85% attendance is needed to graduate from this program.
The Origin of the Enneagram by James Leong's teacher Dr Claudio Naranjo (video above)
Extraordinary Results
Produced by James Leong's Graduates of the Enneagram and NLP Executive Coach Program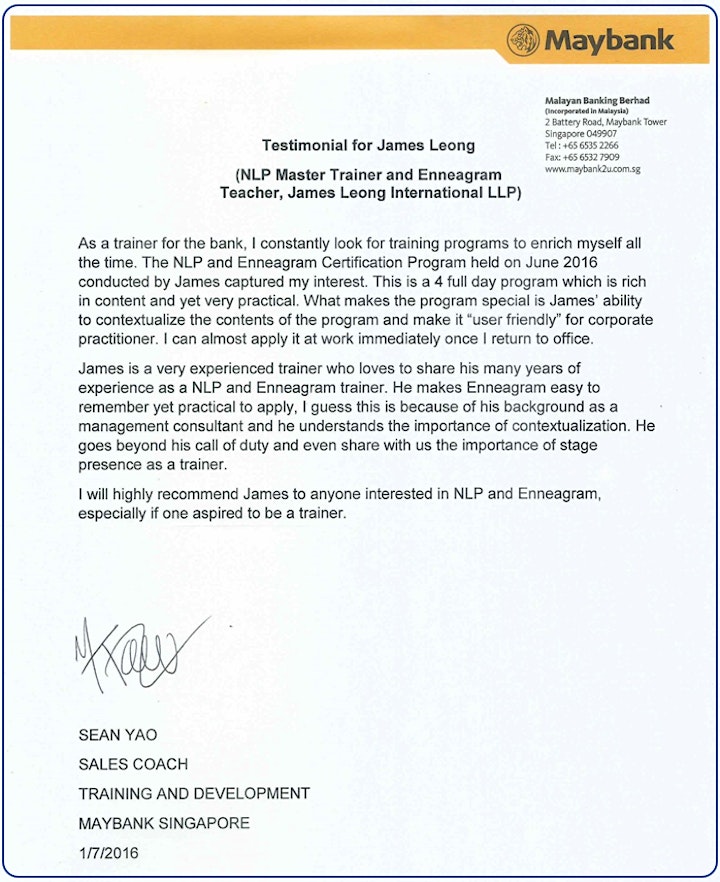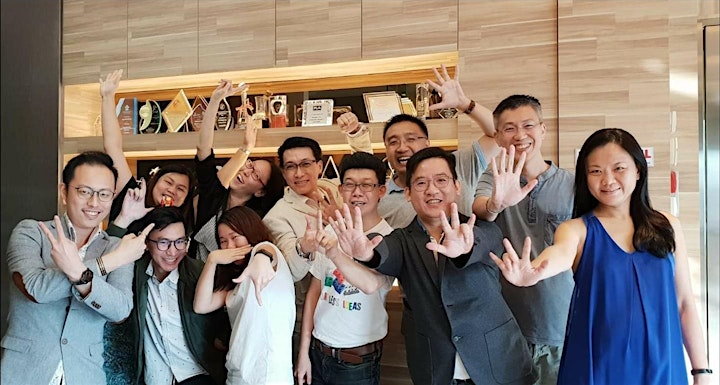 Sales – Rookie agent for major Real Estate company becomes top income earner in his company the next month, after attending the program.
Insurance Financial Director (FD) – Managers can't connect with their Financial Director's vision and instructions. FD changes instruction based upon Managers' Enneagram profiles, the learning curve is dramatically shortened, and a new sales record was set by the agency.
Negotiator – Contract negotiations on hold due to budget constraint. Negotiator sends the Learning and Development Director an email based upon his Enneagram Profile and deal closes the following week.
Manager – Resistance to change. Manager profiles his team of resistant subordinates and convinces them to take action for first time in eighteen months. This saved the company substantial funds and improved productivity at work.
Executive Coach – Clients not getting breakthroughs. Executive Coach profiles his clients and helped them to Craft Compelling Goals that are aligned with their Enneagram Profiles. More than Eighty Percent of his clients achieve breakthrough results in less than two weeks.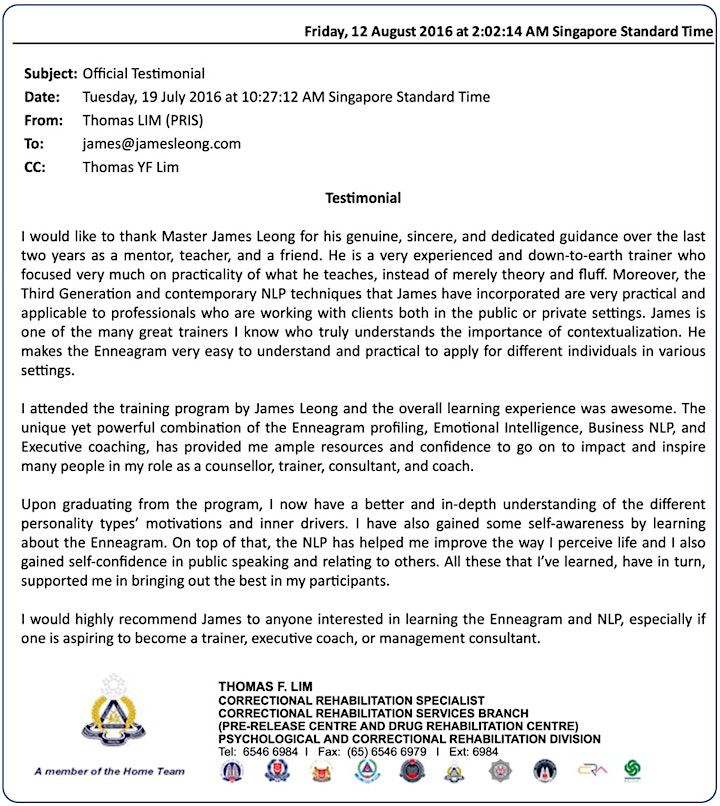 About Your Program Facilitator:
James Leong
James Leong is a Chartered Management Consultant and Master Executive Coach. His Personal Development Journey started in the 90s and he is a long time student of Dr Claudio Naranjo, developer of the modern day Enneagram, since 2010.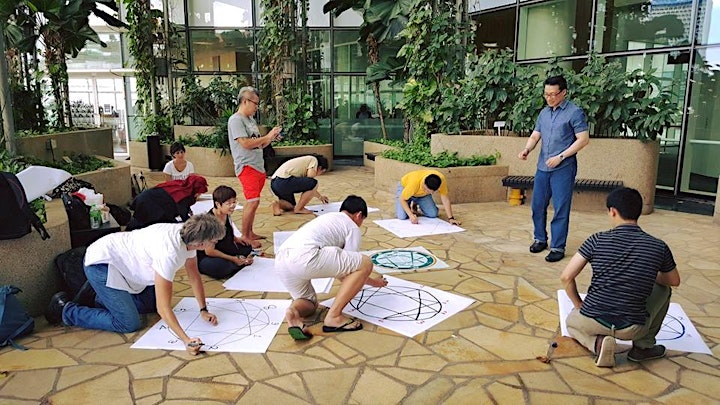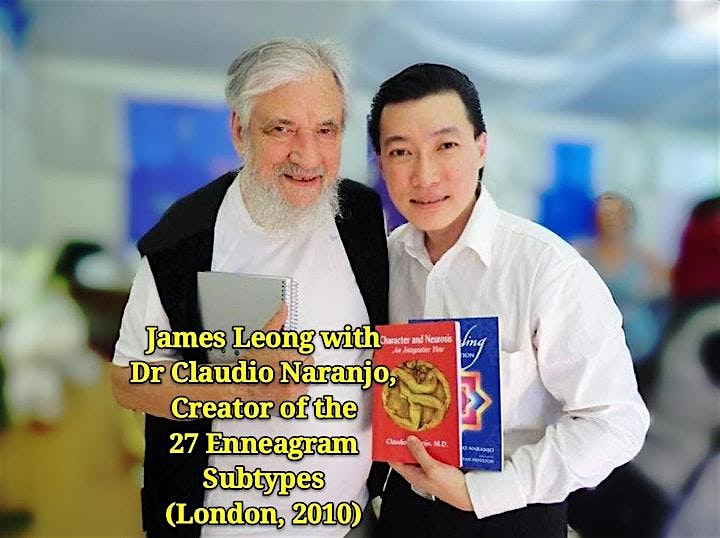 An Accredited Enneagram Teacher, James is also a Master Trainer in NLP and Ericksonian Hypnosis. He has taught and coached in many different cultures and countries over the past 15 years. James is familiar with both personal transformation and corporate contexts, having devoted himself to hundreds of hours in personal development, mindfulness, self-mastery, approaches like Gestalt therapy, somatic dance and more.
James has also conducted over 2000 hours of training and facilitation in both small and large group corporate contexts in areas such as leadership, self-mastery, sales, peak performance, organisational development and team building for executive development.
James brings with him a rich and broad experience with more than 15 years of experience in the fields of executive coaching and consulting. His clients include Multi-National Corporations like the Volvo Group in India and China, KPMG, Deloitte Consulting, MHA, SAF, Societe Generale Bank and Accuity (Subsidiary of Reed Business Information), ESIS Asia Pacific and many more.
His USP is that he teaches "simple steps that produce transformational results".
James seamlessly brings his unique boardroom coaching and facilitation techniques to the training, creating both insightful learning and deep transformation for participants.
QUALIFICATIONS
Master of Business Administration from the "The Lord Ashcroft International Business School" at Anglia Ruskin University, UK.
Chartered Management Consultant and Member of the Chartered Institute of Management Consultants, USA.
Accredited Teacher of the Enneagram (International Enneagram Association, USA).
NLP Master Trainer (NLP University, USA).
Certified Trainer of Hypnosis (National Board of Professional and Ethical Standards)
MBTI Practitioner (CPP, USA).
Language And Behavior Profile (LAB Profile) Practitioner (Success Strategies, Canada).
James is currently pursuing his Doctorate in Business Administration.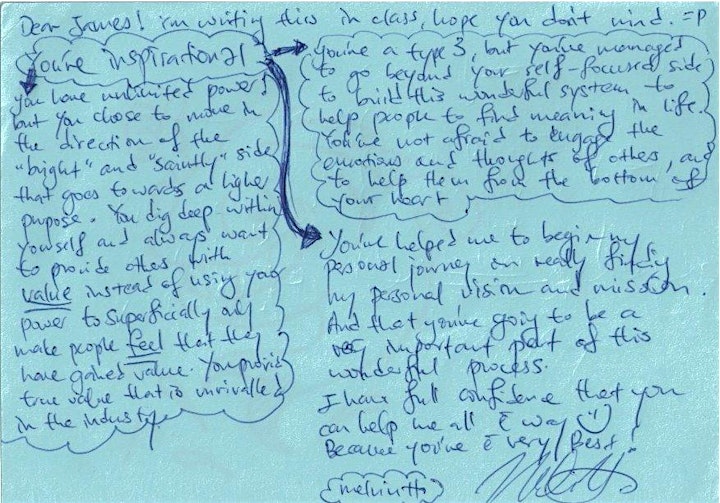 Testimonials
(Previous Enneagram and personal transformation programs)
"Learning about the Enneagram gave me a deeper insight into my innate habits and personal attitudes towards situations in life. It also taught me how I can step out of my personality type and explore/adopt traits from other personality types in order to improve myself.
I am better able to understand my relationship with others around me and accordingly respond to individuals or situations in a manner that would improve communication and understanding.
I see myself being better able to cope with challenging situations involving superiors or colleagues which would have previously been difficult to deal with.
James is a highly enthusiastic coach and goes to great lengths to make the course as comprehensive, entertaining and resourceful as possible. I have thoroughly enjoyed his course and look forward to future opportunities to learn more from him."
— Vaishnavi Honnavalli, Research Analyst, Home Team Behavioural Sciences Center, Ministry of Home Affairs
=+=+=+=+=+=+=+=+=+=+=+=+=+=+=+=+=+=+=+=+=+=+=+=+=+=+=+=+=+
"James, I want to thank you and your team for the excellent learning opportunity. Understanding my personality style and preferences during the Team Building Seminar has been most profoundly impactful! Now I know how to draw out and maximize the strengths in myself and my colleagues."
— Mr. Juan Ramirez, Business Services Technology Manager, Merial Asia Pacific Region (A division of Merck and Co., Inc.)
=+=+=+=+=+=+=+=+=+=+=+=+=+=+=+=+=+=+=+=+=+=+=+=+=+=+=+=+=+
"James is not a trainer that teaches towards accumulating wealth for himself. Instead he is very passionate about interviewing every student and understanding their purpose for wanting to achieve from this course. By doing so he would during his training, relate the topics to each student to fulfill our need to apply this new knowledge to our life.
I would not hesitate to consult James for any future projects and am pleased to say that he would be an asset to anyone who is currently lost or needed an extra helping hand to understand more about human characteristics through the Enneagram. He comes highly recommended from me and went beyond all expectations that I had."
— Lionel Ng, President, Dennis Wee Realty Pte Ltd
=+=+=+=+=+=+=+=+=+=+=+=+=+=+=+=+=+=+=+=+=+=+=+=+=+=+=+=+=+
"I have attended many workshops with world renowned speakers like Tony Robbins , T Hary Eker , Blair Singer , Stephen Pierce , Chris Howard , and Jack Canfield . None of these world class speakers combine NLP with Enneagram. That's the Unique Gift of James, once you are equipped with the knowledge you can apply it for either business partnership or finding your soul mate !!!"
— Tanmoy Das, Scrum Master and Agile Coach
=+=+=+=+=+=+=+=+=+=+=+=+=+=+=+=+=+=+=+=+=+=+=+=+=+=+=+=+=+
"James' program has improved my human relationships as well to create a new income source as a life coach. I give the program 5 Stars for fun and effectiveness., not only for the changes in my business but also in my personal life."
— Dr Patrick Chan, Former Business Professor (Behavioral Finance), Nanyang Technological University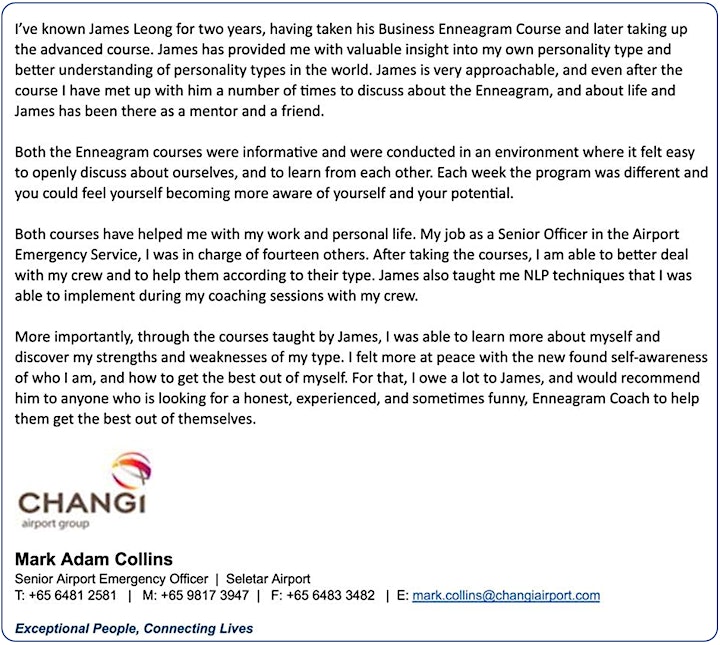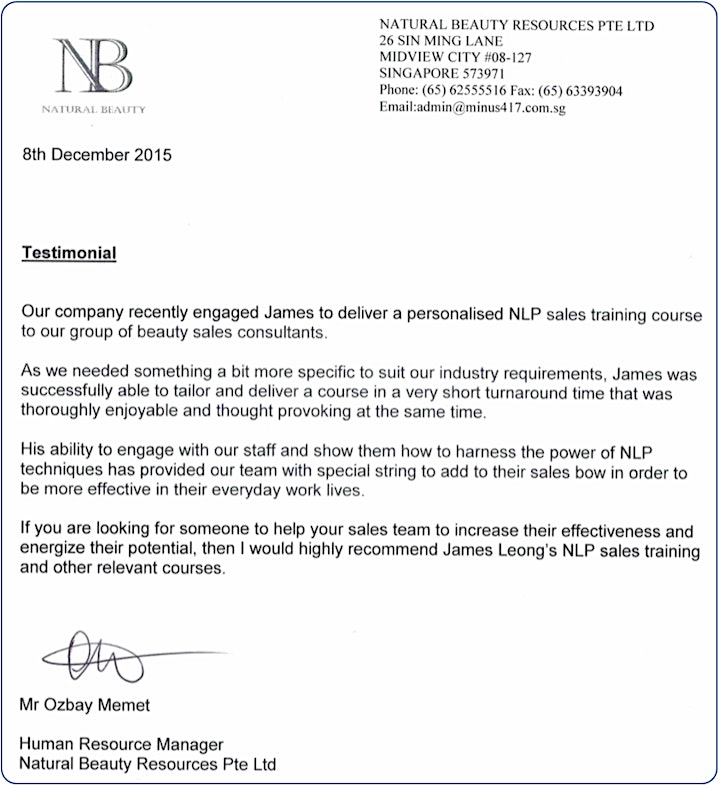 =+=+=+=+=+=+=+=+=+=+=+=+=+=+=+=+=+=+=+=+=+=+=+=+=+=+=+=+=+
"I highly recommend James Leong. Everything that he taught can be applied immediately."
— Mr. Colin Koh, Acting General Manager & Head Skills Training, Air Transport Training College
=+=+=+=+=+=+=+=+=+=+=+=+=+=+=+=+=+=+=+=+=+=+=+=+=+=+=+=+=+
"James is very generous with the information shared and he has really made the techniques come to life and easy to understand"
— Mr. Lau Mun Ying, Lecturer, Singapore Polytechnic
=+=+=+=+=+=+=+=+=+=+=+=+=+=+=+=+=+=+=+=+=+=+=+=+=+=+=+=+=+
"I must hand it to James for being such a great coach and trainer."
— Mr. Loh Wei Lee, Senior IT Manager, AXA Asia Regional Centre Pte Ltd
=+=+=+=+=+=+=+=+=+=+=+=+=+=+=+=+=+=+=+=+=+=+=+=+=+=+=+=+=+
"James Leong's willingness and generosity to share his wealth of insights and sales experiences have made him a much sought-after trainer. He is indeed one of the BEST Sales Trainers and Success Coaches in Singapore!"
— Mr. Danny Here, Former General Manager, Synergy Worldwide (Malaysia and Singapore)
=+=+=+=+=+=+=+=+=+=+=+=+=+=+=+=+=+=+=+=+=+=+=+=+=+=+=+=+=+
"James, you will always be my foremost mentor of the Enneagram. Your insights on the synergistic combination of the Psychology of the Enneagram and Business NLP is unparalleled.   I have already adapted it into many of my training programs and I have always let my participants know I learn this powerful technology from you!"
— Mr Andrew Chow, Social Media Strategist & Past President of The Asia Professional Speakers Singapore
=+=+=+=+=+=+=+=+=+=+=+=+=+=+=+=+=+=+=+=+=+=+=+=+=+=+=+=+=+
"James Leong is a well‐read and powerful trainer who has the ability to excite and totally transform lives! The knowledge I've gained from James' program has helped me to understand my inner world in greater depth and enabled me to enhance my relationships and improve my performance as a lecturer in professional education!ʺ
— Mr. Clancy Peiris, Attorney-at-Law, ACMA, FFA. Senior Learning Development Manager, CIMA, United Kingdom.