EP Camps (Nov) - A Resilience Boot Camp for Student-Athletes

Saturday, 7 November 2015 from 09:00 to 17:00 (Singapore Standard Time Singapore Time)
Event Details
What is EP Camps?
Taking a 360° approach to developing the mental strength of our participants, EP Camps are total sports performance camps designed to raise the calibre of elite youth athletes from Singapore and around the region.
At the core of EP Camps is EP's FlowLab®, a proprietary training platform that will offer our clients the opportunity to train with the latest biofeedback technology in the market. Coupled with effective training strategies, FlowLab® will sharpen the participant's ability to apply the relevant mental skills in realistic environments. Clients who have undergone training at the FlowLab® include National Athletes, Professional Golfers, Elite Amateur Athletes and Red Bull Athletes.
In addition, we will be emphasizing mindfulness as a training approach to nurture mental resilience and peak performances. The basis of mindfulness wil be covered and a blend of meditation (secular) exercises will be taught to campers. Campers will also be taught how to embed mindfulness into their routines and habits. 
With this camp taking on an integrated approach, sport scientists from complementing disciplines will also be delivering practical modules (e.g. physio, strength & conditioning, nutritional) to help our campers design and integrate holistic routines to cultivate mental strength.
Guest Speakers
1. Danny Sousa, Head Tennis Coach at UWC will be delivering a 1hr session on "Optimizing your Tactical Game to your Mental Game" (12 Nov, Thu, 7-8pm)
2. Dr. Roland Chong, an Orthopaedic Surgeon with a main interest in Shoulder and Elbows, will be talking about common sports injuries and simple ways to prevent them. (16 Nov, Mon, 7-8pm) 
EP Camps Objectives: 
1) Taking a peer support and experiential learning approach, the campers will develop mental resilience through developing specific competencies in Mindfulness, Focus Agility and Mental Stamina. They will in turn learn how to use these mental skills to cope and thrive under pressure, through setbacks and change. 
2) Understand their own performance profile (using biofeedback assessments & video analysis), campers will learn how to design and cultivate the appropriate habits and routines to achieve optimal mental performance when it matters.
3) Create a community for the participants to thrive in and draw upon mutual support as they raise their game.
Facts & Figures: 
Venue: Brahm Center, Ren Ci Hospital, 71 Irrawaddy Rd, #02-06 

All sports

Age group 10 to 15

The program includes 1 full-day session plus 3 separate evening sessions

Saturday (07 Nov): 9am to 5pm

Thursday (12 Nov): 7-9pm

Monday (16 Nov): 7-9pm

Friday (20 Nov): 7-9pm

Camp registration fees: $800 (includes meals and snacks for the full day session, and dinner for Thu's sessions).

Registration is confirmed upon full payment.
About The Principal Trainer:

Lim Han Ee, Performance Psychologist / Mindfulness Instructor
Han Ee partners with his clients to nurture championship mindsets and cultivate flow experiences to achieve peak performance. His core strengths are in the fields of leadership and elite team development; resilience and emotional intelligence; mindfulness for peak performance and advanced biofeedback applications using the FlowLab™ proprietary training platform.
Trained in the US, Han Ee has had the opportunity to work closely with coaches and athletes (All-Conference) at the elite NCAA Collegiate level in Northern California. He has worked intensively with tennis, golf, and swim teams to improve mental toughness to enhance individual and team performance.
Han Ee was most recently involved with the SEA Games 2015 campaign where he worked extensively with Netball Singapore, the National Basketball Team, waterpolo and waterskiing national athletes.
Han Ee has also worked with elite athletes (All-American All Stars) in U.S. High Schools, in particular providing sport psychology support to an elite basketball team facing intense public scrutiny as the overwhelming favorite. Through workshops and 1-1 consultations, he helped the team to maintain focus; composure and cohesion as it went on to win an inaugural State Championship and the No.1 rank in the Nation (ESPN HS 2012 Ranking). He has also provided life-coaching services to at-risk youth & adolescents to succeed in school and in life.
In 2012, Han Ee had the opportunity to work with athletes at the renown IMG Leadbetter Golf Academy and the Bollettieri Tennis Academy in Florida. During this time, he understudied and worked with industry leaders to design and deliver mental skills training solutions.
Back in Singapore, Han Ee works with a range of golfers from touring professionals on the Asian Tour and Thai PGA Tour, to top amateur players from around the region. He was most recently consulting for Team Singapore in the successful Causeway Trophy (2013) campaign against Malaysia. He also works with National Athletes (Olympians & Asian Games campaign), Red Bull athletes and elite tennis players from the region.
LinkedIn Profile: sg.linkedin.com/in/emergeperformance/
Testimonials: http://www.emergeperformance.net/testimonials/
See video of Han Ee's work at the SEA Games:
https://www.youtube.com/watch?v=zKRJRAHOVFs
Snapshots of our previous EP Camps can be found below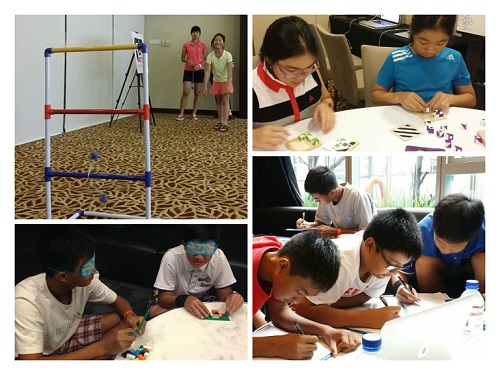 Testimonials
"Having my son participate in the EP Camp in SG has definitely been one of the best decisions. Brendan was fortunate to attend a EP workshop in Jakarta and loved every moment of it. As a photographer for the event, I sat in and was fully entertained myself. Learned lots about how our mind works when we are nervous and relaxed. I wished there was such camps for me to attend when I was growing up!! Great stuff you have there Han Ee!! Looking forward to have Brendan attend more EP Camps!"
Mira Limowa 
"I invited Team EP to do a 2 day workshop with the 60 Top Indonesian Junior tennis players during our National Junior Master in October 2014. It turned out to be the highlight of the whole event. Han Ee has a unique way to approach Sport Psychology. He makes learning experience fun and interesting for the kids. I have sent several kids to his workshop (EP Camps) since then and I see the improvement already. They all are looking forward to coming back."

Paul Sindhunatha
Sportama Tennis Institute
When & Where

Brahm Centre
71 Irrawaddy Rd, #02-06
Ren Ci Hospital
Singapore, Singapore 329562
Singapore

Saturday, 7 November 2015 from 09:00 to 17:00 (Singapore Standard Time Singapore Time)
Add to my calendar
Organiser
Emerge Performance (EP) designs and delivers mindfulness-based programs to realize your innate potential and to thrive wherever you are.
We believe there is a champion in everyone. The intention of our programs is therefore to nurture mindsets of champions as well as cultivate flow experiences in multiple life domains.
We work with executive leaders, innovators, entrepreneurs, military, elite athletes and performing artists.
The programs we offer include the full Mindfulness Based Stress Reduction (MBSR) program, abridged versions such as Mindfulness 101 program, corporate in-house workshops, one-to-one or group coaching, and lunch-time talks.