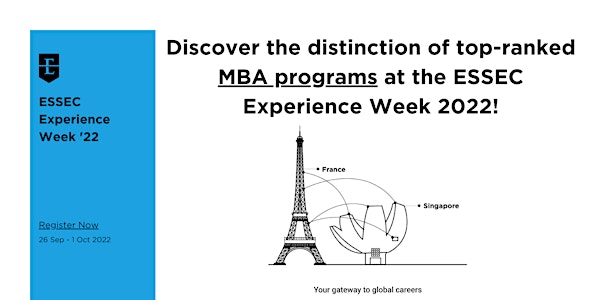 ESSEC Experience Week 2022 (MBAs)
Join us from 26 September to 1 October 2022 to learn how ESSEC's top-ranked MBA programs can maximize your potential.
About this event
From MBA to EMBA, A Journey For Tomorrow's Responsible And Inclusive Leaders
Hear from the Graduates
How can an investment in ESSEC's top-ranked MBA program increase your professional worth? Get the answers from this panel featuring graduates from ESSEC's Global MBA and Executive MBA programs.
Advance Your Career
It is never too late to rise to the top in your career. ESSEC's Executive MBA is designed for mature executives looking to break barriers. Join top alumni from the program and gain insights into your next career goal.
Register for our upcoming event!
Monday, 26 September
Discover ESSEC Asia-Pacific - Your Gateway to France & Singapore
7:00 pm to 7:30 pm (UTC +8)
Venue: ZOOM
Speaker: Prof. Reetika Gupta, Deputy Dean, ESSEC Asia-Pacific
Ranked #8 in Europe, ESSEC is one of the oldest business schools worldwide and among the 1% that is triple-accredited. Discover what makes ESSEC a cut above the rest with its rich heritage, global campuses and top-ranked Master's.
Tuesday, 27 September
The art of creating brand desire
8:30 am to 9:30 am (UTC +8)
Venue: ZOOM
The appeal of luxury brands comes from their ability to combine heritage, craftsmanship and exclusivity for an experience that is both premium and pleasurable. Understand how they tread the balance between growth and exclusivity to create desire.
Moderator:
Prof. Sonja Prokopec, Professor of Marketing, ESSEC Business School and Associate Dean of Faculty, ESSEC Asia-Pacific
Panelists:
Mollie Jean De Dieu, General Manager, Longchamp Singapore & Malaysia
Fabienne Pellegrini, Executive Director, LBB
Decoding luxury destination branding in Asia
7:30 pm to 9:00 pm (UTC +8)
Venue: ZOOM
Growing post-pandemic interest in luxury hospitality experiences is pushing destination marketing to center stage. Learn how luxury hotel brands position themselves to tap into the lucrative Asian market.
Speaker:
Denis Morisset, Luxury Brand Management Professor, ESSEC Business School
Saturday, 1 October 2022
ESSEC & Mannheim EMBA Faculty Showcase
Power up your leadership insights with these mini-master classes and learn why the ESSEC & Mannheim EMBA program is ranked #2 worldwide for career outcomes and diversity.
10:30 am to 12:00 pm (UTC +8)
Venue: ESSEC Asia-Pacific campus - 5 Nepal Park SG 139408
Click here for the Google map directions
Mastering the power of geopolitics
Discover the intricate relationship between the global economy, international relations, and cultural dynamism with our Academic Director, Prof. Cedomir Nestorovic.
Understanding Asia's emerging markets
Learn how Asia's diverse economies are braving the headwinds with Prof. Jamus Lim.