Description
Notice: Registration for IG seminars can now be easily done through our IG Academy platform, simply by signing up for a free demo account. Please take note that with effect from 01 May 2018 onwards, all seminar sign-ups can only be done from this IG Academy webpage.
Find out more about Ethereum and other alternative coins. Dive straight in to understand the drivers to why Ethereum is pioneering towards Web 3.0, and how it could potentially surpass the popularity of Bitcoin. Terence will also discuss other alternative coins and how they pose as a new form of currency
---
Seminar key features:
The Enterprise Ethereum Alliance: Showcasing why this is no longer just an insignificant experimental project
How cryptocurrencies may impact our lives in the near future, and why are they necessary to enable Web 3.0
De-mystifying Ethereum mining, and why it may be near its end
Understanding other alternative coins
The currency Ether, other alternative coins and wallets
---
Find out more:
If you are interested to know more about trading CFDs on Cryptocurrencies with IG you can click here
---
Speakers: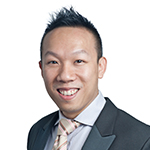 Terence Tan – Managing Director, Terence Trading Academy
Terence specialises in trading mainly forex, employing techniques in Technical Analysis on financial charts.
He has accumulated 10 years of experience in the financial industry since 2006. He was responsible for the trade execution and account management for clients in forex, stocks, CFDs, futures, bonds, etc.
He was awarded the title of Chartered Market Technician (CMT) in 2014, and conducts seminars in topics such as Technical Analysis, Forex Trading, Risk Management, Trading Psychology and Trading Systems. His background in Computing (Computer Engineering) back in NUS enables him to explore deeply into trading algorithms. He had also been featured on Channel NewsAsia - Money Mind in 2014.
---
Contact us
If you have any queries regarding our Ethereum & Web 3.0 Seminar, please email us at education@ig.com.sg.
---
*Important Notice:
Cryptocurrencies are not legal tender currency and the trading of derivatives on Cryptocurrencies are currently not covered under any regulatory regime in Singapore. Consequently, investors should be aware they may not have the full protection offered by the Securities and Futures Act (Cap. 289). Please ensure that you are fully aware of the risks and if in doubt consult an independent financial adviser. For more information on Cryptocurrencies, please refer to the following website for more information: MoneySense – Virtual Currencies.