Sales Have Ended
Ticket sales have ended
Sorry. All our tickets are no longer available.
Sales Have Ended
Ticket sales have ended
Sorry. All our tickets are no longer available.
Description
Every Child Can Be Great!
Harness Your Children's Unique Giftedness
Family Workshop with BrainCore Infinity™ Diagnostics for Children

---
"My child is first in class for Term 2! She is more motivated, able to understand more in school, has more initiative to do homework or revision on her own. She is also now no longer shy to ask questions. Compare this to a few months ago, when she was failing her subjects, hated to revise."
Mdm Nur Aishah, Mother of Nur 'Afifah, Sec 1
---
After working with thousands of students of varying abilities, at different stages of their academic excellence, from students with the worst life circumstances, to high achieving students with highest cognitive abilities, we are proud to bring you a ground-breaking family workshop to help parents harness their children's unique giftedness.
Every child is gifted. Can you imagine your child learning Mathematics with drawing cartoons or through acting? Or by playing outdoors interacting with its natural environment? Or looking at artists' master pieces by analysing the patterns as can be seen on the art work?
All our children are different, in particular, the way their brains are wired, the ways they understand information, and the types of intelligences that are dominant in them.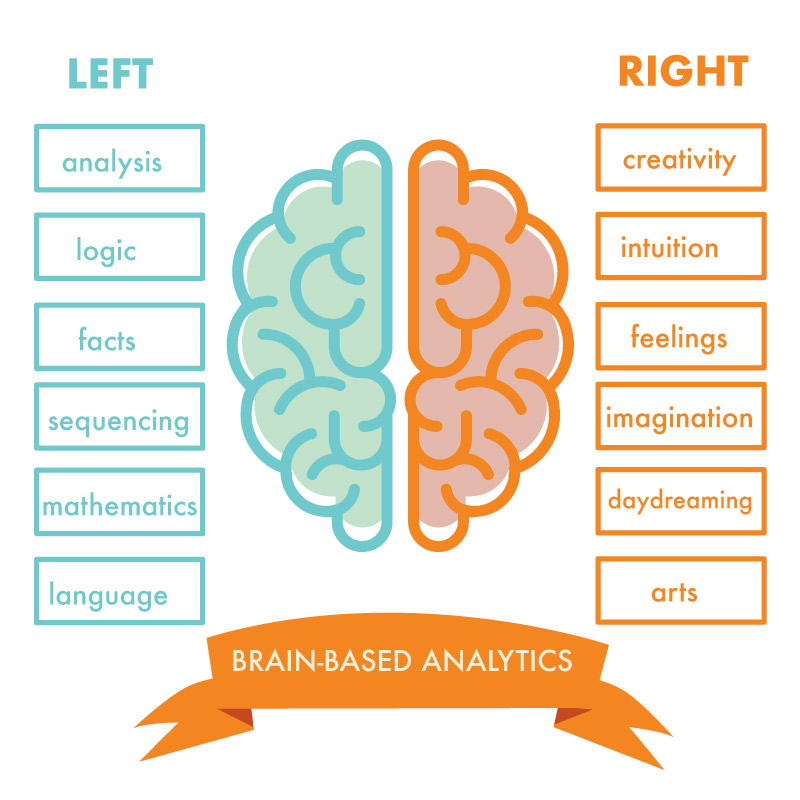 ---
If you can be given an insight into how your child's brain is, from the Brain Fitness levels based on its cognitive functions, and also what intelligences your child has, you can help your child unlock its unlimited potential to do its best. Based on the BrainCore Infinity™ Diagnostics Suite, you will be able to understand your child's brain much better. You will be able to discover:
1. What Intelligences are dominant in your child?
2. How fit is your child's brain? What is its cognitive functions ability?
In this Family Workshop, you will not only look at your child's cognitive abilities.
You will learn how to help your child develop its Emotional Intelligence as well. Do you know EQ has been found to be the determining factor of success rather than just IQ?
In addition, you will:
1. Learn how to MOTIVATE your child,
2. Learn how the Brain works, and Why Your Child is Unique,
3. Learn what makes a Child, and how you can develop the best in your child,
4. Learn about neuroplasticity, and what are the two peaks of your child's brain plasticity in his/her life,
5. Understand the results of the BrainCore Infinity™ Diagnostics Suite and how to apply the findings to help harness the unique giftedness of your child,
6. Learn the powerful system to help every child succeed in school and life - MEALS Kinetics™ System of Success,
7. Understand how best can your child learn through the unique dominant intelligences your child has
8. Test Drive Infinito™ Brain Fitness Training
---
More Success Stories and Testimonials from Parents and Students
"She was not motivated to do Maths and always thought negatively about her grades. Consistently failing badly. Now, she has tremendously improved and is always looking forward to improve herself. She is determined to do better. Her grades have jumped by 4 grades. Extremely effective."
Mdm Ainun, Mother of Adriana Faraisyah, Sec 4, Mayflower Sec
"Eiliyah was not able to cope with her studies. She failed both her Science and Math papers. After Quantus Learning, Eiliyah managed to cope with her studies and complete word problems with minimum help . She passed her Math and Science papers. I was surprised to see her results."
Mdm Sahara, Mother of Eiliyah Syazliana, Pri 6, Pioneer Pri
"Irfan's grade was in the 50-60 (C) range. He was not motivated to do better for the subject and was about to give up. After joining Quantus Learning, there was a massive difference in his Maths result to 70-80 (A). His attitude towards Maths became positive and was motivated to do even better."
Mdm Saedah, Mother of Irfan Adreyan, Pri 6, Horizon Pri
"Fitriyah really enjoys Quantus Learning way of learning. It is not what that is usually taught at other tuition centres. My son, Hasif, shows signs that show his Maths will be better as he is now able to do his Maths homework by himself. With Quantus Learning coaches, I believe they will achieve greater heights."
Mr Faisal Ungku Ismail, Father of Ungku Nurfitriyah, Pri 6, Madrasah Al-Irsyad and Ungku Mohamed Hasif, Pri 4, Woodlands Pri
"My friend recommended Quantus Learning to me. At first, I was reluctant to try but after a while when i see improvement in my daughter's results I started to like Quantus Learning as my daughter started to understand better and learn better. From being lazy to study, she has become hardworking and attentive. She improved drastically for English and Science, she improves and understands Maths much better now."
Mdm Radziah, Mother of Amirah raudhah, Sec 2, North Vista Sec
"Qiara is more confident and looks forward to weekly sessions. She used to be unmotivated, an only attemp the easy questions, and just stares blankly at the harder ones. At Quantus Learning, she's surrounded by other students who are hardworking and want to do well. I am confident that she will improve or at least she realises that Maths is not a difficult subject and she can excel in."
Mdm Jamilah, Guardian of Qiara Quzandria, Pri 4, Boon Lay Pri
---
What will you receive?
1. Entrance to the Family Workshop and Workshop Hand-out
2. Children Attendees will be given a BrainCore Infinity™ Diagnostics Suite (worth $120/pax) to assess the BrainPrint™ and Cognitive Functions Score (Results will be provided on the day of the workshop during Registration)
3. Multiple Intelligences Cards, to help your child apply the best learning strategies based on the diagnostics (worth $15)
4. Top 10 Most Effective Exam Success Tips Cards (worth $15)
5. Refreshments
6. Goodie Bags with special vouchers and more!
---
Examples of BrainPrint™ and Cognitive Functions Score Results from the BrainCore Infinity™ Diagnostics Suite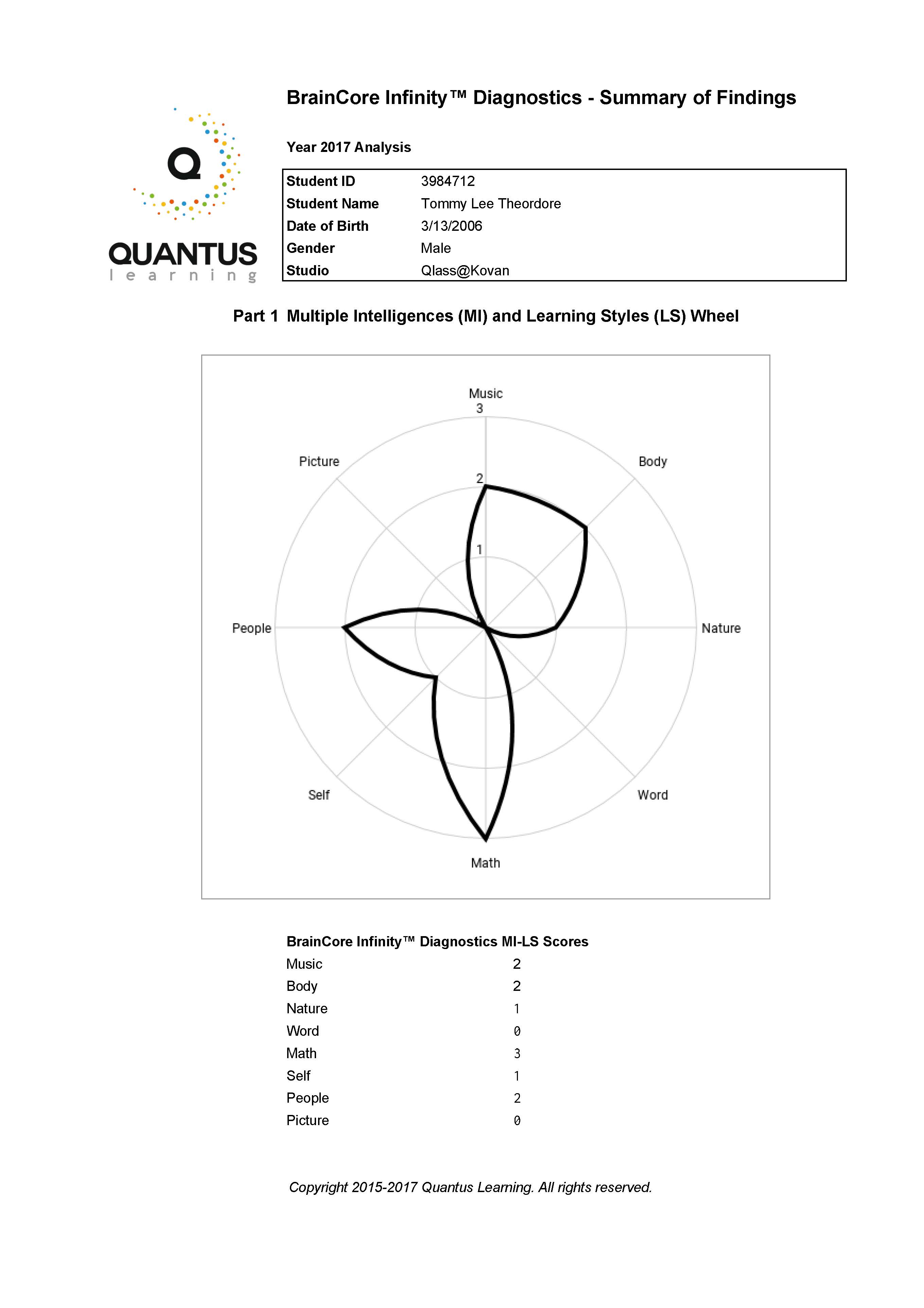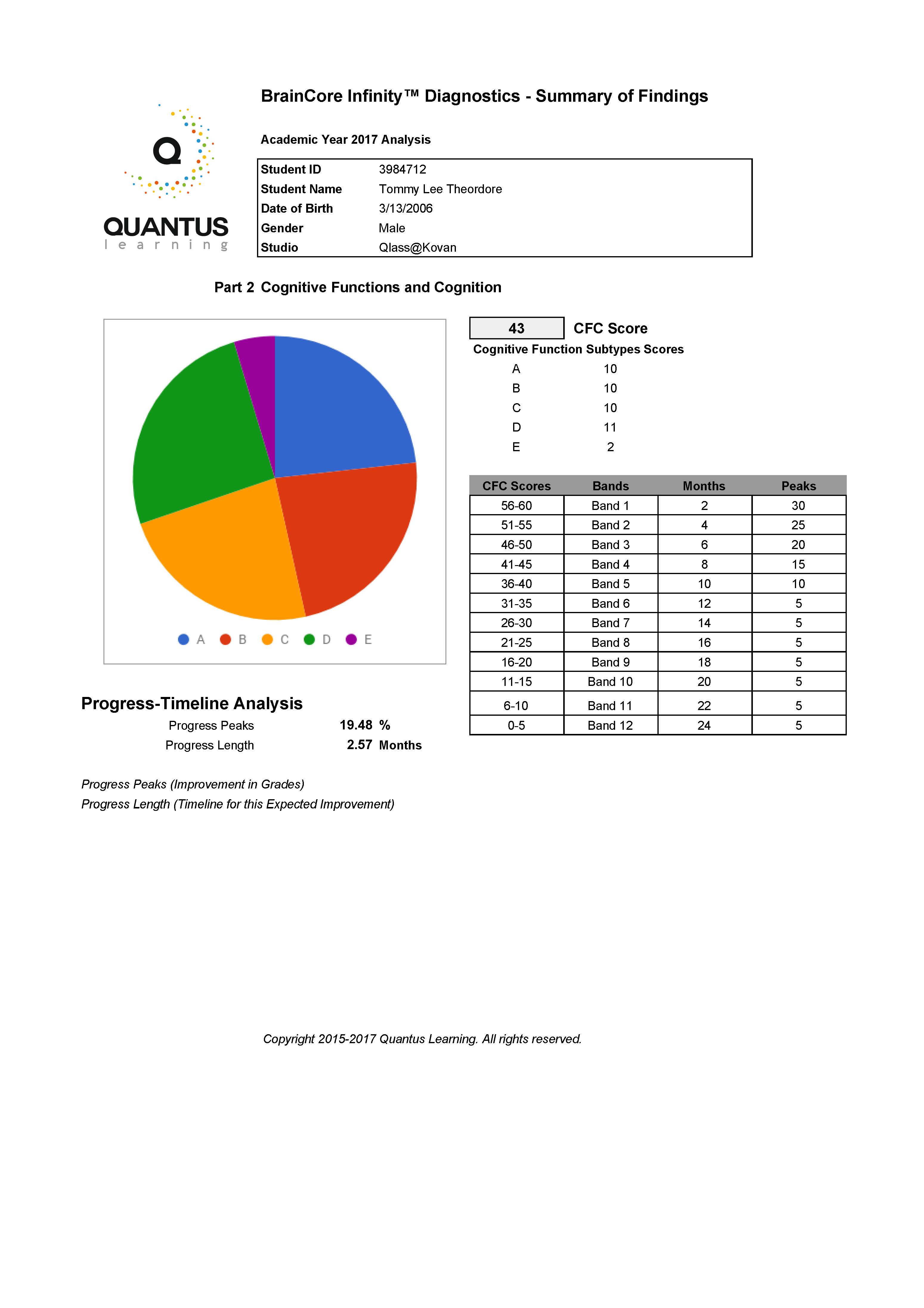 ---
* Discover what your child's own diagnostics results mean, and how you can help harness the unique giftedness of your child. Be Your Greatest with Quantus Learning.
#Use the promotional code: RELAUNCH5 to get $5 off every ticket! Only first 10!
* Use the promotional code: EVERYCHILD to get $20 off every ticket!