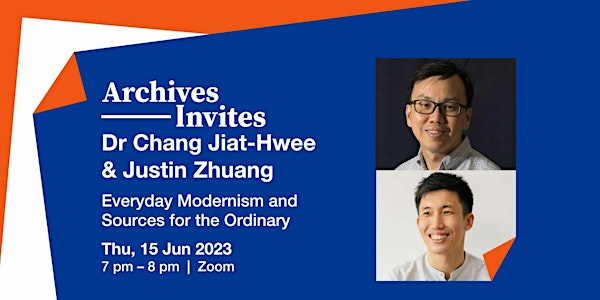 Everyday Modernism – Architecture in Singapore | Archives Invites
Discover many untold histories of the city-state's modernisation, such as the Pearl Bank Apartments and the former PUB Building.
By GoLibrary | National Library Board, Singapore
Date and time
Thursday, June 15 · 4 - 5am PDT
About this event
Everyday Modernism: Architecture and Society in Singapore is the first comprehensive documentation of the city-state's modern built environment. Through a series of building biographies, the book uncovers the many untold histories of the Southeast Asian city-state's modernisation, from the rise of iconic buildings, such as the Pearl Bank Apartments, the former PUB Building and the Jurong Town Hall, to the spread of ordinary typologies like the condominium, the multi-storey car park, the podium-tower block, the flatted factory, the community centre, the standardised school building, the pedestrian overhead bridge, and the columbarium.  
In this talk, Chang Jiat Hwee and Justin Zhuang will share how they researched the book using different textual and visual sources. They will focus on the use of a few lesser known magazines and the different types of government publications to write a more inclusive history of the built environment in Singapore.
About the Speakers
Chang Jiat Hwee is Associate Professor of Architecture and Research Leader of the STS (Science, Technology and Society) Cluster at the Asia Research Institute, National University of Singapore. Besides Everyday Modernism (2022), his books include A Genealogy of Tropical Architecture (2016), Southeast Asia's Modern Architecture (2018), and Non West Modernist Past (2011).
Justin Zhuang is an observer of the designed world and its impact on everyday life. The journalism graduate has authored numerous articles and books on Singapore design and its built environment. He is also the co-founder of the writing studio and publishing imprint, In Plain Words.
About Archives Invites
Community histories unfold in this series that traces Singapore's social past with help from the archives.
To view recordings of the previous Archives talks, you can be viewed them at your convenience via the links below:
About the organizer
The National Library Board (NLB) manages a network of 28 libraries, the National Library and the National Archives of Singapore. NLB promotes reading, learning and information literacy by providing a trusted, accessible and globally-connected library and information service through the National Library and a comprehensive network of libraries.