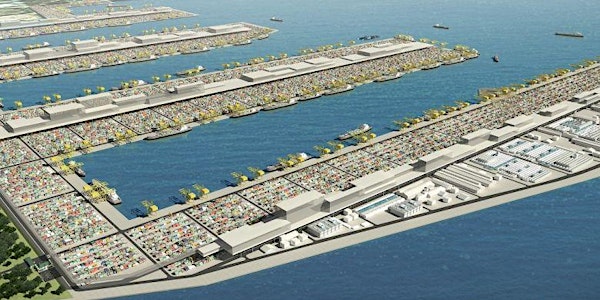 EW on Integrating Port Info for Visibility, Ctrl, 3-5 Jul 23 Singapore
Integrate, align and link them under a new framework so that source information/data are kept intact and electronically reorganized.
By Global Ports Forum Pte Ltd
Date and time
Mon, 3 Jul 2023 09:00 - Wed, 5 Jul 2023 17:00 +08
Location
M Hotel Singapore Anson Road Singapore, 079908 Singapore
Refund Policy
Contact the organiser to request a refund.
About this event
2 days 8 hours

Mobile eTicket
GPF Executive Workshop on Integrating Port Information for Comprehensive Visibility, Control, Monitoring, Accountability and Results, 3-5 Jul, 2023 Singapore. Exclusive. Small Group.
GPF Executive Workshop on Integrating Port Information for Comprehensive Visibility, Control, Monitoring, Accountability and Results, 3-5 Jul, 2023 Singapore. Exclusive. Small Group.  
Dear industry colleagues
Executive Workshop Outline
The themes of the Executive Workshop are 
An Integrated Information Framework for Comprehensive Strategic Growth
Everyone in the organisation pulling in the same direction
Information on call, Managers should not waste time looking for Information
 In today's ports and terminals, information is sourced from different applications with own data structures and in most instances have to be recompiled for presentation to management. In this way much important and strategic information is left out and what presented may not fully reflect the status quo or provide a complete picture.
The traditional silo method of maintaining information and data gives a fragmented unaligned view of business practices, processes and results across the organisation and does not provide management the best means to strategize their business for revenue growth and profitability. 
This Executive Workshop will present the current gaps in information management at ports and the need to integrate, align and link them under a new framework so that source information/data are kept intact and electronically reorganized on a common platform across the organisation for managers and leadership to have a more transparent and meaningful view of the state of performance at all levels and areas of organisation in a coordinated manner with aligned indicators, measures, indexing, trending and comparisons understood by all to take action for progress and improvements. Everyone in the organisation will be pulling in the same direction. Information of all dimensions properly defined and organized can be translated into better customer and employee satisfaction leading to higher financial returns and growth for the port. Integrated performance measures can be periodically assessed with set targets and objectives with an iterative strategic approach.
On a daily basis, integrated performances can be viewed on real-time basis and immediate corrective actions can be taken to maintain or exceed expectations. The 3-day Executive Workshop will consist of 6 sets of topics outlined below. Sessions will be video driven with interactive participation by attendees.  
There will be exercises and material handouts. Participants are welcomed to seek drilled down perspectives on any topic outlined.
Executive Workshop Outcome 
At the end of the Executive Workshop, participants will have comprehensive understanding of business processes and information flows in the port and understand and appreciate the information management systems in ports in general and in the ports they manage.   
Participants will know the benefits of integrating, aligning and linking their information management systems to improve operational efficiency, productivity and revenue growth and the advantages of an integrated over a silo-based information management approach. Participants can harness ideas and recognize lapses in their information management systems from the Executive Workshop and seek to incorporate these into their current information management system. 
Participants from Maritime Learning Institutions will have a comprehensive view of business processes in ports and terminals for better understanding and appreciation of the courses they are attending. Trainers can seek answers and clarifications on subjects they are covering in their curriculum.
Who should attend 
Port Authorities
Port Owners
Chief Financial Officers
Port Managers & Executives
Information Technology Officers
Shipping Line Managers
Port Customers
Port Stakeholders
Maritime Learning Institutions – Students, Trainers
Topic 1: Review of Current Port Applications 
Management and Operation
Finance
Customer Relationship Management
Service Provider Management
Human Resource
Procurement/Vendor Management
Administration
Security
Port Community System – Applications, Bookings, Alerts, Notifications, Feedback etc
Equipment/Workshop Management/Maintenance
Asset Management/Maintenance
Marine (Tugs/Pilots/Navigation)
Communication/Tracking
APIs/Interfacing with External Applications
Management Information Systems/Data Analytics
Topic 2: Dimensions in Ports 
Leadership – Management & Direction
Planning – Strategy Map
Finance – Revenue Generation, Productivity
Internal Processes – Core Competencies, Customer Management, Operational Strength, Operation Leadership
Customers – Market Share, Customer Acquisition, Profitability, Satisfaction, Retention
Assets – Availability, Deployment, Utilization, Contribution
Equipment – Availability, Deployment, Utilization, Contribution
Resources – Availability, Deployment, Utilization, Contribution
Personnel – Availability, Deployment, Utilization, Contribution
Service Providers – Availability, Alerts & Mobilization, Deployment, Net Contribution
Learning & Innovation – Skills Development, Training, Motivation, Soft Infrastructure
Corporate Standing – Internal Image, External Image
Results – Financial, Market, Internal Processes, Learning & Innovation
Topic 3: Performances Areas for Monitoring, Tracking, Benchmarking 
Business Performance and Competition
Vessel Performance, Individual & Groups
Asset/Resource Performance
Personnel Performance
Service Provider Performance
Customer Performance
Technology Performance
CSR Performance
Topic 4: Key Features of Integration 
Alignment and Linkage
Cause and Effect Relationship
Value Propositions, Objectives, Measures, Targets, Initiatives
Cascading Mission and Vision Statements
Real-time Monitoring
Integrated Dashboard View for Performance and Conformance
Lead vs Lag Measures
Coordinated Deployment
All levels and across enterprise
Primary, Secondary, Tertiary Customer Relationships
Aligned Financial Objectives and Metrics
Individual and Group Indexing and Trending
 Topic 5: Integration by Redefining 
Data Structures All Applications
Measures & Indicators
Performance Measures/Indicators
KPAs/KPIs
Operational Data Analytics
Financial Data Analytics
Quality Measures
Data/Databases Schema
Role of new port technologies like Digitization, Predictive Technologies, Sensitivity Analysis, Machine Learning, Block Chain, IoT, Automaton, Images/Voice Processing, Sensors, GPS Tracking, Drones
Topic 6: Integrated Information Framework Model 
Strategy Map
Value Propositions – Value Capture/Delivery
Value Chains
Benchmarking
Measures, Targets, Initiatives
Trending
Performance Indexing - Financial, Revenue, Market, Core Competence, Customer, Learning, Innovation, Ops Excellence, Corporate, Capital, Process, Service, HR
Conformance Indexing - EVA, Competition, Mkt Share, ROCE, Customer, HR, Yield, OSHA
About the Workshop Directors  (subject to final confirmation)
Thomas Ng 
Thomas Ng has over 28 years of consulting experience in the ports and shipping industry. Thomas is known for developing innovative solutions for players within the ports & shipping industry,   — in areas of investments advisory, port strategy, development, marketing, planning & redesign, customer services and port operations; and delivering superior results.
He is the Executive Chairman of The Global Ports Forum (GPF) since 2008. The Global Ports Forum is a platform where all ports stakeholders in the ecosystem- port customers, port authorities, port operators, port people, port suppliers & service providers are gathered together to discuss about issues furthering the interests of ports globally.
Thomas is well-respected in the ports & shipping circles — recognized for his in-depth industry knowledge and far-reaching personal industry network and linkages. Some of his recent port investments advisory work include ports in the Middle East, Africa, Southern Europe, South East Asia, Latin America, etc.
Given Thomas' far-reaching personal port industry network and linkages, Thomas is often seek out by port investors and port privatisation candidates all over the world for collaborative partnership.
Thomas is invited regularly as speaker & facilitator for Ports conferences, roundtable and executive programs and workshops.
He is the senior port & terminal training expert for the Singapore Ministry of Foreign Affairs (MFA) Singapore Cooperation Programme (SCP) for foreign ports officials for over 10 years. Recent programmes conducted by Thomas include the 5 days executive program in "Port Development and Competitiveness", Singapore on 12-16 Dec 2016 where Thomas was the key trainer for over 60% of the whole executive program. Some other early SCP programmes that Thomas taught over 20 senior foreign government transport officials included the 2 weeks Singapore MFA Executive Programme in Logistics & Distribution Management on 28 Aug – 10 Sep 2007 & again on 6 Oct – 17 Oct 2008.
Thomas spoke recently at the Transport Intelligence Singapore 2013 Infrastructure panel, together with senior executives from the World Bank & UPS, the Container Depot Association Singapore Conference 2014 on ports and infrastructure, Tank Storage Asia Conference in 2015 and an exclusive Roundtable on Smart ports & ships and Internet of Things in Jun 2016.
On a professional level, Thomas founded the non-government voluntary organization — The Global Ports Council (GPC) in 2008. As of today, over 192 C-level executives globally presents themselves as members of our council. Our prestigious list of Council members are as follows:
http://globalportsforum.com/the-global-ports-council/
Thomas is also a veteran Chartered member (since 2001) of the Chartered Institute of Logistics & Transport Singapore. He serves as a Board Member of the Singapore Branch of Chartered Institute of Logistics & Transport for over 16 years.
Capt Sanjiv Chhibber
Capt Sanjiv Chhibber has 41 years of extensive experience in Senior leadership positions within the maritime and port industry, spanning vital functional areas across the Middle East, Africa and India. He had 17 years of sea-going experience. Capt Chhibber is a Master Mariner with experience in General Management, Port Operations, Business Development, Customer Service and Key Account Management, including Main Lines and Feeder Lines. Proactive maritime/port professional with a process-driven, customer service-oriented and results-focused approach.
Capt Chhibber sailed on board breakbulk and container vessels from 1981 to 1993, out of these eight years in command as Master, sailing mainly in the Red Sea, Africa, the Indian Subcontinent and the Far East. From 1993 to 2005 he worked onshore as Pacific International Lines (P.I.L.) (Pte) Ltd. Singapore's Regional Director – Owners Representative. 1993 till 1998 - Mombasa / Kenya, handling P.I.L.'s Commercial & Operations activities in Kenya, Tanzania, Uganda, Mauritius and Comoros Islands. 1996 established P.I.L. (K) Ltd., P.I.L.'s shipping Agency office in Mombasa. 1998 till 2002 – Mumbai In charge of all I.C.D.'s in north India and all ports on the west coast of India. 2002 – 2005 – Dubai, Chhibber handled Operations and Commercial activities of P.I.L. in the Red Sea and Arabian Gulf ports, looking after Djibouti, Yemen, Sudan, Saudi Arabia, Egypt, Jordan and all ports in the Persian Gulf.
At PIL, Capt Chhibber negotiated terminal agreements & contracts with various port authorities in the region. Monitored the performance of all port agents and sub-agents within the territorial scope. Monitored vessel operations in ports, ensuring quick turnaround. Capt Chhibber expanded PIL's Business development, new opportunities and service deployments within the region, soliciting and canvassing import and export cargo nominations. Developing reverse marketing strategies, new markets and logistics-related activities. Capt Chhibber represented P.I.L. as Owner's Representative within various shipping consortium forums and set up a liaison with all major shipping lines. He successfully developed the East Africa trade, whereby volumes tripled since the inception of services.
Customer service was the top priority, and Chhibber provided sales and after-sale services, and all customer complaints were handled efficiently.
From 2005 – 2018, Capt Chhibber held senior Management positions at D.P. World U.A.E Region F.Z.E.
From 2005 to 2012, Commercial department as head of the Customer Service section. Capt Chhibber's core competency at DPW include shipping Main lines account management, Strategic planning, Port Operations, Customer relationship management, Contract Management, Business Development, Resource planning, Team management, and General management. He reviewed port tariff every two years, and all service charges adjusted to recover the additional cost. 2012 to 2018, Container Terminal Operations Dept, Capt Chhibber oversaw berth and resource planning for all the 3 container terminals and general cargo berths in Jebel Ali. In container terminal operations, his involvement was in improving the efficiency of equipment, cost management, quick turnaround of vessels, efficiency in yard and terminal gates, quick turnaround of outside trucks, and planning to receive and commission new quay cranes and yard equipment.
At D.P. World, Capt Chhibber other responsibilities include - the productivity of quay cranes; yard equipment and vessel performance; Operations Reports for terminal management; carried out Activity-based costing (A.B.C.) of container terminal; Container terminal's annual budget; yard capacity and equipment requirements; Container terminal commissioning; receiving New terminal equipment and commissioning; container terminal capacity forecast and development of new capacity; Planning yard, quay and berth civil and electrical work maintenance; Allocating container terminals to shipping lines belong to different consortiums; SLA agreement terms negotiated with shipping lines and implementation monitored; Berth windows allocation to different services of shipping lines; Daily berth planning is monitored to ensure terms of SLA achieved. These mentioned responsibilities had given Capt Chhibber extensive experience in container terminal management, strategy, process review, automation of services, and cost control, with top priority given to safety.
Ng Koon Seng
Mr Ng Koon Seng (FCA Singapore, FCCA UK, FCPA Australia) has over 30 years of experience in a global logistics, ocean freight operations and container transportation conglomerate. He has a wealth of international experience from his career in shipping, global container equipment operation; process Optimization, end to end finance system setup for the shipping business start-up operation, transformation, change management, merger & acquisitions and divestures. He was engaged by Jurong Port Pte Ltd in year 2014 as a Finance system lead and business process consultant for a Joint Venture start up Port/Terminal project, providing finance IT project management and translate user requirements into solution concept, prepare training manuals specific to each finance processes and setting up the finance organization, Multi-Purpose Port/Terminal billing system and implementation of the real time integrated Enterprise financial full system from scratch through end to end finance process innovation and design, develop innovation and out-of-box solutions, lean and digitize, user & finance-friendly administration, workflow integrated for Marunda Center Terminal – PT. Pelabuhan Tegar Indonesia, the 1st private international & domestic multi-purpose seaport which focusing in General Cargo & Bulk Cargo (dry & liquid) in greater Jakarta area. The port is a joint venture between Marunda Center Industrial Estate (www. marundacenter.com) Indonesia and Jurong Port Pte Ltd (www.jp.com.sg) a leading international multi-purpose port operator in Singapore. The integrated port billing and finance system is up and live in Marundra Center Terminal.
He was also tasked to do research on the Ports in Thailand, training, financial modelling with Activity-based costing Analysis for the Aggregates and sand Terminal project.
Mr Ng spent 25 years of his career with NOL/APL, a world leader in shipping and logistics services with annual turnover of US$8b., holding various senior management positions from liners services, special cargoes, freight forwarding, shipping agencies, manage PSA's appropriated Berth scheme for shipping consortia to global equipment operation including M&A of APL, lead Post Merger integration and transformation of the NOL/APL global equipment operation, depots, trucking, rail, land and intermodal operation which involved more than US$1.5 Billion worth of operational cost globally. Head of the NOL global equipment management and achieved significant hard core saving per company's testimonial thru dynamics operational modelling.
15th GPF Anniversary Special. Pay for Two participants, another Two comes free. No other promotion applicable.
Costs:
On or Before 3 May 2023: The 'Early Bird' Rate is USD4995 – Save USD800!
Special Offer! – 3 Delegates For The Price of 2 in This Category! Save USD4995!
From 4 May 2023: The Regular Rate is USD5795
Special Offer! – 3 Delegates For The Price of 2 in This Category! Save USD5795!
Note: All fees stated include luncheons, refreshments and complete set of documentation. It does not include the cost of accommodation and travel.
REGISTER NOW!
To register, please submit the following details to thomasng@globalportsforum.com:
Name:
Position:
Organisation:
Address:
Tel:
Fax:
Email:
What Best Describes Your Industry Sector?:
Billing information:
For cheque payments: To be made payable to 'Global Ports Forum Pte. Ltd.' Please do not send post-dated cheque.
For telegraphic transfers:
Account Name:             Global Ports Forum Pte. Ltd.,
Account No. :                695 477 141 001.
Beneficiary Bank:          Oversea-Chinese Banking Corporation Limited, Singapore. (Swift: OCBCSGSG),
Address : 65 Chulia Street #01-00, OCBC Centre, Singapore 049513.
Please supply confirmation via email of the TT from your bank. Transmitting bank charges must be paid by sender. Please quote both delegate and company name as reference.
Kindly note that as we are providing a special rate for 'early bird' sign up, we will need to receive your company payment by 3 May 2023 to enjoy the discount.
Details of GPF forthcoming executive workshops/forums are available on our website at below link: 
http://globalportsforum.com/forthcoming-gpf-executive-programmes/
Details of GPF PAST executive workshops/forums are available on our website at below link:
http://globalportsforum.com/past-events/ 
Look forward to welcoming you at the executive workshop/forum !
Kind regards
Thomas Ng
Chairman
The Global Ports Forum
GLOBAL PORTS FORUM PTE. LTD.
10 Anson Road
#18-11
International Plaza
Singapore 079903
Website: www.globalportsforum.com/
Mobile: +65 9684 3289
DID:    +65 65197662
Fax:    +65 6725 8438
Email:  thomasng@globalportsforum.com
Terms & Conditions:
No delegate registration will be accepted without completing registration details and full payment.
Upon receipt of your registration details and full payment, further programme information will be emailed to you including your proforma invoice and, if required, a letter of invitation for entry visa application.
Delegates will not be admitted unless payment has been received in Full.
Flights, Airport Transfers and Accommodation are not included in your delegate registration fee.
Refund Policy – a reimbursement of the registration fee, minus administrative charges will only be made if the participant has notified Global Ports Forum Pte. Ltd. in writing that he/she is unable to attend the event no less than 45 days prior to the commencement of the event. No cancellation is allowed after that, but a replacement with another participant is allowed.
This programme is subject to change without notice, E&O.E.
About the organiser
Global Ports Forum Pte Ltd
(GPF) is committed to improving global ports and furthering the interests of ports globally!
GPF offers an overview of emerging trends in the ports industry covering ports, harbours and terminals across the globe.
Collaborating with Port Authorities around the world, the Global Ports Forum today bring together members from the ports ecosystem and organises quality port related events, executive workshops and short courses.
Working in collaboration with our senior port experts, we also provide port consultancy services, feasibility studies, survey and research.
Yours sincerely,
Thomas Ng
Global Port Singapore