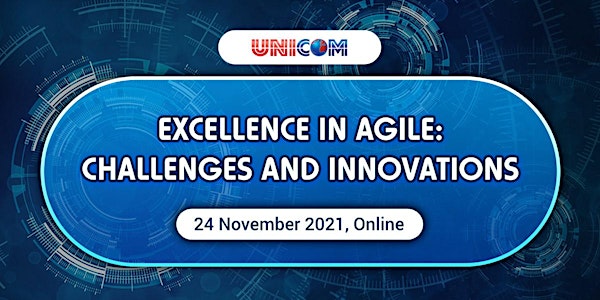 Excellence in Agile: Challenges and Innovations
Excellence in Agile: Challenges and Innovations
About this event
BACKGROUND AND FOCUS
This annual conference is dedicated to exploring, innovating, and advancing Agile values and principles. At present times, the Agile philosophy is being adopted by more and more organisations. This innovative, cooperative, iterative approach to development is showing stakeholders and unhappy end users how to manage time and money. The key is to embrace change and focus on customer desires and feedback. This allows agile businesses to provide almost immediate responses to shifting customer demands.
This conference provides the perfect occasion for delegates to get involved in the conversation, ask questions, learn about best practices and stay together in the Agile initiative where Agile has its roots in working, sharing and innovating. Join passionate Agilists and innovators from around the world to learn about the latest practices, ideas, and strategies in Agile software development.
THE FORMAT OF THE PROGRAMME
At this event we are aiming to include high quality presentations from thought leaders as well as case studies from practitioners. We will also feature extended knowledge-sharing discussions in live Q&A sessions and panel discussion for sharing insights and industry trends.
There is an online exhibition alongside featuring leading service providers, consultants and vendors within the various aspects of Agile.
The event is Co-located with World Conference Next Gen Testing. Delegates are free to switch sessions that interests them.
BENEFITS OF ATTENDING
Discover latest skills, tools, tips and tricks in the industry
Share ideas and brainstorm new approaches
Develop and benchmark your Agile Strategies
Learn from others' best practices, ideas and expertise
Identify your Agile strengths, diagnose the challenges, set improvement priorities, and develop an improvement plan going forward
Improve your team's ability to enjoy project work while meeting deadlines
Discussions and networking are encouraged via Q&A and Panel sessions
TOPICS TO BE COVERED
Agile people, culture and leadership
Using Agility for positive change
Changes in Agile methodologies and applications.
Design Thinking and Business Agility
Leading SAFe approaches
Visualizing Workflows.
User Stories
Agile Maturity Model
Tools – Portfolio Management, Distributed Teams
Agile Transformation
Agile Group Dynamics
Organizational Impact of Agile
Agile Metrics – what to measure and how
Lean UX, Kanban and Scrum