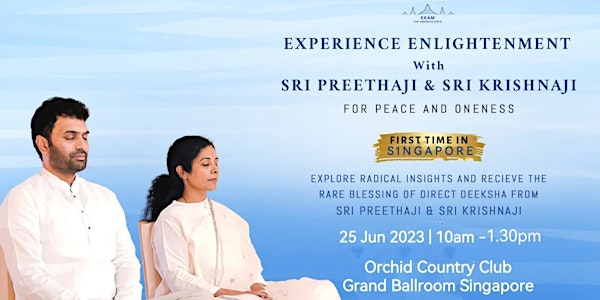 Experience Enlightenment with Preethaji and Krishnaji in Singapore (LIVE)
Experience Enlightenment with Sri Preethaji & Sri Krishnaji in Singapore 体验开悟与普瑞塔吉和克里希纳吉 新加坡
Date and time
Sunday, June 25 · 10am - 1:30pm +08
Location
Orchid Country Club Grand Ballroom 1 Orchid Club Road Singapore, 769162 Singapore
About this event
3 hours 30 minutes

Mobile eTicket
Welcome to Experience Enlightenment with Sri Preethaji & Sri Krishnaji for Peace & Oneness in Singapore on 25th Jun 2023
We will explore radical insights & receive the rare blessing of direct DEEKSHA from Sri Preethaji & Sri Krishnaji.
Sri Preethaji & Sri Krishnaji are the most impactful transformational leaders, mystic & philosophers of our time. They are the founders of Ekam, a philosophy & meditation school for impacting human consciousness that has transformed millions from over 100 countries of the world. They have led millions, on profound journeys into expanded states of consciousness, helping many including entrepreneurs manifest sustained happiness & prosperity.
欢迎你在6月25日参与普瑞塔吉和克里希纳吉一起体验开悟的和平与合一在新加坡!
你将探索深刻洞见,接收来自他们亲自传送 DEEKSHA 的罕见祝福.
他们是我们的时代里最具影响力的转化领导者、奥秘学家和哲学家. 他們是EKAM的创办人,一所致力于影响人类意识的哲学静心学府,且已转化了全世界一百多个国家的数百万人包括知名人士和企业家等. 他们带领数百万人深入意识状态的扩展之旅,帮助他们显化持续性的幸福与繁荣.
Ekam Organisers in Singapore & Malaysia
Li Leng +6593621294
Joo Teng +60193823511
Joo Lee +60122107990
Shui Shui +60127622006
Lai Yong +60122621478
Stephenny +60123086822
Kevin +60125753535
Shereen +60122008484