ExpertChat: 5 Ways to Prevent Worsening of Short-Sightedness in Kids
About this event
Did you know 65% of Singapore kids are myopic by age 12?
Myopia a.k.a short-sightedness is a refractive error that you can see clearly at a near distance but blurry at distance. In Singapore, the prevalence of myopia is among the highest in the world, with 65% of kids being myopia by primary 6 (age 12) and 83% when they are young adults. High myopia increases the risk of many eye diseases that are sight-threatening, hence it is important to know how to detect and prevent worsening of myopia.
In October #ExpertChat, Zac the optometrist from I-Vision Optometrist will share the causes and factors contributing to myopia. Learn the 5 different ways to help your child reduce the progression of myopia and prevent eye diseases for your child.
28 Oct (Thu), 9 - 10pmComplimentary Online
Speaker
Zac is an experienced Optometrist who has a special interest in myopia control, binocular vision and vision therapy. He manages patients with binocular vision problems such as squint, lazy eye and other vision problems that cause double vision or eye strain. He has helped many patients see well and prevent them from suffering common vision problems. He started I-Vision Optometrist with his schoolmate during his studies to bring a comprehensive eye examination with fully equipped state-of-the-art technology. He wishes to educate the public about the importance of eye health examinations.
By signing up for this event, you agree to be contacted for future events.
Please turn on the video during zoom to create a safe and respectful space for the parents in the session. Together we build a positive and mindful parenting community!
Mindful Space
97837313
https://www.mindfulspace.com.sg/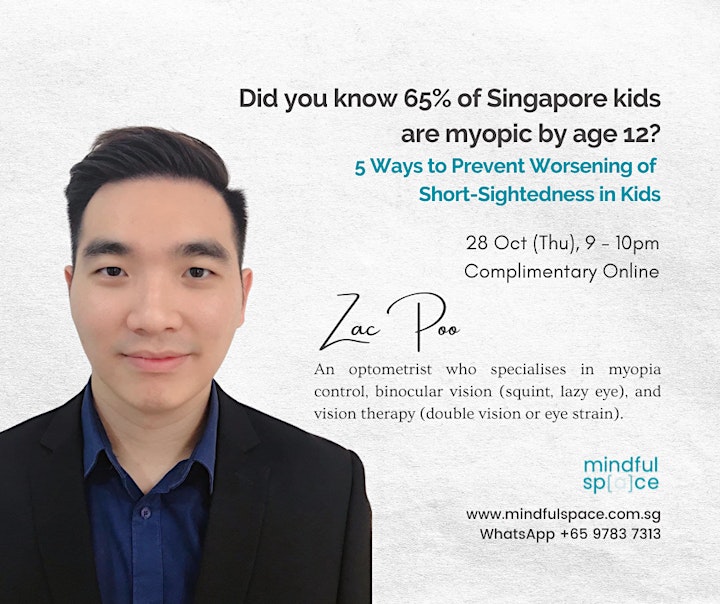 Organiser of ExpertChat: 5 Ways to Prevent Worsening of Short-Sightedness in Kids
Holistic and inclusive space to empower parent & child with life skills - develop & balance the mind (IQ), body (PQ), emotions and behaviour(EQ).
We believe in order to support the child, we must first support the parent.
1. Parent's Well Being
2. Parenting Knowledge & Skills
3. Parent's bonding & learning with their child
OUR SERVICES:
Parent & Child Classes
Kids Enrichment
Yoga & Fitness
Life Coach
Business Coach
Family Consultation 
Parenting Workshops 
Teacher Trainings
Corporate Events
Holiday Programmes