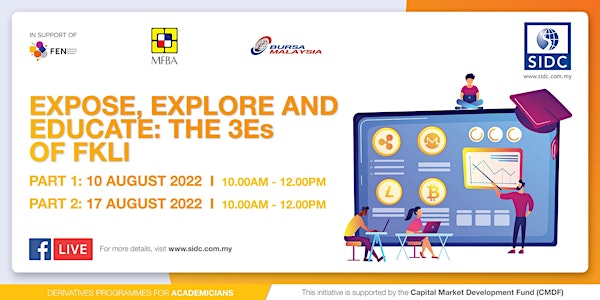 Expose, Explore and Educate: The 3Es of Equity Index Futures (FKLI)-Part1&2
As an educator,you can enhance the future of learning by encouraging your students' understanding of equity index futures in these webinars.
About this event
Learning about derivatives is essential for everyone who wishes to begin a career within the capital and financial markets. This imposes a challenge for lecturers and academicians to educate from a practical stand point and encourage their students to explore more about it.
These e-workshops are a continuation of "The 3Es about Derivatives Futures Potential" e-workshop. The e-workshops will elaborate on how to enhance and encourage students' learning on the topic of equity index futures via an experiential learning approach as well as creating a practical industry course syllabus to prepare them for a career in the capital market.
Programme Objective
This programme is designed for participants to impart knowledge and encourage their students to explore and take action on the opportunities available in the derivatives industry by giving insights into the derivatives ecosystem, focusing on equity index futures i.e. FTSE Bursa Malaysia KLCI Futures (FKLI) contract traded in Bursa Malaysia Derivatives and the basic trading strategy.
Mode
Live Webinar
Target Audience
Lecturers and academicians from universities and higher learning institutions
Learning Outcomes
Upon completion of this programme, the participants will be able to:
Update the syllabus content and develop a new experiential learning approach for their students
Create a FKLI syllabus, content and the resources available to assist in learning
Develop and update future case studies that is relevant to the market changes on the application of FKLI and its trading strategies
Part 1 : 10 August 2022 | 10.00 am - 12.00 pm
Brief and Recap on Derivatives Market
Understanding the derivatives industry ecosystem
Skills requirement in derivatives
Potential career path in derivatives
Experiential Learning: Enhance and Encourage Learning on Equity Index Futures (FKLI) through Interactive and Hand-on Practice
Facts about the FKLI
Underlying instrument: FTSE Bursa Malaysia Kuala Lumpur Composite Index (FBM KLCI)
Contract specifications
Experiential Learning: Enhance and Encourage Learning on Equity Index Futures (FKLI) through Interactive and Hand-on Practice
Basic FKLI trading plan
Margin and leverage benefits
Entry and exit strategy
Managing cash portfolio
Register today to secure your slot at www.sidc.com.my
Part 2: 17 August 2022 | 10.00 am - 12.00 pm
Experiential Learning: Enhance and Encourage Learning on Equity Index Futures (FKLI) through Interactive and Hand-on Practice
Bursa Malaysia Derivatives Exchange: Trending Contracts (cont.)
Alternative Evaluation method
Online Assessment
Hands-on Charting
Creating Syllabus for Index Futures (FKLI)
Considerations in relation to FKLI: Theory vs Industry
Syllabus coverage: The Malaysian context
Resources available to help students' learning
Industry linkage facilitation
Register today to secure your slot at www.sidc.com.my