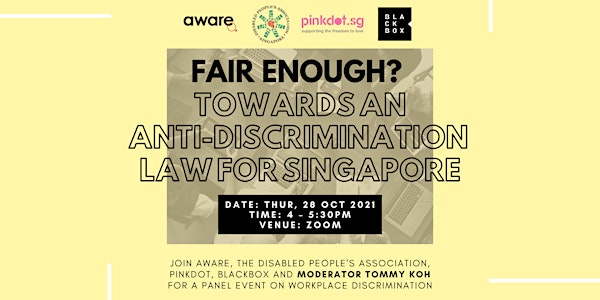 Fair Enough? Towards an anti-discrimination law for Singapore
It was recently announced that existing TAFEP guidelines will be enshrined in law. What will this look like, and will it protect everyone?
Refund Policy
Contact the organiser to request a refund.
Eventbrite's fee is nonrefundable.
About this event
Maybe you received a bad performance appraisal after announcing your pregnancy at work. Or perhaps you were excluded from important meetings or social events at the office after you came out to a close colleague. Maybe you were even turned down from a job because an employer assumed that your disability would affect your productivity, despite your being an excellent candidate for the role.
If the above situations sound familiar, then you've probably encountered some kind of workplace discrimination.
Workplace discrimination takes various forms, both overt and subtle, and likely affects a significant population of workers. To address this, Prime Minister Lee Hsien Loong announced in this year's National Day Rally speech that new legislation will enshrine the existing guidelines from Tripartite Alliance for Fair and Progressive Employment Practices (TAFEP). Under this law, workers will be protected against discrimination on the basis of age, race, religion, gender and disability.
This long-awaited move has been welcomed by employees, employers and advocates alike. At the same time, critical questions remain: What will this anti-discrimination legislation really look like? (What should it look like?) What material difference will it make to the operations of workplaces across Singapore? And how can we ensure that all groups of vulnerable workers will be adequately protected?
Join AWARE, the Disabled People's Association (DPA), PinkDot and Blackbox on Thursday, 28 October 2021, for a panel discussion on workplace discrimination in Singapore. This discussion will cover a range of topics, including:
Findings from a new Blackbox survey on workplace discrimination in Singapore
Common forms of workplace discrimination on the grounds of gender, disability and sexual orientation
Discrimination protections available to workers in Singapore
If you're an employee or human resource professional grappling with the above, attend this panel and weigh in on how best to stamp out workplace discrimination in Singapore.
This event is pay-what-you-can. Suggested donation of $5 per head.
About the Speakers:
Professor Tommy Koh (moderator):
Tommy Koh is currently Professor of Law at NUS; Ambassador-At-Large at the Ministry of Foreign Affairs; the Rector of the Tembusu College at NUS; Chairman of the Governing Board of the Centre for International Law at the National University of Singapore (NUS) and Special Adviser to IPS. He is the Chairman of the International Advisory Panel of the Asia Research Institute (NUS) and Chairman of the Advisory Committee of the Master's Degree on Environmental Management (NUS). He is also the Co-chairman of the Asian Development Bank's Advisory Committee on Water and Sanitation, and Chairman of the Board of Directors of the SymAsia Foundation of Credit Suisse.
He has served as Dean of the Faculty of Law of NUS, Singapore's Permanent Representative to the United Nations in New York, Ambassador to the United States of America, High Commissioner to Canada and Ambassador to Mexico. He was the UN Secretary General's Special Envoy to Russia, Estonia, Latvia and Lithuania. Koh was also President of the Third UN Conference on the Law of the Sea, and the Chairman of the Preparatory Committee for and the Main Committee of the UN Conference on Environment and Development (Earth Summit). Koh was the founding Chairman of the National Arts Council, founding Executive Director of the Asia-Europe Foundation and former Chairman of the National Heritage Board.
Corinna Lim, Executive Director, AWARE:
Corinna Lim is the Executive Director of AWARE, the Association of Women for Action and Research. Lim joined AWARE as a member and volunteer in 1992 and has been a women's rights activist for close to 30 years.
Since becoming Executive Director in 2010, she has been responsible for a range of initiatives including the setting up of the Sexual Assault Care Centre, the only specialised service in Singapore that provides support to sexual assault victims. She also led teams at AWARE to successfully advocate for the enactment of the Protection from Harassment Act, the repeal of marital rape immunity, better access to housing for single parents, gender equal workplaces and greater support for low income families and caregivers of the elderly.
In recognition of her contributions to civil society and the advancement of women's rights, Lim received a Fulbright Scholarship (1998 – 1999). In 2021, she was appointed as the 8th S R Nathan Fellow for the Study of Singapore by the Institute of Policy Studies.
Cassandra Chiu, Board Member, Disabled People's Association:
Cassandra Chiu is a Singaporean psychotherapist, social advocate and equal opportunity consultant. Chiu is a Director of The Safe Harbour Counselling Centre. Her vision as a person living with blindness is to change what it means to be disabled in Asia for the individual, the community and society at large. Chiu's work has been published in The Straits Times, Today and the essay collection 50 Years of ASEAN and Singapore. Her first book, about Asian attitudes towards disabilities, was titled A Place for Us and published in March 2019.
Chiu also volunteers at the board level at the Singapore Association of the Visually Handicapped, Disabled People's Association and K9ASSISTANCE, a charity she founded in 2020 to promote the awareness, understanding and acceptance of all types of Assistance Dogs for the disabled. Chiu is a World Economic Forum Young Global Leader, Social Innovation Park Fellow and recipient of The Singapore Woman Award.
Deryne Sim, Spokesperson and Committee Member, Pink Dot:
Deryne is a media and entertainment lawyer and an LGBTQ activist. She is part of Pink Dot SG, a social movement which promotes acceptance and equality for LGBTQ people in Singapore. Her portfolio in Pink Dot SG encompasses providing legal advice to the organisation and spearheading Red Dot for Pink Dot, the business networking arm of Pink Dot SG, which conducts fundraising activities for Pink Dot SG and promotes workplace inclusion in Singapore. Additionally, she is a committee member with the Ready4Repeal movement, which advocates for the decriminalisation of homosexuality in Singapore; and a contributor to the Same But Different legal guidebook for LGBTQ+ couples and families in Singapore. In 2021, she was awarded the Fulbright Scholarship and is using it to pursue an LL.M in Law and Sexuality at the University of California, Los Angeles.
David Black, Founder and CEO, Blackbox Research:
David Black is the founder and CEO of Blackbox Research, a decision science solutions company. As the head of Blackbox, David has carried out studies and provided advice across many areas of Singapore public policy as well as worked with many of Singapore's largest and preeminent institutions. The homegrown company has also had projects commissioned across more than 40 countries globally.
Before moving to Singapore in 2000, David graduated with a Law Degree from the Australian National University and worked for a period in the Australian Department of Prime Minister and Cabinet. He also worked as a political speech writer before becoming an election polling specialist working across Australia and New Zealand. David was a recipient of the ASME Entrepreneur of the Year Award in 2019. He is also a contributor and mentor at Advisory, a youth-led non-profit dedicated to empowering young Singaporeans to make informed career and further education choices.
Adelene Ong, Public Policy Research Director, Blackbox Research:
Adelene Ong brings more than a decade of market research experience across the public and private sectors. As a Research Director in the Public Policy team at Blackbox Research, Adelene works with clients from government, NGOs and government-linked corporations to advise on public policy, public service delivery and public communications. In the last six years, she has spearheaded and managed a wide range of public policy research projects for various ministries and statutory boards in Singapore, including Ministry of Trade and Information, Ministry of Health, Ministry of Education, Economic Development Board, Infocomm Media Development Authority and National Council of Social Service. Prior to Blackbox, Adelene held various research positions in globally renowned market research firms such as Kantar, Nielsen and Ipsos. She holds a Bachelor of Science, with a major in Statistics, from National University of Singapore.