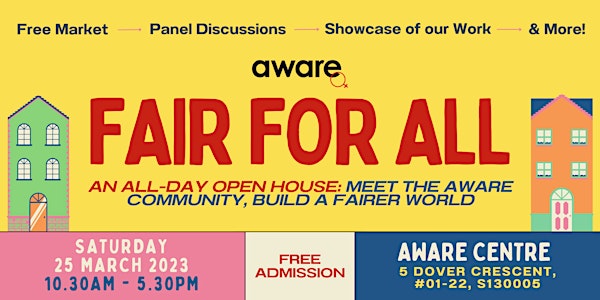 Fair For All: an All-Day Open House at AWARE
Meet the AWARE community and build a fairer world at this celebratory community event held by AWARE to commemorate International Women's Day
Date and time
Sat, 25 Mar 2023 10:30 - 17:30 +08
Location
Aware Centre 5 Dover Crescent #01-22 Singapore, 130005 Singapore
About this event
UPDATE #1: You can now sign up for the waitlist for our sold out workshops. For the panel discussion, simply book your slot through Eventbrite—you will be informed automatically once there is a spot available. For the Recycling Workshop and Bystander Training, please email shamima@aware.org.sg to be placed on the waitlist and we'll get back to you via email. Thank you!
UPDATE #2: There has been a change in line-up for the panel "Is Recycling Women's Work?" Please scroll down to view the panellists update.
******************************************************************************************************************
Calling all members of the AWARE community—and anyone looking for ways to get more involved in gender equality work! We're holding an all-day block party on Saturday, 25 March, and we hope to see you there.
Fair for All is a celebratory community event held by AWARE to commemorate International Women's Day and the month of March. From morning 'til evening, we're putting on an open house at the AWARE Centre in Dover Crescent, with free admission to all—including residents in the Dover community, and anyone who wants to know more about AWARE. Come trade pre-loved items at our "free market", attend mini workshops centred on different facets of AWARE's work, listen to a panel on the intersection of gender and climate activism, and visit booths featuring local makers and artisans.
This is a chill, entry-level way to get to know your friendly neighbourhood feminist organisation, and make some meaningful new connections. Grab a few friends and register your spot now!
The Singapore Really Really Free Market
Date: 25th March 2023
Time: 11am-4pm
What's mine is yours! All goods and services at the Really Really Free Market are shared freely: Anyone with items or services to offer is welcome to set up a stall, and members of the public can browse to their hearts' desire—no transactions required. AWARE is excited to put on this event in collaboration with Singapore Really Really Free Market (SRRFM), the Singapore chapter of the RRFM movement. RRFM aims to counteract capitalism in a non-reactionary way, by building a community based on sharing resources, caring for one another and improving the collective lives of all.
Please contact Shamima at volunteermanager@aware.org.sg if you are interested in running a table of your own. First come, first served.
"Is Recycling Women's Work?" A panel discussion
Date: 25th March 2023
Time: 11.30am-12.30pm
UPDATE: While Woo Qiyun was previously listed as a panellist, she is no longer able to feature in the panel. Tan Jia Hui will be graciously taking her place.
******************************************************************************************************************
[SOLD OUT - Please choose the waitlist option during checkout]
Listen to three panellists—Yasser Amin (Chief Stridy Officer), Melissa Low (research Fellow at the NUS Centre for Nature-based Climate Solutions) and Tan Jia Hui (Plastics recycling professional)— and moderator Ethan Nova discuss the intersection of gender and climate action in Singapore.
About our speakers
Yasser developed a deep appreciation for inland and coastal nature environments while organising beach cleanup sessions over the past two years. In addition to being an environmental advocate, he promotes community building and connects various organisations & individuals to achieve civic engagement. Yasser is currently the Chief Stridy Officer at Stridy, a non-profit that addresses waste management issues worldwide.
Melissa is a Research Fellow at the National University of Singapore's (NUS) Centre for Nature-based Climate Solutions. She previously worked at the Energy Studies Institute, NUS where she carried out research projects on a range of energy and climate issues of concern to Singapore and the region. She has participated in the United Nations Framework Convention on Climate Change (UNFCCC) Conference of Parties (COP) for over a decade and is an active sustainability thought leader, authoring, publishing and presenting at various forums.
Jia Hui previously worked as plastics recycling analyst in a commodity intelligence company, and is now with Neste doing public affairs for the Renewable Polymers and Chemicals business unit. Her areas of interests lies in recycling right and waste management, and she has great hopes around the upcoming Global Plastics Treaty. Outside of work, she volunteers with Repair Kopitiam, an e-waste repair community movement.
About our moderator
Ethan is a multidisciplinary changemaker and social justice advocate. As a former nonprofit consultant based in Washington D.C., he has advised nonprofits tackling issues such as gun violence, climate change, access to healthcare, women empowerment, education and more. Ethan currently helps to manage the SG Eco Fund, a $50M Charitable Trust that supports projects that involve people in advancing environmental sustainability in Singapore. He is particularly interested in the intersections between people and the environment, and believes that a socio-cultural lens is needed to address the challenges posed by climate change
5 Things You Get Wrong About Recycling
Date: 25th March 2023
Time: 12.45-1.30pm
[SOLD OUT - Please email shamima@aware.org.sg to be put on the waitlist]
Learn better ways to recycle through this short workshop conducted by Robin Rheaume—AWARE member, long-time zero-waste advocate and educator and the founder of Singapore resource Recyclopedia.sg.
Bystander Training by Catalyse
Date: 25th March 2023
Time: 2-3pm
[SOLD OUT - Please email shamima@aware.org.sg to be put on the waitlist]
Smart and sensitive bystander intervention can change a violent situation into a close call. But few of us know how to intervene effectively when someone around us is being harassed. In this workshop by Catalyse, you will gain a better understanding of harassment and the ability to evaluate live situations as they develop. You will also learn the five Ds of active bystanding: Delegate, Document, Dialogue, Distract and Direct.
About the organiser
AWARE is Singapore's leading women's rights and gender equality advocacy group. It works to identify and eliminate gender-based barriers through research, advocacy, education, training and support services. AWARE embraces diversity, respects the individual and the choices she makes in life, and supports her when needed.