Farm in the Sky! + compost
Get your hands dirty, build some muscles, meet some new like-minded people while building a rooftop community farm from scratch!
By wethefarm: Jing Xiang, Nicholas & Darren
Date and time
Sun, 19 Mar 2023 16:00 - 18:00 +08
Location
Beauty World Centre 144 Upper Bukit Timah Road Level 5 Roof (access from carpark or L4 foodcourt) Singapore, 588177 Singapore
About this event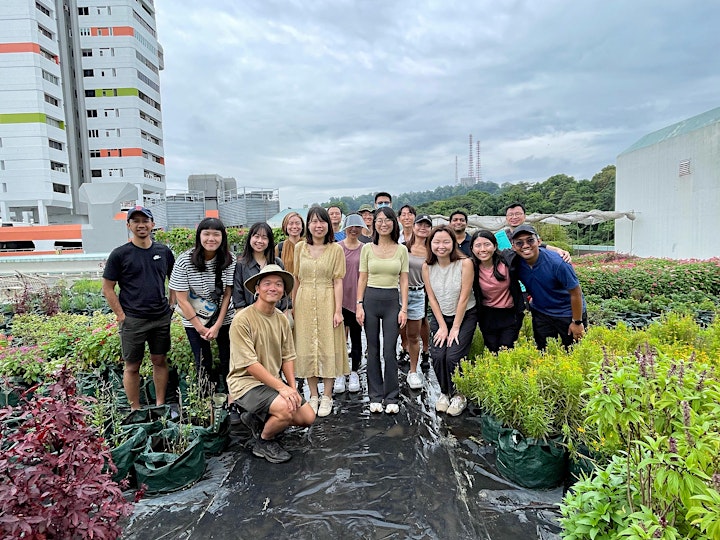 We are a group of friends coming together hoping to add-value to how we deal with food waste management and farming. We envision the farm to be a platform for education, bringing the immediate and extended communities around Beauty World to see and feel, how food waste is being recycled through the different methods of composting, and how the compost could then be applied to farming and the production of edible plants.
When the farm is up, we will be engaging stakeholders in Beauty World to contribute their food waste (vegetable/fruit) for our compost. We want to show people that it is not difficult to practice food segregation and putting waste to good use. As such, we have also secured the SGEcoFund to enable us to share this hands-on knowledge to the wider public. You can find us on the Ministry of Sustainability & Environment website, no.34. CLICK HERE.
An article written by the Ministry of Sustainability & Environment. CLICK HERE.
We spent 8months pitching to the building owner and coordinating with the relevant authorities and its agencies. Now that we have finally gotten the approval, we need your help to bring the farm to life, bit by bit, part by part, you can see the farm construction till it is operational.
If you would like to support us through a small donation, please do so through the the link below. We need the money to install fire safety equipment and alarms to ensure that the farm is safe for all.
DONATION FOR FIRE SAFETY EQUIPMENT CLICK HERE
Thing to Note when at the farm:
1. It can be very hot from 11am onwards, which is why we have organised the work into Sunrise and Sunset Shifts. The timeslots 9-12pm and 4pm-6pm are only suggested time frames, you are free to come within whichever time frame that suits you.
2. Bring your household food waste such as vegetable ends, fruit peels, egg shells, mouldy bread, or any carbohydrates (biscuits, snacks, nuts, beans, noodles, etc). Freeze those food waste first. No dairy product or oil please as the worms don't like it.
3. Bring your own gloves if you prefer not to share/wear used ones, sunscreen, hat, long sleeves, comfortable footwear, BYOB.
4. Sometimes some chilled drinks are provided.
5. 8938 1606, you can reach me at this number if you are lost or need clarification.
#foodwastecomposting #Farming #Farmtotable. #edibleplants #foodsecurity #volunteerstrength #gogreen #hardwork #farmwork