Event Information
Location
Malaysian Communications and Multimedia Commission
Tower 1, Jalan ImpactCyber 6, 63000 Cyberjaya Selangor Darul Ehsan
Kuala Lumpur, 63000
Malaysia
Co-hosted with Malaysian Communications & Multimedia Commission (MCMC) and supported by Wildsnapper TV, FINAS and KRU Academy.
About this event
Event Program:
0900 - 1000: Registration
1000 - 1030: Welcome and Keynote Remarks
Emcee: Sheahnee Iman Lee
Dato' Hans Isaac – Chairman, FINAS
Nur Sulyna Abdullah – Chief Transformation Officer, MCMC
Stephen Jenner – VP, Communications, Asia Pacific, Motion Picture Association
1030 - 1130: Session 1 - Identifying the current commercial online video market, available services, and future trends.
The VOD landscape has evolved rapidly in recent years. The market involves a growing number of local, regional and international services. Expectations are running high on the proposed launch of Disney+, HBO Max and the yet-to-be named service from NBCUniversal. How are VOD services distinguishing their offer from their competitors? What works and what doesn't? What are the trends worthy of note? How will the industry keep the customer satisfied?
Moderator: Rizal Zulkapli – Anchor, Producer and AVP New Markets, Astro AWANI
Panel:
Dinesh Ratnam – Malaysia Country Manager, iflix
Johan Ishak – CEO, Television Networks, Media Prima
Juliana Low – Head of Content & Programming, Viu
Young Ming – SVP, iQiyi
1130 - 1230: Lunch
1230 - 1400: Session 2 - The filmmaker's view, case studies and future opportunities for the production sector.
How well has the production community adapted to doing business with the VOD industry? We hear from local and international filmmakers on their experiences creating content for VOD players, how they develop successful relationships and we go behind the scenes on projects made for online distribution.
Moderator: Anna Har – Filmmaker & Co-Founder, Freedom Film Network
Panel:
Iman Corrine Adrienne – Actress, TV Host & Producer
Jessica Kam – Senior VP, Original Productions, HBO Asia
Mark Francis – Global Head of Original Programming, iflix
Matt Vitins – COO, Matchbox Pictures (Australia)
Zainir Aminhullah – CEO, Ideate Media
1400 - 1500: Session 3 - Opportunities and challenges for growing the online video ecosystem / Blueprint for the future.
How can stakeholders work together to stimulate a vibrant online video ecosystem? How is the curated streaming video sector stimulating jobs and contributing to the digital economy? What can be learned from global best practice? Does piracy present the biggest challenge to the legitimate VOD ecosystem? What are the consequences of incentivizing VOD sectors, rather than imposing artificial barriers?
Moderator: Sam Shafie – CEO and Co-Founder, pitchIN
Panel:
Laila Saat – Vice President Regulatory, Intellectual Property Protection & Industry Affairs, Astro
Lam Swee Kim – Chief Marketing Officer, dimsum
Norman Abdul Halim – Executive President & Group CEO, KRU Studios
Nur Sulyna Abdullah – Chief Transformation Officer, MCMC
Additional Information:
Admission is free
Parking is cashless and it's Touch N Go only
Touch N Go reload options near MCMC:
KK Mart (P1-10)
myNews (P1-23)
7 - Eleven (P1-27)
Guardian Pharmacy (P1-29)
99 Speedmart (P1-32&33)
Visit http://mpafasttrack.org/malaysia/ for more information.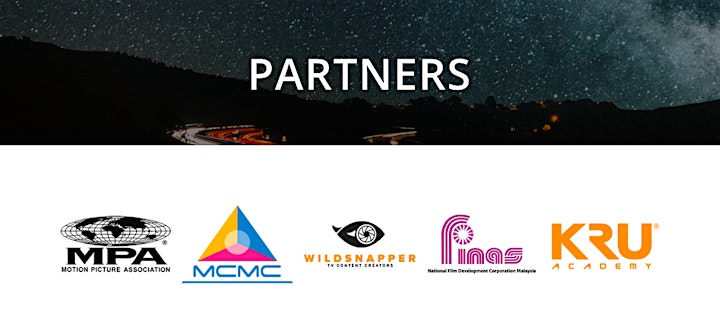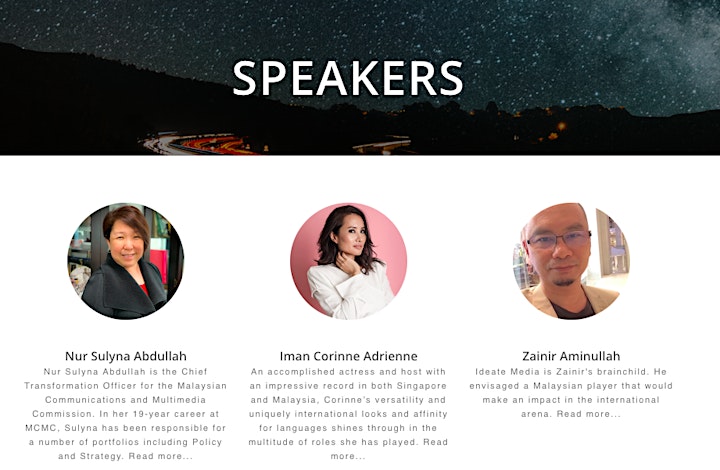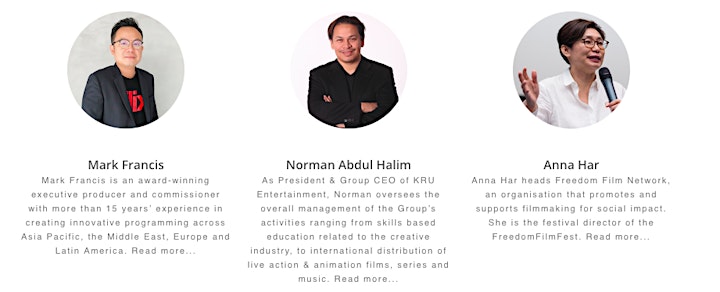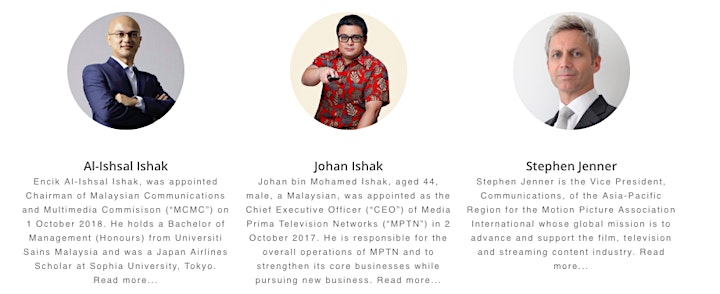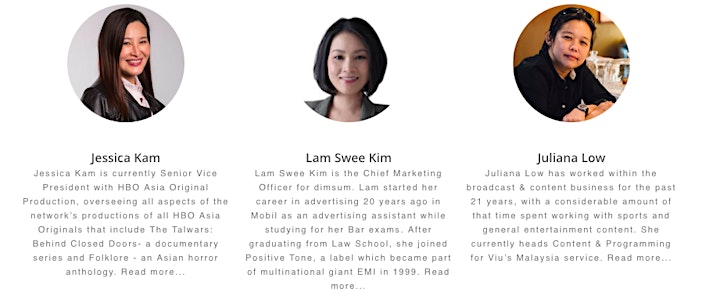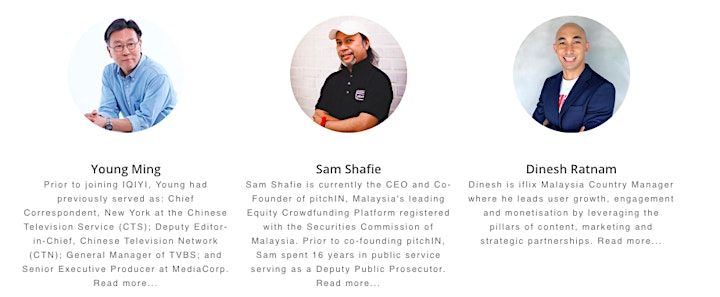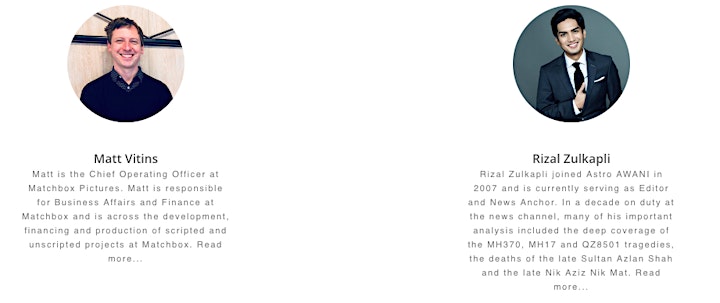 Date and time
Location
Malaysian Communications and Multimedia Commission
Tower 1, Jalan ImpactCyber 6, 63000 Cyberjaya Selangor Darul Ehsan
Kuala Lumpur, 63000
Malaysia