Multiple Dates
Financial Consultants, Learn Tools to Increase Sales Production in 2021!
Engage Clients in A Professional and Holistic Planning Approach
About this event
In this workshop, you will learn techniques to go beyond a transactional relationship to building a genuine partnership based on trust and respect with your client.
How would you feel if your client is open and shares with you their concerns, objectives, goals and finances without reservations?
How would you feel if your client reaches out to seek for your opinion every time there is a major financial decision to be made?
How would you feel if your client informs you immediately when they receive a pay raise or bonus and seeks your advice on what they should do with it?
Would you feel accomplished knowing that your clients' goals can be met with proper planning?
As a result of all the above, you can gain the following:
Double or even triple your case size per client
Have a better sense of fulfillment in your work
Have a newfound identity as a consultant and not as a sales person
Event Details
Registration starts at 1.45PM. An online meeting link will be sent to you on the day of the workshop.
All proceeds from the workshop fee will be donated to the Cerebral Palsy Alliance Singapore to provide access to rehabilitation services, therapy and more to children with Cerebral Palsy that can greatly improve their quality of life. More details can be found here: https://bit.ly/3ktUGmM
Agenda
1.45PM to 2.00PM: Registration via Online Meeting
2.00PM to 3.00PM: Introduction & Methodology
3.00PM to 3.30PM: Demo Session
3.30PM to 4.30PM: Hands-On Session
4.30PM to 5.00PM: Q&A & Conclusion
Things to Bring
You will only need your laptop and charger as this will be a hands-on session.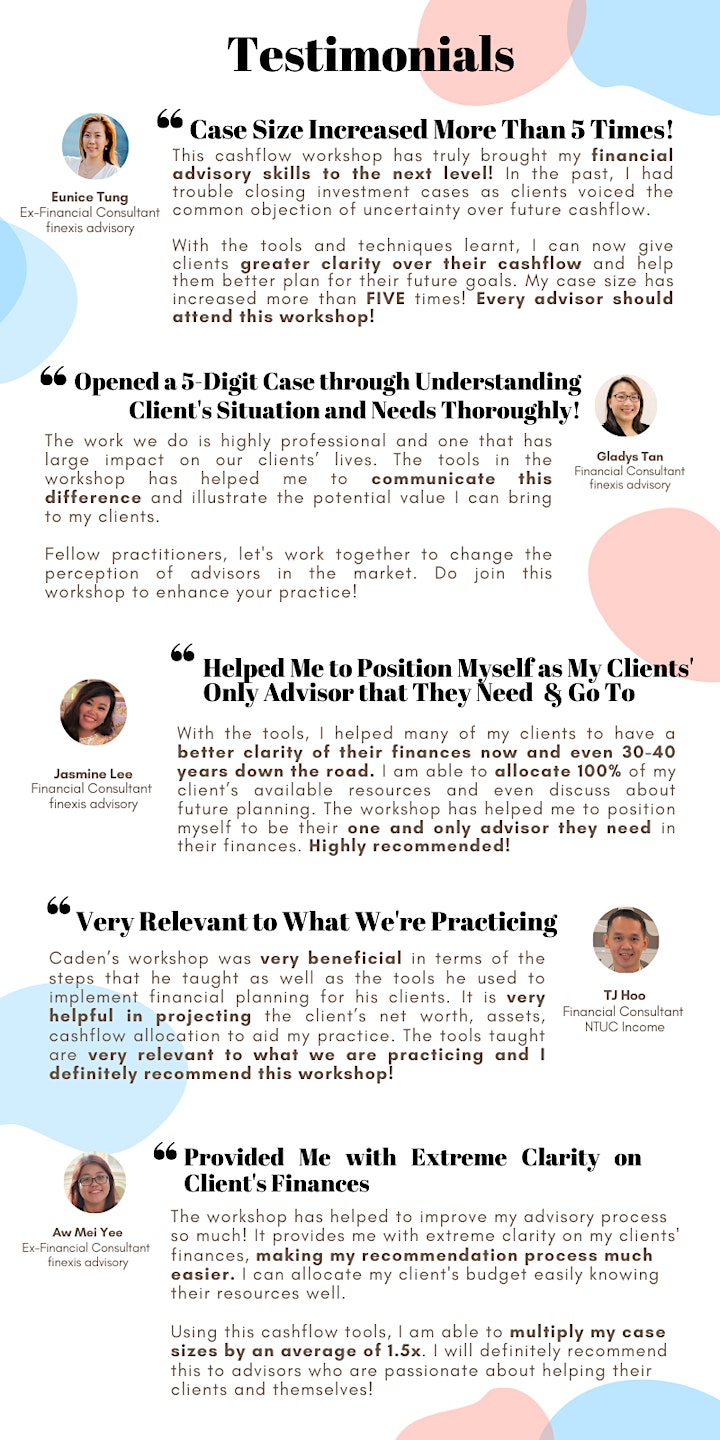 Organiser of Financial Consultants, Learn Tools to Increase Sales Production in 2021!
Founder of Caden Chia Organisation representing finexis advisory Pte Ltd, Caden has been in the industry for 16 years and has achieved consecutive 8 years of MDRT membership and is a one-time Court of the Table qualifier. However, things were not always this rosy - in his first seven years in the industry, it was a constant battle as he struggled to figure out the business on his own. The pivotal moment came when he met his mentor nine years ago. With a mentor who was more than willing to spend time on him, who had a proven advisory process, supportive platform and team, Caden's business and life drastically transformed. Now all those years later, he would like to PAY IT FORWARD and help others who faced similar situations as him, to achieve similar or even greater breakthroughs in their careers. He genuinely believes in the tremendous potential of those aiming to make a difference in the financial industry and is on a mission to play his part in transforming how financial consultants lead themselves and their businesses.