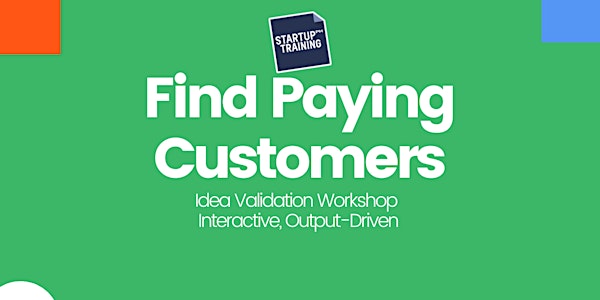 Find Paying Customers: Idea Validation for Founders
Turning ideas into a startup requires a lot of empathy, grit, and paying customers. This workshop shows you how to find all that.
Refund Policy
Refunds up to 7 days before event
About this event
When struck with an idea, most people go around asking people about it. 9 out of 10 will say it's a good idea even if it isn't.
Too many founders are failing because we build solutions without understanding the people we're trying to help and the problem we're solving.
Successful innovators and entrepreneurs know how to avoid this critical mistake and think "Customer First. The rest of us (like myself) need to learn it.
This Workshop Is For Founders
Primarily for aspiring, curious and new founders with little to no practical experience in validating startup ideas and innovation. If you think you need a developer to test your idea, you need to sign up here.
Also for not-so-new or struggling founders that need a refresher and tips on how to test ideas quickly and cheaply.
For Hipsters, Hackers, and Hustlers
Those who have ideas for a new startup or business but aren't sure how to move it forward without having to spend so much.
What You Get
2 x 4-hr live workshop
Recorded step-by-step instructions on all activities
Persona & Journey Mapping Templates
The SPHT Experiment Tracker
1on1 x 1-hr coaching for scheduling
Benefits of Attending
Learn how to generate revenue quickly - before investing time and money
Gain a good understanding of the customers and minimize the risk of ultimate failure
Learn how to use web tools, templates, and trackers to accelerate your startup journey!
Meet like-minded founders and be a part of the Startup Ph founder community
Learning Objectives
After the workshop, participants will be able to
Rapidly generate ideas, decide which to test, then turn these ideas into an assumption.
Track and measure experiment results efficiently and eliminate confirmation bias
Digest all of the information you collect and drill down to the key insight which you can then use to make a new, more educated guess
Event Schedules
Design Experiment (Workshop Proper)
September 10 (Saturday) 2 - 6 pm
Intro to Running Experiments (Lean)
Generating ideas, building experiments
The 3 Different Testing Methods
Tools: Experiment Tracker, Persona Template, Interview Guide
How to measure results
Run Experiment (optional)
September 10 to 24
Participants Run Experiment
Participants share results, get tips & updates with batchmates
Coaches available for participant questions
Optional but highly recommended
Review Results (optional)
September 24 (Saturday) 2 - 6 pm
Optional but highly recommended
Analyze the results of your experiment
Drill down to the key insight
Design a new experiment
Experiment Tracker
Used to turn ideas into a hypothesis, design experiments to test said hypothesis then analyze the results and find insight.
Based on the Build-Measure-Learn Feedback Loop as described by Eric Reis' Lean Startup. A google sheet version of the Javelin Board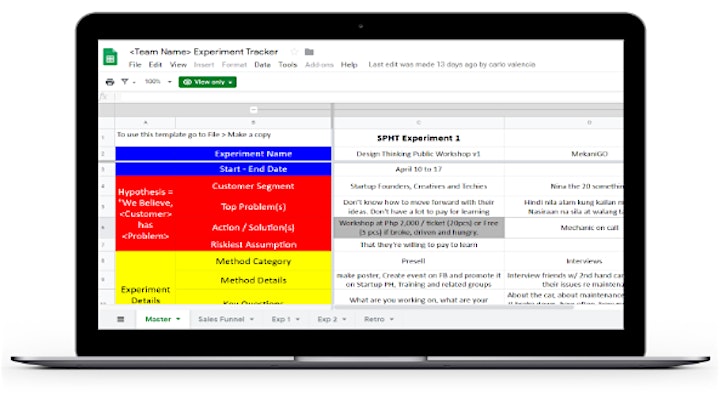 Proto Personas
The ability to understand customers intimately is the foundation of startup success and great products.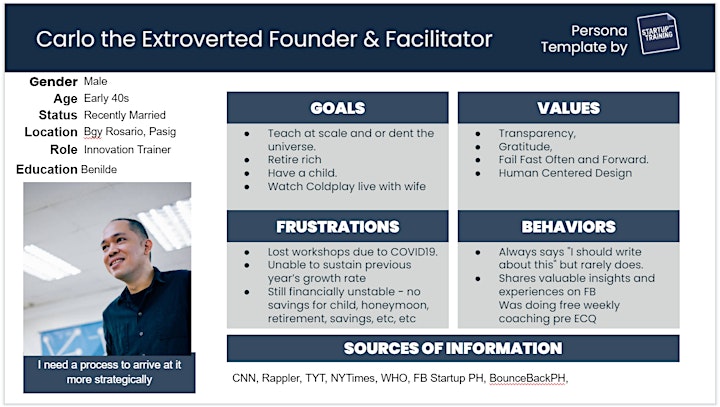 IDEAL PARTICIPANTS
Participants of this course will have a higher chance of success if they have:
The available time and mental capacity to
Attend and fully engage in all group coaching sessions.
Watch the recorded instructions per week (15 - 20 mins each).
Perform the activities and produce the corresponding output between sessions.
An idea, project, people to help, or problems to solve
This can be a new, ongoing or upcoming project.
Participants with no idea yet can start with the people they want to help or problem areas they want to solve.
The willingness to share
experiences and thoughts
the project outputs
updates within the batch
ABOUT THE SPEAKER
Carlo was the Founder/CEO of Klaseko from 2014 to 2016. Although he was able to raise Php 9M in venture funding, he failed to run experiments to test his key assumptions and ultimately failed.
That experience is now the foundation of what he teaches and helps people avoid making the same mistakes.He's also applying what he is preaching to his new startup, Startup PH Training. His mission is to train 1 million people in Design Thinking and Lean with a vision of changing how entrepreneurship is taught in schools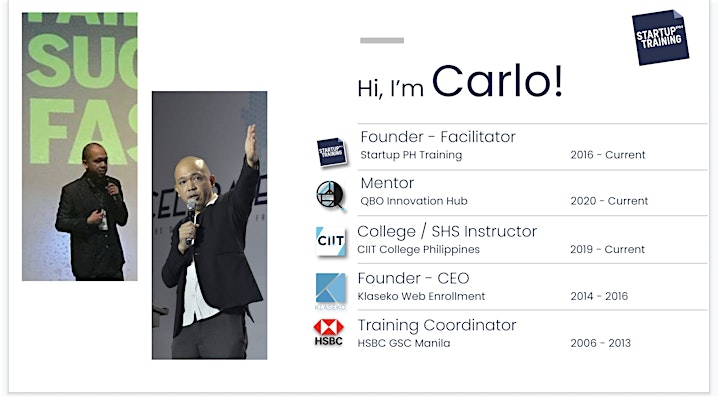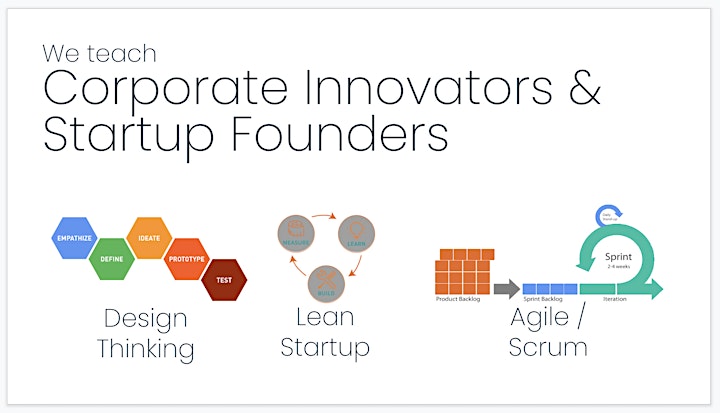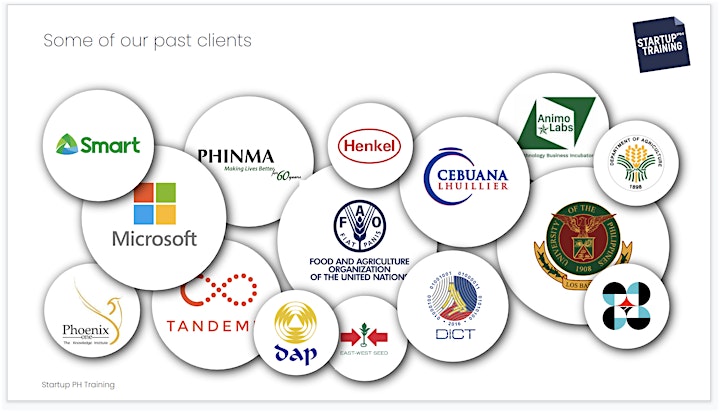 Feedback on Carlo's Work
Francis Simisim
Social Light, Blogapalooza and When in Manila Co-founder, Venture Capitalist and Startup Advocate
We see pitches everyday and we feel that most have not validated their idea and have proceeded to create the product and that's our main issue
Attending Carlo's workshop prevents founders from just creating products and spending money. It also allows them to be more efficient with their products and ideas.
Maria Korina "MK" Bertulfo
Filipina Homebased Moms (FHMoms) CEO and Founder, Final Pitch Finalist
You will always be part of my startup story, I tell people na I met you prior sa Final Pitch. Continue to be a blessing to others.
Tanda ko pa rin lahat ng mga naturo mo. Thanks Carlo for everything!
John Francis Olivo
Data Analyst & Previous Workshop Participant
There's a lot of mention about "validating" ideas for startups from various online sources. However, the problem especially for a beginner like me, is that I don't know the how's and what's in order to do proper validation.
The knowledge you bring in your talks is the answer to that.
After the webinar earlier, I was thinking that we probably need to realign things now especially that we're not yet far in building the tech "solution" we have come up initially
Pricing
We encourage you to join this workshop with cofounders and teammates. If you prefer a private workshop, leave us a message here or email us at carlo@startupphtraining.com
Be an early adopter! Sign up by August 14 to get maximum discounts!
Php 1,000 additional discount for the first 10 sign ups.
USE THE CODE: first10
Use "Pay by Check" for online, gcash or Maya
Don't forget to send a screenshot when making payments via BPI Bank Transfer, GCash or Paymaya
BPI Bank Transfer
Account Name: Carlo P Valencia
Account #: 2609238286
GCash or PayMaya
Account #: 09399203466