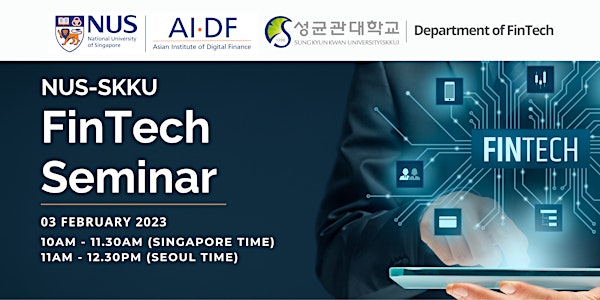 FinTech Seminar- A Data-driven and Interpretable Topic Model for Management
The NUS–SKKU FinTech Seminar Series
When and where
Location
Innovation 4.0, 01-05 CONFERENCE ROOM 3 Research Link Singapore, 117602 Singapore
About this event
The NUS–SKKU FinTech Seminar Series is a collaborative effort by the Asian Institute of Digital Finance (AIDF) at NUS and Department of FinTech at SKKU.
This seminar will be conducted in a hybrid format (In-Person and Online Live Webinar). The speaker will be in-person in Singapore.
Join us for a FinTech seminar to learn about Data-driven and Interpretable Topic Model for Management Disclosures
Please note:
- In-Person (NUS) : Innovation 4 (i4.0) Building, 3 Research Link, Level 01-05 (Conference Room), Singapore, 117602
- Online (Zoom Link will be sent via email 2 days before and the morning of the event)
A Data-driven and Interpretable Topic Model for Management
FinTech Seminar (February)
Abstract
The paper investigates the topics discussed in the Management Discussion and Analysis (MD&A) section of 10-K filings from 1994.01 until 2018.12. In our modelling approach, we elicit the MD&A topics by clustering words around a set of anchor words that broadly define a potential topic. Given the topics, we extract two hidden loading series from the MD&As – a measure of topic prevalence and a measure of topic sentiment. The results are four-fold. First, we find that the topics we extract are intelligible and distinctive but potentially multi-modal, which may explain why classical topic models applied to 10-K filings often lack interpretability. Second, the topic loadings tend to follow local trends which often can be explained historically. Third, our measures of topic sentiment exhibit that sentiment does not affect topics uniformly but in rather topic-specific nuanced ways. Finally, we find that MD&A topic compilation exhibits systematic variation across firm characteristics.
About the Speaker
Matthias Fengler studied economics and statistics and earned a PhD in Quantitative Finance at Humboldt-University Berlin, Germany. After spending six years as a quantitative analyst at an equity trading desk, he rejoined St.Gallen University (Switzerland), where he now is a full professor of econometrics. His research interests are in financial econometrics.