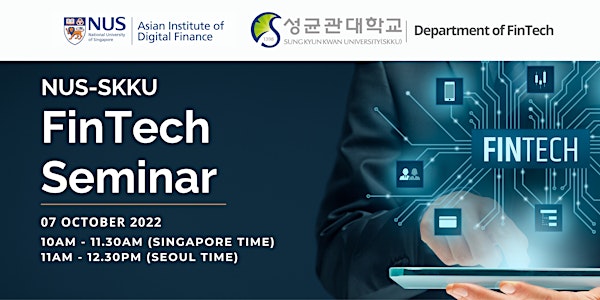 FinTech Seminar - October
NUS–SKKU FinTech Seminar Series
When and where
Location
Innovation 4 (i4.0) Building 3 Research Link Level 01-05 (Conference Room) Singapore, 117602 Singapore
About this event
Please note the different locations for the event:
- In-Person (NUS) : Innovation 4 (i4.0) Building, 3 Research Link, Level 01-05 (Conference Room), Singapore, 117602
- Online (Zoom Link will be sent via email 1 day before and morning of the event)
Textual Data Analytics in Finance
FinTech Seminar (October): Chuan-Ju Wang
The growing amount of public financial data makes it more and more important to learn how to discover valuable information for financial decision-making. This talk presents our recent studies on exploring and mining soft information in financial reports. This talk will cover several machine learning techniques, such as learning to rank and word embedding on financial reports for the study of financial risk among companies and for discovering new finance keywords. A brief demonstration of our developed web-based information system, Fin10K, will be given to show its ability to facilitate the analysis of textual information in finance. In addition, we will briefly introduce our recent work that utilizes deep neural networks to extend the understanding of unstructured financial data from the word level to the multiword expression (MWE) level, the sentence level, or even the document level.