Description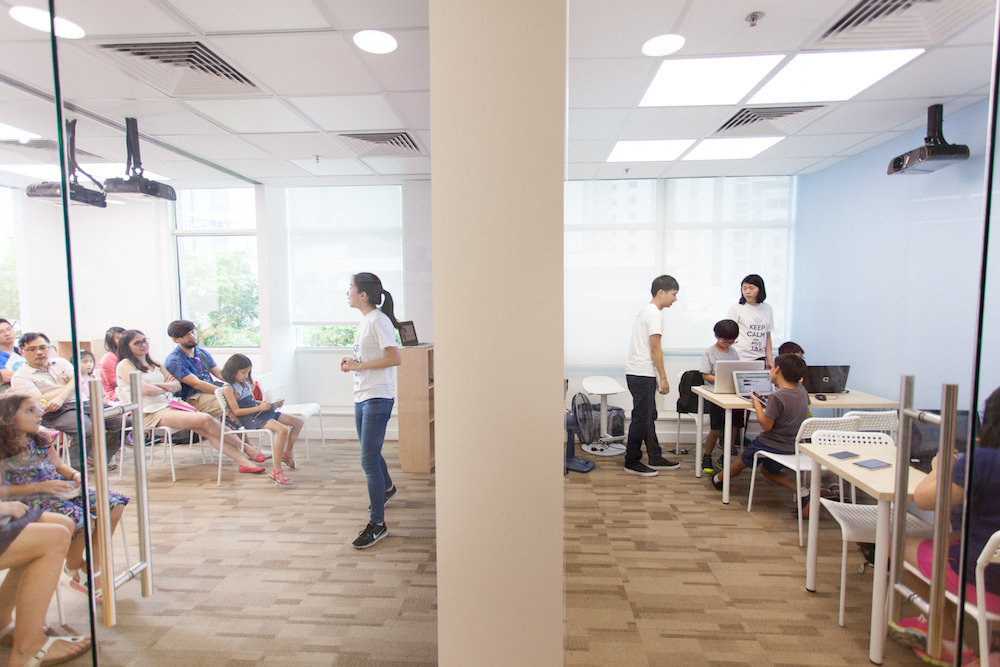 First Code Academy Open House: May 2017
Tour Our Classrooms, Meet the Team and Join Free Coding Workshops!
What are our coding camps like? What language should your child start learning? If you have ever been curious about coding or technology, join us in our Open House this May to learn more!
We introduce our cutting-edge, systematic curriculum roadmap and explain why it benefits children to follow a structured, progressive coding curriculum. Check out our student's projects, including mobile apps that have won international competitions such as AppInventor Summit at MIT, Boston!
Prizes to be given away, including free workshop vouchers for winning teams in our A-maze-ing Race with Dash & Dot, exclusive discounts for Summer Camp enrollments on the day, and more!

Come tour the campus, visit our game booths and check out student projects. We have a whole range of activities planned so join us for a day of coding fun!
Info Session - Introduction to our curriculum and brand new coding camps such as Artificial Intelligence, Swift, Minecraft Modding and more!

Free Coding Workshops - Get a taste of the First Code experience in our workshops for ages 5 to 18. Limited seats available, one workshop per child only.

A-maze-ing Race and Hardware Tinkering - Try your hand at the latest coding technology and program robots to run through our maze to win free coding vouchers! Register your teams of two or more* below to compete for glory on the day.

Student Project Showcase - What do our students build? Come hear from our students on their inpiration and experience building mobile apps, web games and more.

Virtual Reality Experience Booth - Try out our virtual reality game, built in our 3D Unity Game Development coding camp!

Meet the team, exclusive promotions, gift bags, and more!
Event Schedule
1:00PM: Doors Open

1:15-1:30PM: Info Session and Q&A

1:30-2:00PM: Student's Project Showcase

2:00-3:00PM: Robotics and AppJamming Workshops

2:00-3:00PM: A-maze-ing Race Competition

3:15-3:30PM: Info Session and Q&A

3:30-4:00PM: Student's Project Showcase

4:00-5:00: Scratch and Minecraft Workshops

4:00-5:00: A-maze-ing Race Competition
Date: 21 May 2015, Sunday
Time: 1:00pm - 6:00pm
Location: First Code Academy, #04-13 Stamford Court, 61 Stamford Road, Singapore 178892
How to get here:
By public transpot:
From City Hall MRT, 5 minute walk along Stamford Road (after Capitol Piazza). View directions here.
By car:
Carpark available in Stamford Court basement, Capitol Piazza, or at Armenian Street). Accessible from Stamford road and Hill Street. View driving directions here.
*Each team requires at least 2-4 players to qualify in the A-maze-ing Race. A maximum of 4 players are allowed on each team.

For ages 5-6
Robotics Workshop: Building Blocks of a Creator [2PM - 3PM]
Using the latest tech tools from Silicon Valley, students in this class learn the basics of programming by moving robots through obstacles and solving puzzles.
Want to experience more? Join our A-maze-ing Race and stand the chance to win a free workshop voucher!
What to bring?
1) A mindset to learn and have fun!

For ages 7-8
Scratch Workshop: Start from Scratch [4PM - 5PM]
This class introduces students to block-based programming on Scratch, a language created at MIT Media Labs for young learners. Students will learn to build animations and games using drag-and-drop coding blocks to build their knowledge and familiarity with programming concepts.
What to bring?
1) A Mac/Windows laptop
2) An email address
For ages 9-14

AppJamming Workshop: Make Your Own App! [2PM - 3PM]
In AppJamming, students get to design and build their very own mobile apps and games for Android phones. Taught by our instructor team led by MIT Master Trainers, students build mobile apps using the AppInventor platform created at MIT.
Want more mobile app development? Check out our Swift programming for iOS and AppJamming Plus camps.
What to bring?
1) A Mac/Windows laptop
2) An gmail address
For ages 9-14

Minecraft Workshop: Design Your Own Mods [4PM - 5PM]

Does your child like Minecraft? Say no more! Have a blast designing and building custom items, characters and complete gameworlds.
Introductory to advanced level coding camps available for Minecraft Modding from ages 5 through 18.
What to bring?
1) A Mac/Windows laptop
2) A Minecraft account
3) Please provide adminstrator's access or password to download and install software

Please note:
Workshops are for kids only. Seats for workshops are available on a first-come, first-served basis.

Please register only one workshop per child, duplicate registrations will be cancelled without further notice.

Admission is free and open to all. Feel free to bring along your family and friends, the more the merrier!
As limited seats are available, please RSVP for all attendees to confirm your admission.

First Code Academy (FCA) is Asia's leading education institute that teaches kids coding courses and develop curriculum for K-12 students to learn not just coding skills, but computational thinking. Since launch in 2013, the team has taught over 2500 students with projects-based, small group learning environments. In addition to regular classes, First Code has partnered with Google and many corporations for social impact projects teaching students from underprivileged communities how to code. The team is headquartered in Hong Kong, with workshops and courses operating in both Hong Kong and Singapore. Their work has been featured on Wall Street Journal, CNN, and local press including Straitstimes.